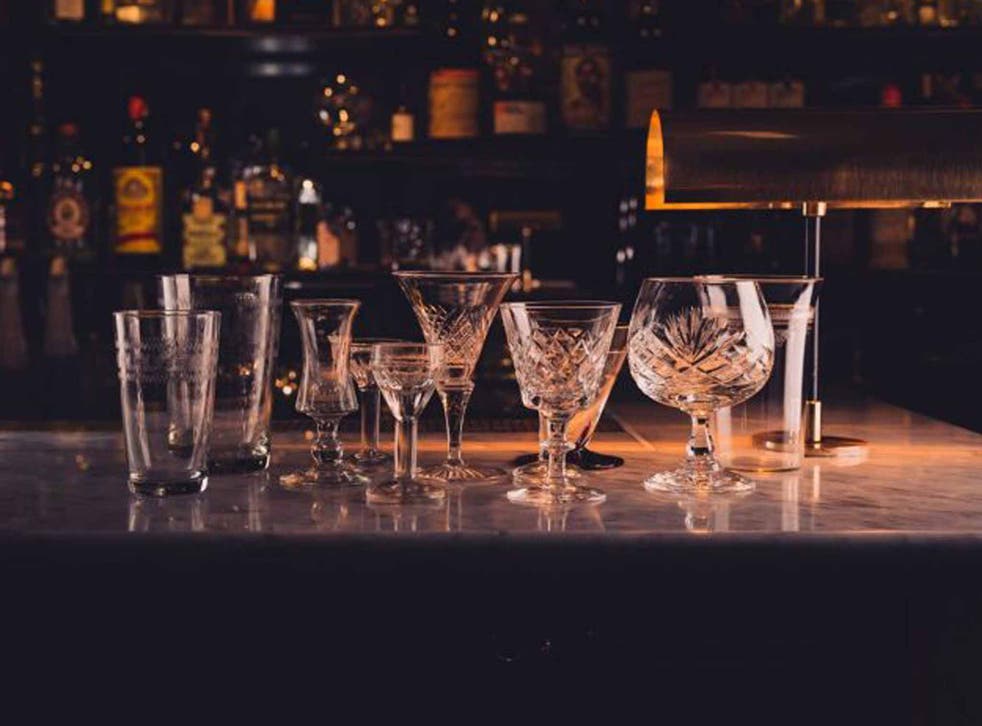 Spirits aged in their bottles: Could a cocktail bar's clever idea be the start of a trend?
Raid granny's drinks cabinet and taste the spirit of an age 
On Tuesday last week, I went out for a cocktail in Shoreditch and ended my night in the 1960s. The 50-odd years escaped me in a bar called Joyeux Bordel. It is a basement joint whose name, literally translated, means "happy brothel", though colloquially means something more along the lines of "beautiful mess". It is anything but a mess, however. It is a well-turned beauty of a booze den that has the thrown-together appearance that only comes with careful deliberation and lots of careless spending.
Old interlocking rugs cover a floor that is pricked with little round tables and chairs, which are themselves embraced by velvet banquettes and 1990s speakers built into the wall with Michelangelo-ish delicacy. The sound is all warm and rich, like something from the 1990s, though it isn't the stereo that flings you back through the years like a medieval trebuchet. It is the drinks.
What most other cocktail bars offer at the moment is either well-made classics – a martini, negroni, or a sidecar, perhaps – that are great but which don't pull at the outer limits of imagination. Or high-concept things that seem to owe more to the laboratory, with lots of distillates, dry-ice conches, and those daft headphones you are supposed to clamp to your head while you sip away, and conversation be damned.
They've left all that stuff alone and instead have collected a very interesting bar of aged spirits. When I say "aged", you probably roll your eyes and think of people with beards and hemp bags distilling spirits and then keeping them in a barrel in Peckham. But in this instance, there is less hemp and more doilies: most of these spirits are rescued from grannies' drinks cabinets and then sold on to dealers who supply them to bars like this, at anywhere between £100 and £800 a go.
The bar has a revolving cast of old spirits that sometimes end up in cocktails – the gin-based Saint Germain des Prés is very good indeed; even better is the aged negroni, which tastes as though God made it – but more often, are sold to punters in 15ml samples for just a fiver. Currently on offer are a 1950s Sloe Gin from James Hawker & Co; a Chartreuse Jaune from the 1980s; Hine Vieille Fine Champagne Cognac from 1960; and a 60-year-old basque spirit called Izarra Jaune. While I can't account for the changing flavour profile of the Izarra, I can for the gin and cognac. The effect on the spirit of being put away for decades in the back of a dark cupboard is surprisingly not deleterious, on the basis of what I tasted. Quite the reverse. The passing of the years is invariably accompanied with a reduction in alcohol content, so a glass of straight gin lacks the alcoholic bite you expect – but instead, you get a junipery explosion.
Now, Joyeux Bordel is the latest from a company that includes Experimental Cocktail Clubs in New York, Paris, London and Ibiza, so they know what they are doing here. They have clearly assessed what is going on in the cocktail world, found it wanting and decided to do this. It is a clever idea and this is a very good bar. Is it the next trend? It just could be.
Register for free to continue reading
Registration is a free and easy way to support our truly independent journalism
By registering, you will also enjoy limited access to Premium articles, exclusive newsletters, commenting, and virtual events with our leading journalists
Already have an account? sign in
Register for free to continue reading
Registration is a free and easy way to support our truly independent journalism
By registering, you will also enjoy limited access to Premium articles, exclusive newsletters, commenting, and virtual events with our leading journalists
Already have an account? sign in
Join our new commenting forum
Join thought-provoking conversations, follow other Independent readers and see their replies