Start as you mean to go on: Chefs reveal their top tips for breakfasting like a king

Show all 6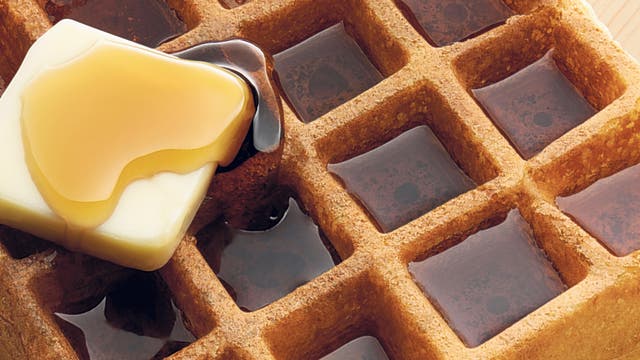 Start as you mean to go on: Chefs reveal their top tips for breakfasting like a king
Forget soggy cereal and tired old toast, says Gillian Orr.
Gillian Orr
Friday 20 January 2012 01:00 Comments
If there's one lesson that is drilled repeatedly into us by nutritionists, it's that we should all be eating a hearty, healthy breakfast. We are certainly all familiar with the benefits: lower cholesterol levels, improved performance, weight control. So why for so many of us does breakfast consist of thoughtlessly grabbing a slice of toast and Marmite while running out the door; forcing down some over-sweetened mush masquerading as cereal; or (and we all know this is the cardinal sin) forgoing it altogether?
"We are living in a society where skipping breakfast is becoming more the norm than the exception, which, if you think about it, has only been happening in recent times," says Jeya Henry, professor of human nutrition at Oxford Brookes University. "You really need to plan your day to make sure that you allocate some time for breakfast." Professor Henry suggests something high in slow-release carbohydrates, such as rolled oats, and plenty of fruit to give you that vital morning boost.
As the national Farmhouse Breakfast Week starts on Sunday, we asked a number of chefs, many of them packing various awards and Michelin stars, what they like to have for The Most Important Meal of the Day.
Jonathan Arana-Morton
The Breakfast Club
Friday is always Eggs Benedict Day, whether it's in one of my cafés or in somebody else's. Even when I'm on holiday! You can tell how good the rest of the menu is by the quality of a place's Eggs Benedict. It's the ultimate indulgent breakfast. For the rest of the week I have a flat white and a smoothie. I try and go for Green is Good (spinach, mango, apple and mint), which makes you feel very self-righteous.
Darron Bunn
Executive head chef, Quaglino's
Weekday mornings are so busy that I usually just have a bowl of porridge, plain and simple, with just a little sugar and plenty of cups of coffee (there's certainly no time for a Tropicana breakfast as per the television advert... if only).
However, if I'm off then I love having grilled, thick cut, free-range smoked back bacon, toasted muffins and poached duck eggs, served with a good dollop of HP sauce.
Atul Kochhar
Chef director, Benares
I consider breakfast to be very important, maybe more than dinner. If I'm in a rush, I will have tea and a quick Indian omelette sandwich. When I have time I like to have my proper breakfast that could include Indian omelette, paratha, yoghurt, sweet mango pickle, juice and tea.
Anna Hansen
Head chef, The Modern Pantry
I absolutely love waffles and I make them myself with cassava and coconut. Cassava is an African crop that I like to peel and grate into the waffle mix. I've got a waffle iron that gets a lot of use. They go superbly with maple syrup and bacon; just like everything, really.
Bruno Loubet
Chef and restaurateur, Bistrot Bruno Loubet at the Zetter Hotel
I usually have a bit of fruit and maybe once a week I'll have a bacon sandwich. But my favourite breakfast is very weird: I have porridge with olive oil, honey and chopped garlic on top. I love it. When I was in Australia I came up with it, because all the ingredients are good for you. It keeps me young and healthy! My chefs are used to it now, but in the beginning it shocked them all.
Stephen Gadd
Head chef, The Rookery
For a leisurely breakfast I like Marmite on toast with a couple of fried eggs, some fried chorizo with grated parmesan, all toasted under the grill. Then I have some Greek yogurt with orange blossom honey and a flat white. On busy days I have toasted crumpets with Marmite.
Daniel Clifford
Head chef, Midsummer House
Every Sunday morning I make a full English breakfast with the children before taking the dogs for a long walk. I include poached eggs, black pudding, baked beans, fried bread, wild-boar-and-apple sausage from my local butcher, applewood smoked bacon and tinned plum tomatoes. For a quick breakfast, a bacon-and-brown-sauce roll is a must.
James Pare
Head chef, River Restaurant at The Savoy
Most of the time I'm too busy for breakfast, but I try to start my day with fruit or granola. I taste all day anyway! If I have a morning or day off I prefer to have a croque monsieur, along with a strong espresso.
Jesse Dunford Wood
Head chef, The Mall Tavern
I love nothing more than "bubble and hash", made with last night's leftovers, whatever that may be. Old potatoes binding any vegetables or leftover meat and a bit of grain mustard made into a cake, dusted in flour and roasted in hot butter in a skillet. Serve that with a double fried egg (duck if you can find them). For a grab and go, I take some vitamins at home, then coffee (double espresso, please!) and cheese on toast slathered in Worcestershire sauce.
Anthony Demetre
Chef and restaurateur, Arbutus, Wild Honey and Les Deux Salons
I'm a coeliac, so for a relaxed breakfast I'll have two eggs with gluten free toast (sunny side up), half an avocado and a glass of freshly squeezed pink grapefruit juice. Otherwise I have a bowl of Rude Health gluten-free cereal with almond milk (I'm also lactose intolerant).
Claude Bosi
Head chef and restaurateur, Hibiscus
I always have porridge. It fills me up until lunchtime. I like to alternate the flavour but my favourite at the moment is apple and cinnamon. A real treat on a Sunday morning is waffles with crispy bacon and lots of maple syrup.
Rosie Yeats
Head chef at Aurelia
I work long hours so I rarely have time for breakfast but when I do I want to make it worth it. Pancakes have always been my favourite and I find the addition of blueberries, ricotta and honey a tasty twist on plain old maple syrup.
Alyn Williams
Head chef, The Westbury
When I'm working I eat cereal in the morning: bran flakes, Alpen and porridge are all on rotation. If I have a day off? You can't beat a full English breakfast. Good sausages, streaky bacon, tomato, sautéed mushrooms, black pudding.
Ben Tish
Executive head chef, Opera Tavern
A small orange, banana and apple on the way to work. Then I get to the restaurant and make porridge (with water and a little salt). On a day off I tend to push the boat out a bit. I really like Spanish breakfasts, so chorizo often features. That's nice cooked with fried eggs on sourdough.
Register for free to continue reading
Registration is a free and easy way to support our truly independent journalism
By registering, you will also enjoy limited access to Premium articles, exclusive newsletters, commenting, and virtual events with our leading journalists
Already have an account? sign in
Join our new commenting forum
Join thought-provoking conversations, follow other Independent readers and see their replies