Stevie Parle recipes: Our chef serves up an Italian-inspired Christmas feast
If you're in charge of the kitchen this year, our new guest food writer Stevie Parle has three rules for his Italian-inspired feast: keep it simple, plan ahead and (v important!) please yourself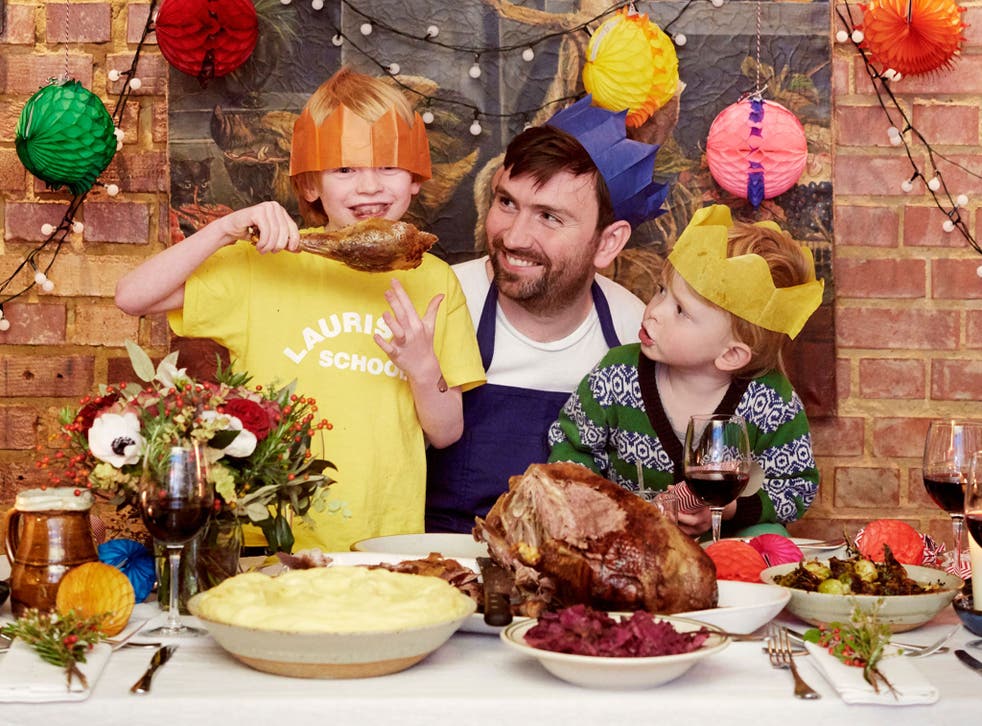 While I used to be a bit uninterested in Christmas, now that I have two small boys, it's a big deal. A really big deal. And trying to show them old traditions and make new ones just for us is now a big deal for me, too.
Food is obviously an incredibly important part of any proper Christmas. I'm not going to pretend that the idea of cooking a big meal is as stressful for me as it is for some people; I run three restaurants and have cooked for a living since I was 16 (that's 15 years, in case you're wondering), so the prospect of cooking a Christmas feast for family is more of a pleasure than a chore.
However, I don't want to spend the whole day cooking – I have to perform my other important dad duties: special breakfast, installing batteries, toy assembly and booze monitor. Important jobs on an important day.
Stevie Parle's roast-goose feast

Show all 8
But if I cook the main meal, then I like to do it all rather than marshal willing, if drunk, helpers, I'll leave them to the washing-up. And it comes with a caveat or two: no requests, no substitutions and no gripes. I'll cook what I'll cook and hopefully everyone will like it. It's not (just) that I'm a bit controlling, but that I don't want to be bullied into doing too many different things to accommodate everyone's tastes, traditions and Christmas dreams. You can easily end up doing roast potatoes and boiled potatoes and swede and roast parsnips and gravy and another gravy without wine, and a soup to start and biscuits for cheese and mince pies and Christmas pudding but no one likes it, so another three desserts.
This year, it's devils on horseback then goose, sprouts, mashed potatoes and red cabbage, and then this kind of chocolatey trifle thing. I might bust out my copy of the excellent and recently republished Jocelyn Dimbleby's Cooking for Christmas and whip up a few mince pies as well – her recipe is the best ever. I might even serve a proper Christmas pud (I like the setting it on fire bit), but it'll be bought. A good one, of course.
To be honest, you just can't do the whole caboodle unless you have a few ovens. Not if you like your food warm – and most of us do; there's just not enough space.So this year I'm really going to try to get some stuff done the day before. I've put notes beside the things I intend to get done in advance, so you can intend to as well. The recipes (except the trifle) all serve 6, but easily double.
This menu is sort-of Italian, inasmuch as the seasonings and ingredients take a bit from Italy, and there's a simplicity that would please my imaginary nonna.
Stevie Parle is chef/owner of Dock Kitchen, Rotorino and Craft London (stevieparle.com, @stevieparle)
Roast goose and gravy
To get the legs delicious on a goose, the breast goes a little dry. Don't worry, though, that's where the fantastic gravy comes in. You can buy fresh stock, but don't use a cube – it'll ruin it.
Preparation: 30 mins
Cooking: 3 hours
4-5kg goose
Salt
1 tbsp flour
1 onion, chopped
2 sticks celery, chopped
1 bottle red wine
300ml Madeira
2 tbsp redcurrant jelly
200ml chicken, beef or game stock
Remove your goose from the fridge at least 3 hours before you want to cook it. Chop off the wings after the first joint but pop them in the tray, too.
Preheat the oven to 200C.
Remove the excess fat from around the goose cavity and pull out the bag of giblets, but don't throw it away. Season the goose well with fine salt outside and in the cavity. Put into a roasting tray with high sides and place in the hot oven for 45 minutes.
In the meantime, chop all the giblets and dust with flour. Remove the browned goose from the oven, carefully lift the goose out of the tray, then pour off the fat – there'll be loads; don't throw it way, it's gold dust and if you are making roast potatoes, the goose fat will make the best ever. Put the goose back in the tray with the onion and celery around it. Pour over the red wine.
Drop the oven to 120C and roast for 2 hours. Fry the giblets in a small pan and a little goose fat until nice and brown. When the goose is cooked, pour all the juice and veggies from the tray into the pan with the giblets and rest the bird, covered in foil and a tea towel, somewhere warm while you get everything else ready. Sneakily eat the wings.
Strain the pan juices and giblets through a sieve, pushing through as much veg and meaty goodness as you can. Pour off the fat. Add the Madeira and redcurrant jelly and reduce until the alcohol is cooked off and the gravy is rich. Carve and serve your goose. I remove the breasts completely to carve a goose and then thinly slice the breasts on a board – it's much easier.
Slow-cooked red cabbage
Benchmark delicious. You can make this a couple of days before if you keep it in the fridge.
Preparation: 10 mins
Cooking: 70 mins
2 knobs butter
3 rashers of bacon, cut into lardons
1 medium onion, chopped
Few sage leaves
1 star anise
1 small red cabbage, chopped into big chunks
¼ tsp dried chilli
2 apples, cored and chopped into 2cm chunks
100ml balsamic vinegar
In a heavy casserole-type pan with a good lid, fry the bacon, onion, sage and anise with the butter for about 10 minutes until soft and sweet. Add all the remaining ingredients, season well then put the lid on to cook over a very low heat for an hour. It should be sticky, sweet, sour and delicious. Do check occasionally and add a splash of water if it's not really steamy.
Brussels sprouts
I don't know what that whole scoring the bottom of the sprouts thing is about, but I never bother. I cut them in half to make them cook more quickly and brown better when I fry them, but you needn't bother. You can boil the sprouts the day before then fry them on the day, but it doesn't really take that long.
Preparation: 10 mins
Cooking: 15 mins
500g Brussels sprouts
4 tbsp goose fat or butter
3 garlic cloves, peeled and quartered
400g peeled chestnuts
10 sprigs thyme or small handful sage
Handful raisins
Boil a large pan of very well salted water (not as salty as the sea but not far off).
Cut the sprouts through the stem if they're big and boil them for 5 minutes. Drain and discard the water.
Reheat the pan over a high heat and fry the sprouts in a single layer. Add the goose fat and the garlic, turn the heat down to medium and then, after 20 seconds or so, add the remaining ingredients. Fry gently, but fast enough for everything to go a deep, delicious brown. Season with pepper and check the salt (if your water was seasoned enough, you won't need much). Don't worry if it all breaks up a bit. Keep in the pan until you're ready to serve.
Taleggio mashed potato
You'll notice the butter to potato ratio is fabulous/frightening. It's worth it. Slicing the potatoes may seem like extra hassle but doing so seems to work best: the potato starch doesn't get messed up and your mash is fluffy not gluey. Use rich, yellow British salted butter. I'm pretty sure butter has been proved to be healthy now, hasn't it? You can use a soft cheese other than taleggio if you have it. This is best cooked on the day, though you could peel and slice the potatoes the day before and keep them in water somewhere cool.
Preparation: 10 mins
Cooking: 40 mins
600g floury potatoes (King Edwards preferable)
1 garlic clove, peeled and halved
400g butter
150g taleggio
Peel the potatoes and cut them into 3cm- to 5cm-thick slices, as evenly as you can. Place into a pan of hot water (tap-hot is fine) with the garlic, add a generous amount of salt, bring to a simmer and cook gently for about half-an-hour until completely soft but not soupy. Drain then put the potatoes through a mouli or potato ricer, or use a hand masher. If you have none of those, break with a whisk (but don't whisk them).
Add the butter and cheese half at a time and mix with a spoon until you have a smooth, glossy, amazing mixture. Season well with pepper and check the salt. Try not to eat it all yourself. Keep somewhere temperate with the lid on and they should stay warm for at least an hour.
Devils on horseback
My grandpa would always make these at Christmas. They were my favourite bit and I'd snaffle as many as possible. Try to get those big soft Agen prunes – they're amazing. You can wrap these the day before and either eat them while you are waiting for lunch or serve on the side of your goose. If you have some prunes left over, soak them in brandy and put them on your Boxing Day porridge; you'll thank me.
Preparation: 10 mins
Cooking: 10 mins
1 Earl Grey tea bag
18 prunes
5 chestnuts, peeled and quartered (steal some from the sprouts recipe if you're making it)
18 thin slices of pancetta or streaky bacon without rind
75ml red-wine vinegar
Small pinch mild dried chilli flakes
Heat the oven to 200C (alternatively, you can cook these while your goose rests).
Make a pot of Earl Grey tea and soak the prunes in it for an hour (longer if you didn't get Agen prunes; they're usually drier). Remove the stones and replace each with a quarter of a chestnut. Wrap the chestnut-filled prunes in bacon and fit snugly in a tray. Pour in the vinegar and sprinkle with a little chilli (for background heat).
Bake for around 10 minutes until the bacon turns crisp and the prunes are hot and tasty.
Chocolate and cherry trifle
No one would know if you bought a simple plain chocolate cake from a shop for this, but everyone would know if you didn't make the custard yourself. This makes two small trifles; you could make one very boozy and one plain. You can make the cake and custard a day or two before. In fact, you can construct the whole thing except for the cream the day before.
Preparation: 20-30 mins
Cooking: 30 mins
Serves 8-10 For the cake
200g butter
200g sugar
4 eggs
150g self-raising flour
40g cocoa
For the custard
300ml full-fat milk
1 vanilla pod, scraped out
4 egg yolks
25g plain flour
2 tsp cornflour
For the jam sauce
100ml water
1 jar sour cherry jam (or blackcurrant)
For the trifle
200ml cream
200ml port
4 tbsp hazelnuts, roasted and coarsely crushed
50g dark chocolate
Preheat the oven to 160C. In a mixer, beat the butter and sugar together until pale and light. Add the eggs one by one, then sieve and fold in the flour and cocoa. Pour the batter into a loaf or cake tin roughly lined with greaseproof paper (don't bother making this look pretty, you'll be cutting it all up later). Bake for 20 to 40 minutes, depending on your tin. (A skewer should come out clean.) Leave to one side to cool.
For the custard, gently heat the milk and vanilla until it comes to a simmer. Whisk the rest of the ingredients together until smooth. Pour the hot milk over the egg mixture while still whisking. Return to the pan over a low heat, whisking all the time until the mixture comes to a boil again. Pour out of the pan into a wide bowl and leave to cool.
For the jam sauce, melt the water and jam in a pan to make a loose sauce, set aside to cool.
Now build your trifle. Cut the cake into 2cm slices. Whip the cream to soft peaks. Lay the cake on the base of two medium-sized trifle bowls (about 20cm). Pour over the port. Spoon in the custard. Spoon over the jam mixture. Add the whipped cream. Sprinkle over the hazelnuts and grate over the chocolate.
Register for free to continue reading
Registration is a free and easy way to support our truly independent journalism
By registering, you will also enjoy limited access to Premium articles, exclusive newsletters, commenting, and virtual events with our leading journalists
Already have an account? sign in
Register for free to continue reading
Registration is a free and easy way to support our truly independent journalism
By registering, you will also enjoy limited access to Premium articles, exclusive newsletters, commenting, and virtual events with our leading journalists
Already have an account? sign in
Join our new commenting forum
Join thought-provoking conversations, follow other Independent readers and see their replies