Sushi: Britain's new national dish
The favoured lunch of city slickers from LA to Osaka is now on the menu at Butlins. So, asks John Walsh, how did salmon nigiri become Britain's new national dish?
Wednesday 25 June 2008 00:00 BST
Comments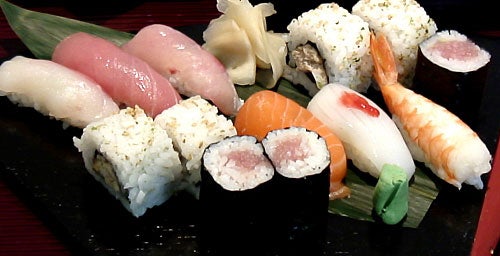 It's enough to make you choke on your wasabi japonica. Butlins, traditionally the holiday home of the beaming redcoat and the Knobbly Knees Competition, is opening a sushi bar.
From today, fun-loving patrons of the Shoreline Hotel, Bognor Regis, the flagship residence of the Butlins empire, can turn up their noses at spicy bean burgers and Mexican chicken fajitas and sample exquisite, bite-sized morsels of rice, fish and horseradish. After a day watching the Knockout Wrestling, trying the Quasar Laser Quest or enjoying the vocal stylings of Same Difference, the emetic brother-and-sister act from last year's The X Factor, guests can enjoy the seafood gunkan, smoked salmon nigiri and the tuna maki rolls.
"The new bar is very much in response to public demand," says Jeremy Pardey, resort manager. "We try to be very innovative, and respond to our guests' needs, but I must say I was surprised at the popularity of sushi." Interestingly, none of the resort's eight restaurants is dedicated to a single cuisine, whether Indian, Chinese or Tex-Mex. The sushi bar is a one-off.
If Butlins is the last word in British commercial populism, what does this say about sushi? Once it was considered a weird, inscrutable delicacy. ("You expect me to eat raw fish? And these Liquorice Allsorts of vinegary rice wrapped in black plastic – you expect me to eat them too, dipped in this green mustard stuff that scours the back of your nose?") Now it's the thing to choose on holiday when you're bored by the steak 'n' kidney pudding. Has the Japanese delicacy become our latest national dish? Is sushi the new chicken tikka masala?
The original fast food started in China, as "a food where fish is pickled by rice and salt". The Chinese had stopped eating pickled fish by the time of the Ming dynasty, but the Japanese took to it. In the 14th century, they started using rice vinegar. In the 15th, things took a wrong turning with the spread of half-fermented "narezushi", which smelt, disgustingly, of blue cheese, fish and rice. Its successor, oshizushi, was sold as a fishy snack to people walking in the park or attending the theatre.
By the 1850s, you could find sushi food stalls all over Edo (as Tokyo was then known), selling nigirizushi, which is close-ish to the stuff we consume today – rice with fish marinated in soy sauce or vinegar. It was sold, along with edible seaweed, in front of Edo Bay and became known as edomae-zushi.
After an earthquake in 1923, when thousands of houses collapsed, many chefs lost their jobs and relocated all over Japan, taking the secret of edomae-zushi with them.
The advance of refrigeration in the 20th century meant that chefs didn't bother to cook the fish any more – they could prepare it raw and keep it fresh. Also, they found they could wrap up rice in nori – dried and pressed sheets of seaweed. Then one evening in 1931, at the Ginza Kyubey restaurant in Tokyo, the Gunkan-maki (or "warship roll") was invented, a kind of cone of rice, wrapped in a nori binding, which you could fill with cod roe, oysters, quail eggs or anything you fancied.
French, Italian, Chinese and Indian restaurants proliferated all over the UK after the war, but Japanese cuisine was slow to catch on; the first Japanese restaurant to open in London was the Ajimura in 1974. Sushi, however, began to appear as party food at business gatherings in the early 1980s: its decorative qualities made it the perfect canapé. Nobody seems to know its exact point of entry to British palates, but, suddenly, no posh City buffet was complete without its display of pink, green and black bites.
The first sighting of the conveyor-belt sushi restaurant on these shores was at the opening of Moshi Moshi in 1994. There was something alarmingly mechanical, but oddly artistic as well, about the procession of beautiful miniature platefuls of rice and fish, each surmounted by a plastic dome, around the table where the lunchers sat – a small conveyor-belt of gorgeousness on price-colour-coded plates. Now there are three Moshi Moshi restaurants in the city of London and another in Brighton.
Sushi became the perfect lunch choice for the busy executive: small-scale, compact, healthy, stylish and glossy. Eating at a conveyor belt carried the right signs, too: you weren't just pigging out, you were refuelling at a hi-tech counter.
The sushi trend became a storm in the late 1990s. Yo! Sushi appeared, founded by an Englishman, Simon Woodroffe, who expanded the conveyor-belt concept to take in sashimi (raw fish), tempura and teriyaki; drinks were served by robots. Also – a crucial innovation – the desk-bound middle manager could have his bento box of lunchtime treats delivered by messenger.
By 2001, it was the market leader. Yo! Sushi branches appeared in Selfridges and Harvey Nichols, and spawned restaurants all over the world: suddenly you could find this curious Anglo-Japanese hybrid as far afield as Moscow, Kuala Lumpur, Dublin and Kuwait. And, without meaning to, it had created a whole new market; because of the chain's popularity, supermarkets were forced to notice the sushi trend, and introduce lines of raw fish and seaweed-wrapped rice to nervous consumers anxious to try the phenomenon behind closed doors.
Now the global trend has been seized by the discriminating vacationers at Butlins. The report's press office points out that some traditional sushi preparation methods have been "slightly adapted to accommodate British tastes". What did that mean? "It means," says Pardey, "that instead of the tuna being raw, it'll be cooked."
Otherwise, they're dealing in straight sushi and emphasising its healthy side. They may be well advised to steer clear of meeting Japanese people, who tend to snigger about the supposed healthiness of sushi (which is heavy in mercury deposits); they'd also be advised not to read the Daily Mail on the subject – two years ago, the doom-pronouncing tabloid investigated the provenance of sushi and concluded that "far from being a healthy alternative to the sandwich, sushi contains a cocktail of chemicals, heavy metals and pesticides which can potentially lower intelligence, reduce fertility and even lead to cancer. They are also, des-pite their healthy image, laden with calories."
Confronted by this toxic prognosis, Mr Pardey is breezily confident. "I'm assured it's very healthy food," he said. "We see it as a healthy contemporary version of fish and chips." Yes, indeed. Another British classic dish has arrived.
Fishy facts
By Foisol Al-Ali
* The longest sushi conveyor belt in Britain is at Yo! Sushi in Soho, London, which measures 60 metres; the longest in the world is at Sakae Sushi in Singapore, where diners select dishes from a 129m-long belt.
* Sushi made with fatty tuna, called otoro, is the most highly-prized in Japan. It is served at room temperature, so that diners may appreciate its 'melting' texture.
* True sushi fans know to dip the topping, rather than the rice, into the soy sauce, using your fingers, not chopsticks.
* There are 277 Japanese restaurants in the capital, according to Visit London. At Nobu in Mayfair, a single piece of otoro sashimi costs £6; at Yo! Sushi, £3.50 buys you 5 slices of tuna sashimi.
* Most seafood is low in fat; and any fat is present is generally rich in omega-3. Since most sushi is raw (a notable exception being eel nigiri), little fat is used in its preparation.
* Those on a low-GI diet may note that fish, tofu, seafood, egg and many other sushi staples contain high levels of protein. Order sashimi – and hold the rice.
* There are a mere 37 calories in a piece of regular tuna nigiri; eel sushi contains 65 calories.
* Wasabi, the fiery paste made from the underground root of the wasabi plant, may feel like it blasts your sinuses, but it is not, California doctors have concluded, actually an effective decongestant.
* Essential vitamins and minerals are found in the vegetables used for sushi; for example, nori contains vitamins A, B1, B2, B6, Niacin and C.
* Traditionally, egg omelette sushi is eaten at the end to calm the palette and settle the stomach.
Join our commenting forum
Join thought-provoking conversations, follow other Independent readers and see their replies