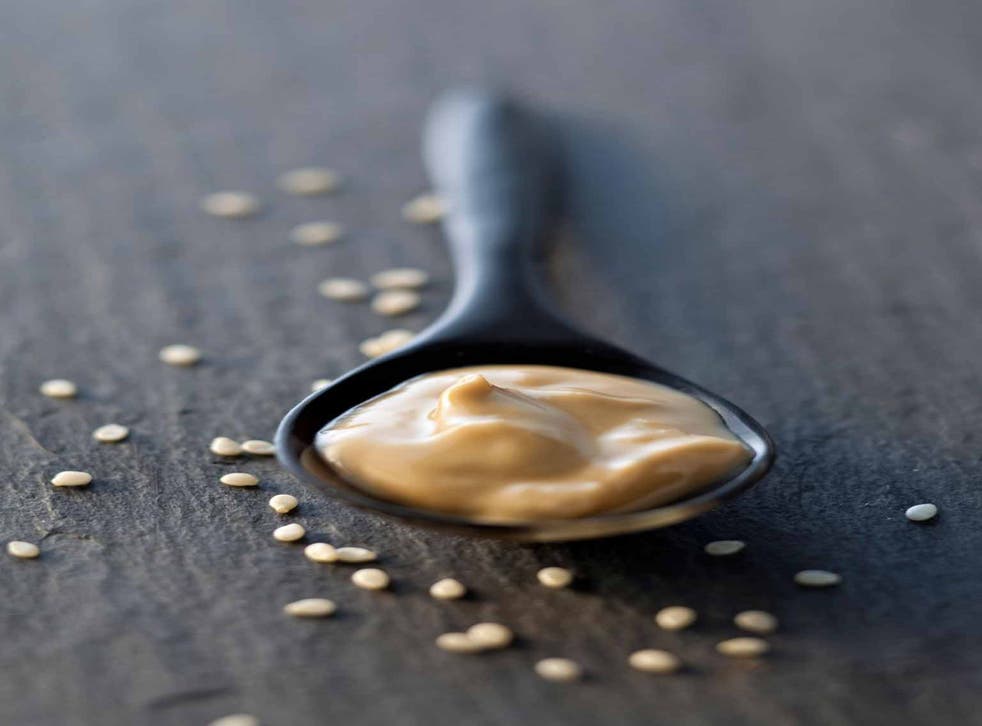 Tahini boom: Versatile, tasty and nutritious, no wonder sales are on the up
It's the Middle Eastern spread than gives a creamy twist to dressings, dips and desserts. It's also a highly nutritious alternative to peanut butter you can spread on toast for breakfast. 
If you live in the Middle East, you might well start your day with bread dunked in tahini – the creamy paste made from ground sesame seeds – rather than a bowl of cereal. In Britain, however, tahini has been largely confined to the purist depths of healthfood shops alongside the mung beans and muesli. For most of us the nutty, beige-coloured cream, with its texture of sloppy cement, was perhaps, in the past, felt to be a little too exotic.
Recently, though, sales of tahini are said to have nearly doubled. Supermarkets, which had barely heard of the stuff five years ago, suddenly can't get enough of it. Ottolenghi's online store ranks tahini among its three top-sellers.
It seems that many of us are now spreading this versatile and health-giving paste on toast like butter, dressing salads and kebabs with it, and adding it to cakes, cookies and smoothies. Those who make their own hummus will also know that tahini is an ingredient that no self-respecting home-made chickpea spread would be without.
So how has this happened? The answer, say supermarket buyers, is the parallel popularity of both healthy and Middle Eastern foods, thanks to food writers such as Yotam Ottolenghi and the Hemsley sisters, Jasmine and Melissa.
For the Israeli-born Ottolenghi, tahini is as familiar as peanut butter would be to most of us, and he loves it with pretty much everything. As a child in Jerusalem he loved to dip chunks of bread in tahini and drizzle with honey. And like every Middle Easterner, he devoured it daily in ubiquitous hummus and baba ghanoush, as well as in sweet halva, the crumbly cake made from sesame paste and honey or sugar.
Today, in Ottolenghi's books and restaurants, you'll find tahini as the star ingredient of rich creams drizzled over fried cauliflower, roasted butternut squash, grilled fish or barbecued meats. "The sky's the limit when it comes to tahini," he says in Ottolenghi: The Cookbook. In his other books, you'll spot tahini being used in brownies, cookies and ice-cream.
The Israeli husband-and-wife team Sarit Packer and Itamar Srulovich, who both used to work in the kitchen at one of Ottolenghi's restaurants and now run Fitzrovia's Honey & Co, are equally enthusiastic about using tahini in sweets. "Tahini gives cookies a delicate nuttiness and short texture unlike any other [ingredient]," they write in their recently published Honey & Co: The Baking Book (Saltyard Books, £25). If you're not a convert to tahini already, the pair's recipe for tahini cookies – indulgently filled with white chocolate and rose – will make you one pretty quickly.
It's tahini's versatility that gives it such appeal. "It works in so many different contexts, sweet and savoury," says Ottolenghi. "Its creamy, smooth nuttiness makes it as wonderful drizzled over a bowl of vanilla ice-cream or on some banana bread, with a small cube of honeycomb, as it is in a huge number of savoury dishes."
Tahini is also ridiculously good for you – so it makes a great alternative to mass-market peanut butters, which can contain added sugar and palm oil. "Tahini contains the heart-protective antioxidant sesamol, which is anti-inflammatory and can help with arterial health," says nutrition and lifestyle coach Emma Whitnall. "It's also low in cholesterol, and rich in essential fatty acids, thiamin, magnesium, zinc, copper and manganese."
Tahini's health-giving properties have made it a hit with the food blogging Hemsley sisters, who list it among their top five pantry essentials. In their book The Art of Eating Well (Ebury Press, £25), they put it into mung-bean hummus; combine it with miso, ginger and fresh lemon juice to make a Japanese-style salad dressing; and blend it with banana and coconut in their Coco Loco smoothie. At their recent Hemsley & Hemsley Supper Clubs, they've been combining tahini with garlic, spring onion, lemon juice, parsley and avocado to make their Green Goddess Dip, which they serve with a rainbow of raw crudités. And they've also used tahini in an updated version of the 1950s favourite Ants on a Log (see recipe, right).
Perhaps their tastiest tahini twist, though, is their Tahini Coconut Bliss Balls. "They're made with tahini mixed with creamed coconut, raw honey and a bit of sea salt to bring out the sweetness," says Jasmine. "We roll them into balls or just pour the mixture into a tray and then cut it into bite-sized squares." Another winner is the fudge-like tahini and maple icing on their buckwheat and butternut squash cupcakes. You'll never bother with icing sugar again.
When buying tahini, you'll need to choose between "light", made from hulled sesame seeds, or "dark", which includes the protein-packed hulls. (You can also choose between tahini from roasted or raw seeds.) Light and dark tahinis are very different, the dark being slightly bitter. "Dark tahini made from unshelled seeds is more nutritious and has a stronger flavour than the light version," say the sisters. "But light tahini is easier to incorporate if you're just getting used to the flavour. Light tahini takes colour beautifully so you can blend in a little beetroot or red pepper for vibrant pink or red dips."
The Hemsleys go for British versions of the paste such as Carley's Organic Raw Light Tahini or Meridian Organic Light Tahini, while Ottolenghi recommends brands such as the Palestinian Karawan or the Israeli Al Arz, which he sells in his online store. "The difference between one brand of tahini and the next is huge," he warns. "Some can be a bit claggy, while others, such as the Al Arz brand, are utterly smooth and nutty." Honey & Co swears by Palestinian brands such as Prince or the Lebanese Al-Yaman. Supermarkets, on the other hand, tend to go for Greek or Cypriot versions.
In the unlikely the event that you find yourself in Gaza, try the strip's brick-red tahini, made by roasting sesame seeds in small batches over direct heat (normally seeds are "roasted" by steaming). And if tahini hasn't yet earnt a place in your fridge – where it will happily last for ages – this might be the perfect moment to give it a try. Time for the peanut butter to move over?
Ladybirds on a Log by Jasmine and Melissa Hemsley
Ingredients (to serve as many as you like)
Celery sticks
Tahini
Goji Berries
Raw honey
"Ants on a Log" is the jazzy name for the peanut-butterfilled celery sticks topped with raisins that emerged in the 1950s as a fashionable, healthy snack. We've updated it with tahini, raw honey and some chewy goji berries - perfect with the crunch of a celery stick.
Cut the celery lengthways. Spread with tahini. Sprinkle a handful of goji berries over. Finish with a drizzle of raw honey or, for a tangy palate cleanser, a squeeze of lemon.
Taken from 'The Art of Eating Well' by Melissa and Jasmine Hemsley (Ebury Press, £25)
Beetroot falafel with garlic tahini dressing by Waitrose
Ingredients (to serve 4)
150g fresh beetroot, grated
400g can chickpeas, drained
3 cloves garlic, crushed
50g plain flour (or gram flour)
1 teaspoon ground cumin
Quarter teaspoon chilli flakes
Half teaspoon sea salt
2 red onions, finely sliced
Juice of 1 lemon
2 tablespoons olive oil, to fry
2 tablespoons tahini
100ml natural yogurt
Place the beetroot, chickpeas, twoi of the crushed garlic cloves, flour, cumin, chilli flakes and sea salt in a food processor and blitz to a rough paste. Using wet hands roll into about 16 walnut-sized balls (falafel) and chill until ready to cook.
Steep the onions in the lemon juice and leave for about 20 minutes to draw out the colour and soften the flavour. Add 1 tablespoon olive oil to a pan and gently fry half the falafel for 5 minutes, turning frequently until crisp on each side. Remove and keep warm in the oven while the other batch is fried.
Mix the tahini with the yogurt and remaining crushed garlic. Serve the falafel with the red onions and tahini sauce with pea shoots and flatbreads on the side and a little chilli oil drizzled over.
Join our new commenting forum
Join thought-provoking conversations, follow other Independent readers and see their replies