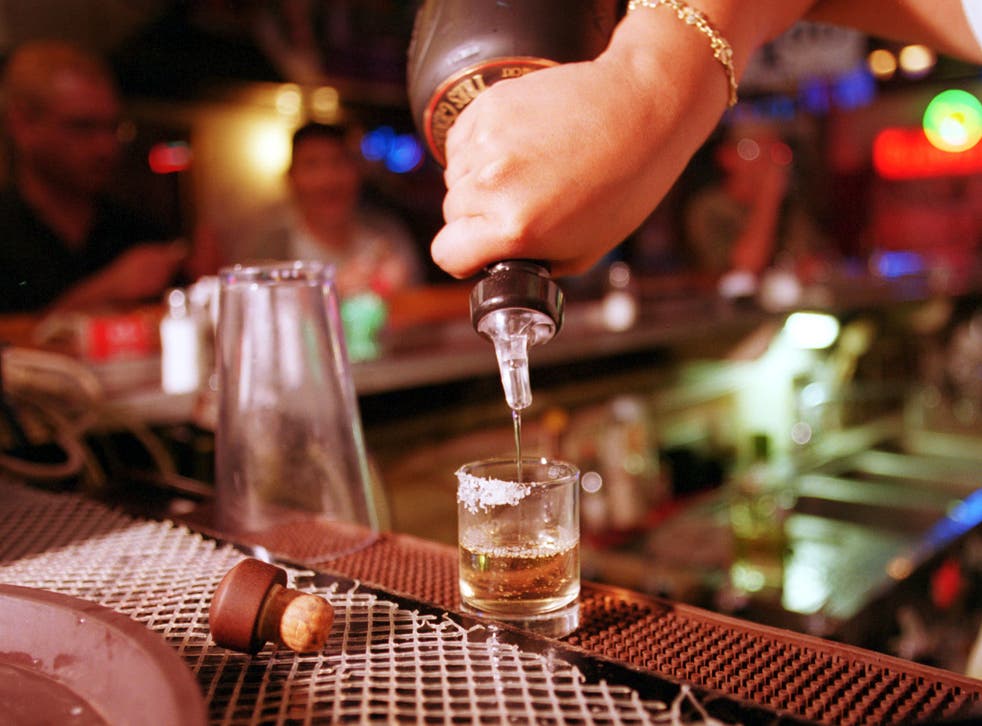 Tequila gold rush: The spirit has gone from a cheap shot to a multi-billion pound product
You don't take a shot of tequila any more; you sip it. And the sophisticated spirit now holds its own with the finest whiskies and cognacs
The roads in Jalisco, Mexico, are long and straight and hot. Travel down one and the sway of the car and the endless roll of the blue-grey tarmac contrive to create a humming monotony, which itself contrives to put you to sleep. The parched hills creep past, the car moves on, and you feel like a cat in a sunbeam.
But as you get close to Atotonilco, on the road that leads out from Guadalajara, the monotone countryside breaks. You see it looming out of the ochre and green earth, looking like it was packed up in the final days of the British Raj to be re-assembled here in the back of beyond in Mexico six decades later. In front of me is Patrón tequila's hacienda. There are flag poles and fountains, pools and a triumphal arch, and several statues of luxuriously coiffured personages standing sentry around the gates. At the centre of it all is a vast French-colonial-style mansion, which splays out in two gargantuan terracotta wings.
If the Hacienda Patrón sounds grandiose, that's because it is. It is a startling expression of self-confidence. But then the brand's owner, John Paul DeJoria, the private-train-owning billionaire who also co-founded Paul Mitchell hair products, has reason to be bullish. The tequila business is booming as never before.
According to Mexico's Agriculture Secretariat, which oversees that most agreeable-sounding thing, the Tequila Council (CRT), exports of the spirit rose by 16 per cent to $568m in the first six months of 2014, putting it on course to crack the $1bn mark last year. That reckons out at 172 million litres in 2014 alone, nearly three times the quantity exported in 1995 (64.5 million litres). That's the equivalent of 69 Olympic swimming pools' worth – and a not insignificant proportion of it is being drunk in Britain.
In the past five years, the perception of tequila has totally changed, says Luis Simoes, beverage manager at London's hotel du jour, the Chiltern Firehouse. "It is no longer just about shooting Jose Cuervo. Tequila is now something people order and sip," says Simoes.
Alex Kratena, head bartender at the Artesian Bar in London's Langham Hotel, tells a similar story. "Tequila is always one of our best sellers these days. We use it in our cocktails more than any other spirit. We sell a vast quantity. My favourite is our 'What is Agugu?!' cocktail, which contains tequila, mezcal, chipotle and Xocolatl (a Mexican drinking chocolate). Tequila is very playful and has body enough to make it perfect for cocktails."
Mike Card, bartender at Angelica in Leeds, perhaps sums up the spirit's new status when he says: "Tequilas, like the great whiskies and cognacs, are diverse and different. [Different] brands cater to different tastes."
So, how did tequila go from cheap, mass-produced spirit, only good for shooting, to a multi-billion pound luxury product for Generation Y? And how did that happen in less than 15 years? The answer lies in two places: Hollywood and Mexico.
In 2013, George Clooney was pictured dropping off a case of his own-brand tequila Casamigos at the Cipriani Hotel in Venice. Suave met chic and tequila's stock rose immeasurably. It was an act of marketing genius. The Silver Fox is perhaps the most high-profile tequila maker, but he isn't the only star with fingers in the tequila barrel. Justin Timberlake has his 901 brand, Casa Noble is partially owned by Carlos Santana, Chris Brown co-owns Bonita, while Van Halen frontman Sammy Hagar launched Cabo Wabo back in 1996, selling it for $100 million to Campari in 2010.
The gravitational pull of these stars has ensured that tequila's profile has been on an almost endless upward swing – a trend that reached its zenith with Patrón tequila, which pulled off the unlikely hat-trick of scoring free product placement in Clint Eastwood's film In the Line of Fire, being name-dropped by Tom Cruise in Vanilla Sky and finding its way in to the Golden Globe's swag bag.
It wasn't just celebrity endorsement driving the change, mind you. Something else was going on in the hills around Jalisco in Mexico. The method of making tequila, the way it was to be sold, was tuned and finessed. That, says Luis Simoes, is largely down to Patrón Tequila. The reason there was space for change in the first place was because tequila is so widely misunderstood. We know how our beer is made. We know that our vodka is made from potato and grain. And any old fool can tell you how wine is made. But ask four people in a pub what tequila is made from – let alone how it is made – and you will likely get four puzzled looks in return. What Simoes is driving at when he says Patrón heralded the change, is not that they were the first to produce premium 100 per cent blue agave tequila – agave plants are the base from which tequila is made – but rather that they were the first to explain to bartenders and consumers what that actually meant.
The first thing to understand about premium tequila is what it is not, says Kratena. "When people who don't like tequila think of it, they think of shots and the pain the next day. What most are drinking is mixto tequila," he says. Mixtos are a confection of the blue agave and sugar cane. These are the cheaper, where-am-I-what-did-I-do-last-night? tequilas.
The reason that they exist at all is because the agave plant, which grows around the city of Tequila in Jalisco – where tequila must by law be made – takes 10 to 12 years to become mature enough to harvest. So distilling it with sugar cane, which is harvested yearly, means it is much cheaper and, well, quite a bit nastier.
So that is how premium tequila is not made. Finding out how it is made is the reason I am standing here now, in the unforgiving Mexican sun in front of the Patrón hacienda.
We are first ushered into one of the terracotta wings of the hacienda, which turn out in fact to be factories. Inside are mounds of agave hearts piled 15ft high. The blue weber agave plants, the best around, have been harvested in the iron oxide- and acid-rich soil of Los Altos by the Mexican agave harvesters, known as jimadors. They set to work on the agave plant with axes that look like they were used for beheading one of Henry VIII's wives.They lop and chop the plants into chunks that can then be loaded into small brick ovens – industrial tequila producers use vast 40-ton autoclaves – which steam the agave until its sap starts to rise to its surface. Then it gets a little complicated
The "cooked" agave is split in half. Half goes to a giant roller mill, while the other 50 per cent goes to the tahona milling area (the latter is a two-ton hunk of volcanic rock). The roller mill separates the agave syrup from the fibre, while the latter keeps them all together. This parallel process is something Patrón is particularly proud of and they claim it improves the quality of the finished product.
The crushed agave is then sent off to be distilled, again separately. Standing over one of these giant pine wood barrel-type creations is enough to make you feel drunk. The distillates are reduced with water. I try some of the 110 proof distillate from the tahona mill. "Strong, no?" says our guide. It is like drinking ether.
It is now that the master distiller swings into action, combining the distillates and then ageing them. There are three types of tequila: reposado, which means "rested" and is aged for between two and 11 months; anejo which is aged for a minimum of 12 months; and extra anejo, aged for a minimum of three years.
I taste the results at lunchtime. They are little boozy masterpieces. Francisco Alcaraz, Patrón's master distiller and an avuncular figure with the finest palate in the business, introduces bottle after bottle with the same warmth that others might reserve for their children.
Good isn't really the word – it is ambrosial, unlike any tequila I have ever drunk before, and likely ever will be able to again.
Tequila, like me on this trip, has come a long way. It has grown-up, gone to school and come back so sophisticated that if you last met it 10 years ago you wouldn't recognise it today.
No longer just a student-inebriator, the good stuff is as interesting as many scotches I have tasted. Mix it in cocktails, then; drink it over ice; there are no rules. Or maybe just one: remember, sip... don't shoot.
Register for free to continue reading
Registration is a free and easy way to support our truly independent journalism
By registering, you will also enjoy limited access to Premium articles, exclusive newsletters, commenting, and virtual events with our leading journalists
Already have an account? sign in
Register for free to continue reading
Registration is a free and easy way to support our truly independent journalism
By registering, you will also enjoy limited access to Premium articles, exclusive newsletters, commenting, and virtual events with our leading journalists
Already have an account? sign in
Join our new commenting forum
Join thought-provoking conversations, follow other Independent readers and see their replies