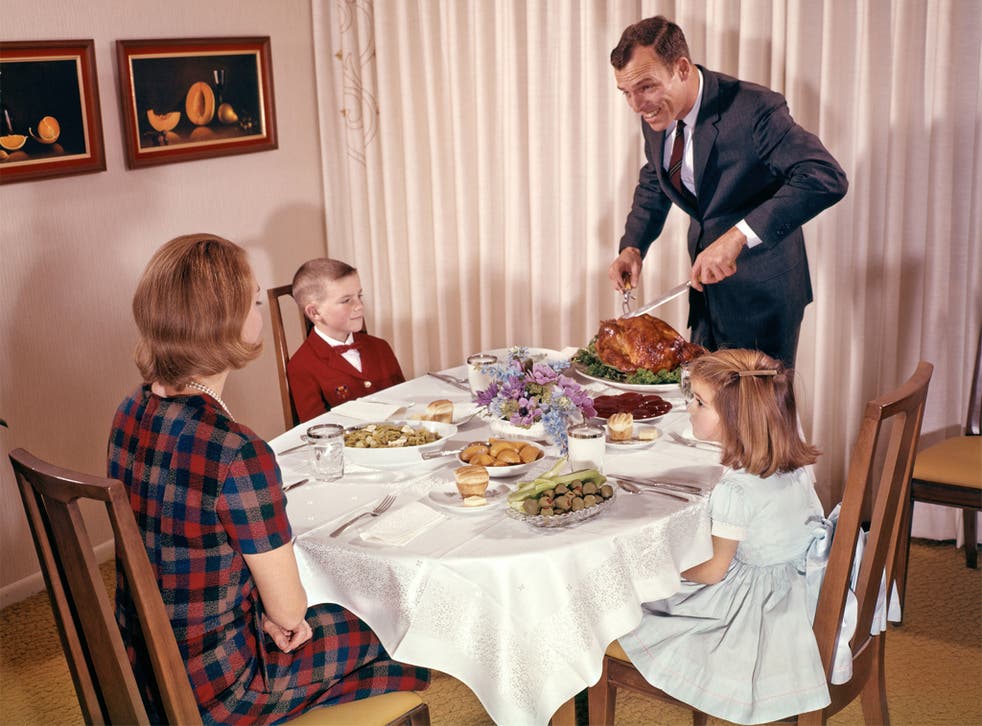 Thanksgiving: the latest US tradition to take root in UK, as one in six celebrate 'Brits-giving'
Thanksgiving has no place in British tradition. But, never ones to pass up an excuse for a feast, more of us are gobbling turkey and pumpkin pie, reports Kate Wills
Just when you thought you'd carved your last pumpkin of the year and had a whole month before you needed to think about turkey, along comes a new excuse to eat, drink and feel Americanised. Thanksgiving – like Black Friday, school proms and the unstoppable rise of the upward inflection – is the latest US tradition to take root in the UK and, according to Waitrose, one in six of us will celebrate "Brits-giving" tomorrow. Yes, it has a name. But have we really become a nation that enjoys candied yams with our roast dinner?
"We take a lot of our food-trend cues from America so it makes sense that we would give Thanksgiving foods a try," Jonathan Moore, the executive chef at Waitrose, says. The supermarket reports that turkey sales in November are up 39 per cent compared with last year. "As American restaurants and bars storm ahead in this country, we are also seeing demand for key ingredients such as pumpkin purée, sweet potatoes, turkey and cranberries soaring around this time of year."

Google Trends reveals that UK searches for "Thanksgiving" have increased by 60 per cent over the past five years and Ocado claims that November sales of cranberry sauce and the ingredients for pumpkin pie are up. The 200,000 Americans currently living in the UK probably have something to do with this, but Brits who have visited the US or seen Thanksgiving feasts on social media could also be behind the upswing. Brad McDonald, a UK-based US chef, says he is "confounded" by the rising popularity of the holiday over here.
"I can only think that supermarkets have seized on Thanksgiving as a marketable opportunity during the dead time between Halloween – which also used to not be a big deal in the UK – and Christmas," he says. "But whatever the reason behind it, it's pretty ironic considering it's a tradition which celebrates the pilgrims having escaped this country."
It was Abraham Lincoln who set aside the last Thursday in November as a national holiday for giving thanks in 1863. But here, of course, there's no day off work and whipping up a "turducken" (that's a duck inside a chicken inside a turkey) when you get in from the office might be a bit of a stretch. Luckily, restaurants around the country are jumping on the excuse-to-eat-lots-of-food bandwagon, from the Crafthouse in Leeds, which offers an annual feast, to the Boneyard in Shoreditch with its Thanksgiving Burger – a turkey-breast patty topped with cranberry mayo, smoked sweet-potato hash and honey-roast ham.
At Brad McDonald's restaurant, The Lockhart, in Mayfair, the Thanksgiving menu includes smoked turkey, bourbon gravy, oyster and country ham stuffing, marshmallow, pecan-roasted sweet potatoes, pumpkin pie and bourbon Chantilly. Presumably not all at the same time, although with Thanksgiving you never know. "I can see why the combination of sweet and savoury might seem strange to an English palate, but for Americans these tastes are nostalgic," he says. "My wife's family do a dish at Thanksgiving which is strawberry jello with a layer of sour cream at the top and the bottom, topped with crushed, salted pretzels. It's a type of jello salad and it's delicious."
Although it's more about blackened shrimps with shaved truffle than strawberry jelly, the American restaurant Christopher's, in Covent Garden, has been serving up Thanksgiving turkey with (most of) the trimmings since it opened in 1991. "It's our busiest day of the year and we've been almost fully booked for months," the owner, Anika Paul, says. "Over the last five years I've noticed more and more restaurants here are celebrating Thanksgiving in some way and I think it's great. It shows Brits are broadening their culinary horizons."
But even though Marks and Spencer will be taking part in the US-style Black Friday sales this week, its press office reports that it hasn't noticed any increase in people buying Thanksgiving-related food. So presumably we have a while before full-blown Macy's parades are happening on a high street near you. And don't expect to see David Cameron "do an Obama" and pardon a turkey any time soon. If his past form with farm animals is anything to go by, that's probably something we could all give thanks for.
Join our new commenting forum
Join thought-provoking conversations, follow other Independent readers and see their replies