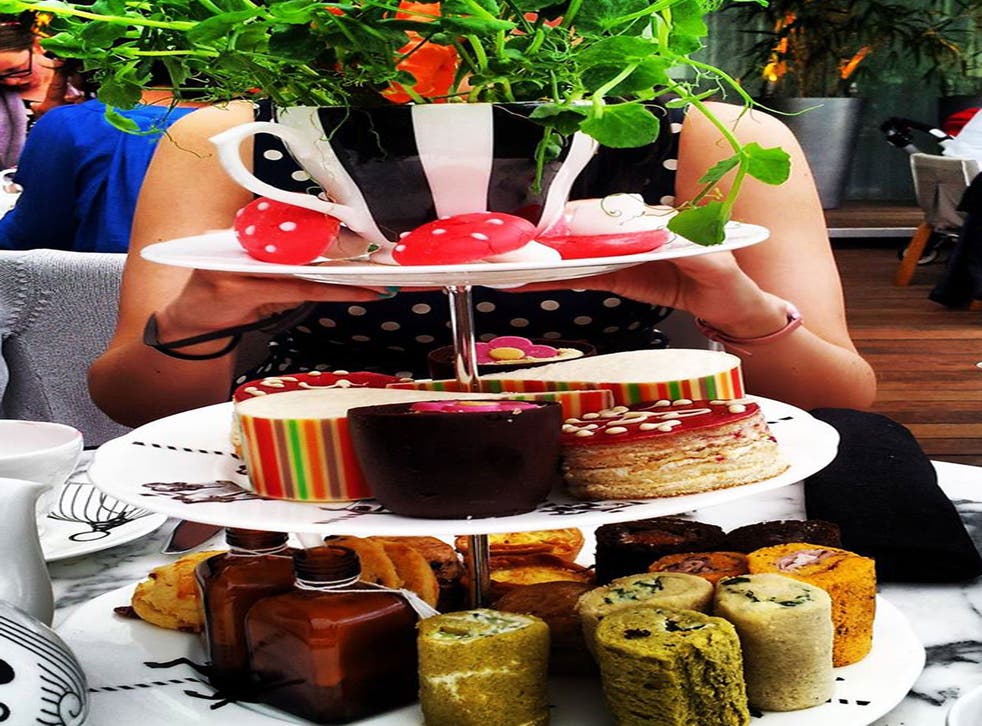 The best alternative afternoon teas in London
Looking for something a little different from the finger sandwiches and scones? A Mad Hatter's tea party might just be the thing...
Afternoon tea has become something of a phenomenon. From once being seen as a rather stuffy, uptight affair, it's one of the new trendy things to do around London – and the UK.
There are plenty of places where you can indulge in a spot of traditional high tea. However, if you've had your fill of smoked salmon sandwiches and Earl Grey tea and want something different then fear not.
Now there are a number of alternative teas that give a different take on high tea and offer a unique culinary experience.
From afternoon teas based on cuisine from different nations like Japanese afternoon tea, to themed ones like One Aldwych's Charlie and the Chocolate Factory afternoon tea, with a little help from afternoontea.co.uk we've put together some of finest alternative teas the Capital has to offer.
1. Mad Hatter's tea party - Sanderson Hotel
This is usually at the top of afternoon tea lists and for a good reason: it's hard to beat the creativity and flavours and sheer eccentricity.
Based on Lewis Carroll's Alice in Wonderland, it brings the whimsy of his work to life through the medium of food. From the multi-flavoured 'drink me' potions to the mini Victoria sponges decorated with clock faces, there are lots of lovely little references to Wonderland.
The selection of chocolate and savoury scones break away from the traditional high tea conventions that we're used to, as do the alternative teas which include strawberries and cream, and apple pie.
If you've got a sweet tooth, you'll love this one, so take a tumble down the rabbit hole and have tea with the Mad Hatter.
Price: From £38 per person
Info: www.morganshotelgroup.com
2. Indian afternoon tea - Dawaat
Dawaat's Indian afternoon tea is where east meets west - this is a nice treat that puts an Asian twist on high tea.
The savouries and tea are Indian. They offer a chicken tikka mini burger (paneer is available for vegetarians), an onion pakora, and a cucumber, paneer and cheese wrap, among other bites. It's a colourful and lovely mix of flavours.
The sweets are far more traditional English afternoon tea fare. Try the selection of cakes and pastries - the fruit tart was the highlight of the cakes – you'll want to eat it all over again. There's also fruit scones with Devonshire clotted cream and strawberry jam. Drink an Assam to really immerse yourself in this afternoon tea.
Price: £18.95 per person
Info: www.daawatrestaurant.co.uk
3. Charlie and the Chocolate Factory - One Aldwych
This is another favourite among afternoon tea lovers. Despite the theme it's not the chocolate overload you might expect. The range of savouries will leave you craving more - especially the heritage tomato tart and the smoked salmon sandwiches.
But let's be honest, it's all about the sweets. The cake dish comes warm with a selection of baked treats. The blueberry brioche and cocoa bean-shaped financiers are scrummy.
Prepare to tuck into an array of sumptuous delights inspired by Roald Dahl's children's classic. The mystery-flavoured candy floss will take you back to your childhood while the mini bottles of chocolate milkshake give a light break from the heavier food. Possibly the most exciting bit was the chocolate egg with a cheesecake filing - heaven in an egg.
Price: £34.50 per person
Info: www.onealdwych.com
4. Moroccan afternoon tea - Momo
For a taste of the souks, head to Momo. It's just off Regents Street but prepare to be transported to another world. The Moroccan Afternoon tea has been going for about three years and is a mixture of North African and French influences.
Expect to dine on smoked salmon and cream cheese in toasted brioche sandwiches and moist chicken pittas on the savoury tier. The zaalouk (aubergine compote) and mechouia (pepper compote) on toasted bread really is something different – but the French cheese briouats have the je ne sais quoi factor.
There is also not one but two sweet tiers with a combination of French and North African sweets. On one there is the exotic-looking maghrebine pastries filled with pistachio, orange and coffee flavours. They have a subtle taste to them compared to the chocolate brownie and lemon pain de gene on the French dessert plate.
There is of course mint tea, but try some of the French teas as well. Thé á L'opera is a delicious blend of berries and vanilla, while the French Breakfast tea was – dare I say it – better than English Breakfast.
Price: £22 per person
Info: momoresto.com
5. Japanese afternoon tea - Silk
If you're looking for something completely different, then Silk is the place to visit. Served up in a traditional bento box, there's an array of authentic Japanese cuisine to impress.
This afternoon tea is all about the flavour – and you won't be disappointed. The salmon and cucumber sushi is delicious and fresh, the vegetable gyoza melts in your mouth and the tofu rice parcels are a sweet-savoury delight.
The sweet section is equally as nice. There is red bean mochi, essentially rice cake with an azuki bean filling, that is a common dessert in Japan. There are also some sweet lemon tarts, cakes and strawberries.
To drink try the smooth and sweet Takara plum wine, along with a selection of teas. The ginger and peach-flavoured green tea is popular and really refreshing if you are after something non-alcoholic.
The quirky location in the old courtroom of a magistrate's court makes Silk something of a curiouso. You'll be dining in the same room place that Keith Richards and Johnny Rotten were fined and where Oscar Wilde took the Marquess of Queensbury to court over libel charges.
Price: £39.00 per person
Info: www.courthouse-hotel.com
6. Indian street food afternoon tea - Silk
Along with the Japanese afternoon tea, Silk has also recently started doing its version of Indian afternoon tea. Compared to Dawaat, this is much more of an Indian affair and has been influenced by the nation's street food.
Tuck into vegetable samosas with a bit of spicy kick or chili cheese toast. The aloo papdi chaat, which is a combination of puff pastry, potato, tamarind chutney and mint sauce, is the highlight of the savoury plate.
On the sweet plates, there is the nankhatai, spicy-sweet Indian shortbread cookies. There's also Cardamon Pound Cake that is an Asian twist on the British version. Instead of scones, there is the kutchi dabeli, a sweet but savoury potato and chutney dish.
How could we miss out the tea? Try the Masala chai (with sugar) to complement the food. This afternoon tea is perfect if you don't have a massively sweet tooth and if you're a vegetarian.
Price: £29.50 per person
Info: www.courthouse-hotel.com
7. Oriental afternoon tea – The Shard
Mile-high dining doesn't get better than this. Take a trip 35 floors up the Shard to the Shangri La hotel's Ting restaurant for their oriental-inspired afternoon tea. The views are breath-taking and food mouth-watering.
The savouries plate includes vegetable dumplings, mini crab burgers and duck on crisps. It's pretty much dim sum afternoon tea with smoked salmon and cream cheese mini tart thrown in for good measure.
Meanwhile there is a lovely assortment of sweets for dessert. The Matcha and adzuki bean cake with white chocolate and coconut flakes is delicious.
There are scones (naturally), which come with clotted cream and mango jam instead of strawberry. While mango chutney and poppadoms may spring to mind, the combination of the scones and jam does actually work. The result is a sweet-tangy flavour – don't knock it until you've tried it.
When it comes to the beverages, the apricot-flavoured Welcome tea is a soft, delicate, palate-cleansing brew that's not overly sweet.
Price: £54 per person
Info: www.the-shard.com/restaurants/ting
8. French afternoon tea - Sketch
Oozing with oh-so-cool sophistication that can only the French can muster, Sketch is probably one of London's best kept secrets when it comes to afternoon tea. Take tea in the gorgeous powder pink Gallery room and get distracted by the zanny works of David Shrigley that adorn the walls.
But what about the food you ask? The afternoon tea changes every few months but for spring expect mini mozzarella and pesto paninis, salmon on soft Swedish bread, quail eggs and caviar.
Then there is a choice of sultana or plain scones served with homemade strawberry and traditional French fig jam, which again is sweet without tasting sugary.
Everything element on the cake stand has been carefully thought out and the result is magical and a little bit surreal. There aren't one but two sweet tiers – and they do not disappoint. The rhubarb and raspberry cheesecake mousse was moreish.
It wouldn't be French afternoon tea without at least one macaroon and the Early Grey flavoured-macaroon is a brilliant little creation that's simultaneously Gallic and English.
Not forgetting the teas, try the Assam Breakfast – it goes down well with the sandwiches, while the vanilla tea complements the dessert tiers nicely but add some milk to really bring out the flavour.
Price: £39 per person
Info: sketch.london
For more information and to book afternoon tea around the UK, please visit afternoontea.co.uk
For more afternoon tea, food and travel, you can follow Neela on Instagram @neelanjona
Register for free to continue reading
Registration is a free and easy way to support our truly independent journalism
By registering, you will also enjoy limited access to Premium articles, exclusive newsletters, commenting, and virtual events with our leading journalists
Already have an account? sign in
Register for free to continue reading
Registration is a free and easy way to support our truly independent journalism
By registering, you will also enjoy limited access to Premium articles, exclusive newsletters, commenting, and virtual events with our leading journalists
Already have an account? sign in
Join our new commenting forum
Join thought-provoking conversations, follow other Independent readers and see their replies