The best of the zest: Amalfi and Sorrento lemons provide inspiration for citrusy late-summer dishes

Show all 5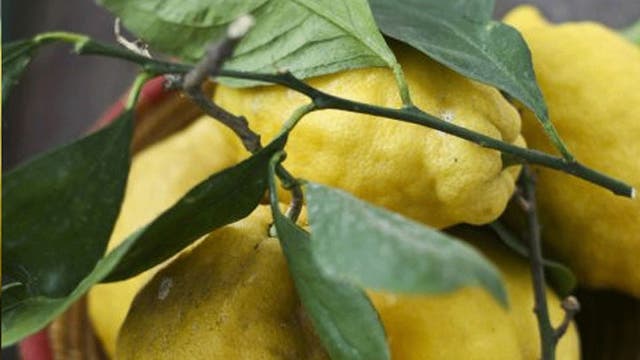 The best of the zest: Amalfi and Sorrento lemons provide inspiration for citrusy late-summer dishes
From salads and sauces to soups and even fudge, they're delizioso, says Anthea Gerrie
Anthea Gerrie
Thursday 29 August 2013 22:47 Comments
Basking in a cool green arbour on the Italian island of Procida, fanned by breezes bearing the heady scent of lemons and gazing on groves of huge golden orbs as far as the eye could see, I sampled a feast in which the zesty fruit played a part in every single dish.
Lemon rind was grated over a bruschetta of anchovies, while the juice flirted seductively with parmesan in a basil-flecked sauce for linguine. Wedges of the whole fruit were served to squeeze on the veal cutlets that followed, peeled lemons were thinly sliced into a refreshing salad, simply dressed with olive oil, and, in a stunning finale, rind and juice were combined gloriously with eggs, butter and sugar in perhaps the world's best caramelised lemon tart. Naturally, the digestif was a shot of ice-cold, zingy limoncello.
Cut to a smart Italian deli in Edinburgh where, in an attempt to prolong my Bay of Naples reverie, I am shelling out a small fortune for a real Amalfi lemon. The shiny green leaves remind me of the lemon groves, and the fragrance is simply irresistible. Posh lemons are more than just cosmetically preferable to the bog-standard ones in our supermarkets – they grab your senses by the nose and make you want to use them immediately. And nothing is fresher or more cooling in the lazy, hazy dog days of summer than a lemon rush to lift the spirits as well as the barbecue platter.
As not all of us have the Edinburgh deli Valvona & Crolla on our doorsteps, all credit to Asda for bringing the superior Italian lemon, leaves and all, to the supermarket over the summer – though it will be next year before shoppers will see them again. "Unusually hot weather has cut the season short by a month, and we can't wait for the growers to start harvesting again in January," says Paul Chuter.
For Chuter, Asda's commercial manager for citrus, bringing Sorrento lemons – larger and juicier than the chefs' favourite, Amalfi – to the high street is the fulfilment of a 20-year dream. "I've known about them for a very long time, but this variety, the most popular for limoncello, was virtually unavailable outside Italy. When I found our growers, who work small plantations that hug the coast, I was struck by their incredible passion for the fruit. They use a net and trellis system to grow their lemons slowly without chemicals for many months, maturing on the tree before being hand-picked straight into crates without any of the washing and waxing most lemons undergo.
"We don't remove any leaf that clings to the fruit because it's a passport of freshness. And although they cost a lot more than other lemons, strong sales show our culinary-minded customers really get them, so we'll roll them out into more stores when they come back next year."
At 50p, the Sorrento lemon, oversized, extra juicy and virtually seedless, is pretty good value for the punch it packs compared with standard lemons at half the price, which may yield only half the juice. A great way to take advantage of the final crop of the summer is to marinate a butterflied leg of lamb in lemon juice, adding olive oil, garlic and oregano. Mediterranean cooks love the lift lemon lends to meat – the Italians serve wedges with everything from a veal chop to a Florentine T-bone, and the Greeks squeeze lemon juice beaten with eggs into chicken stock to make the marvellous, creamy avgolemono, a tart but succulent soup also found in Turkey and the Middle East.
In Morocco, they prefer to salt their lemons, creating essentially a pickle that lends an irreplaceable flavour to a tagine of chicken and green olives. But the twice-Michelin-starred David Everitt-Matthias believes you can go one better by salting an Amalfi lemon and creating a delicious and unusual dessert ingredient. "I like the way its salty acid notes cut white chocolate – I combine them in a fudge," he says. Preserving lemons is best done at home; Everitt-Matthias recommends topping up the preserving jar with olive oil after salting and adding lemon juice to fruit sliced lengthways almost to the base into quarters.
While the Med seems to have the monopoly on lemony ideas, there is a rich culinary history in Britain that pre-dates our rather unimaginative consignment of lemons to the fishmonger's counter and bartender's kit. Syllabub sprang up in the 16th century and was wildly popular for more than 300 years. Why it fell out of fashion will be incomprehensible to anyone willing to whisk up lemon juice, double cream and sweet white wine into a simply fabulous summer dessert, particularly good with raspberries.
Lemon curd, favoured by Brits as an alternative teatime spread to jam, gets poured into a rich, buttery tart case in Italy to make the nation's quintessential dessert, and is likely the original filling for the lemon meringue pie the Americans hijacked as their own. Indeed, the American love of lemons equals the Mediterranean passion for the fruit. "Americans grow up knowing instinctively how to make fresh lemonade," says the US food writer Marlena Spieler. "It's been part of the American landscape for as long as I can remember – something kids do in summer to make a little extra cash." I wonder, sipping a citron pressé served by a fashionable Parisienne I interview in her Chelsea home, if the Americans pinched the idea of squeezing lemon juice into a jug with sugar, ice and water to taste from the French, or vice versa. And whether it's the French or Dutch we have to thank for the hollandaise sauce which transforms a tranche of salmon or turbot into a feast.
The Americans may never have succeeded in exporting the fresh-lemonade craze, but they are exporting the very different variety of lemon that US pastry chefs rave about. The Meyer, a lemon-mandarin cross originating in China, is sweeter and less acidic than your ordinary lemon, its use pioneered by Chez Panisse and other seminal West Coast restaurants. Happily, we have only five months to wait before Meyers return to Tesco, where they are being marketed as Sweet Lemons – and before the Sorrento crop also returns to the high street.
Or save up now for a fabulous Amalfi to brook the gap when that crop kicks in during November – you'll understand why Jamie Oliver told Desert Island Discs that the first thing he would look for upon being stranded was a lemon tree.
Sharp moves: how chefs use them
Angela Hartnett serves caramelised Amalfi lemon tart at Murano.
Theo Randall also serves lemon tart at his eponymous restaurant at the London InterContinental, but his favourite use of the Amalfi is in lemonade. He juices 10 lemons and squeezes the reserved zest to bring out the oil before combining with 300g caster sugar and 3 litres of water. After two hours, he strains, checking the sweetness level – "every lemon varies in acidity" – serving in chilled glasses after cooling down thoroughly in the fridge.
Karam Sethi of Trishna uses the thick, fragrant rind of Shatkora lemons – like kaffir limes, an oriental variety with little juice whose pulp is discarded.
Marlena Spieler makes a Puglia-inspired crostini by rubbing the bread with garlic and drizzling with olive oil before topping with feta, zested lemon rind and rocket.
London bar Reverend JW Simpson makes its own lemon sherbet with sugar and both the peel and juice of lemons to add to its fizzes and sours.
Register for free to continue reading
Registration is a free and easy way to support our truly independent journalism
By registering, you will also enjoy limited access to Premium articles, exclusive newsletters, commenting, and virtual events with our leading journalists
Already have an account? sign in
Join our new commenting forum
Join thought-provoking conversations, follow other Independent readers and see their replies