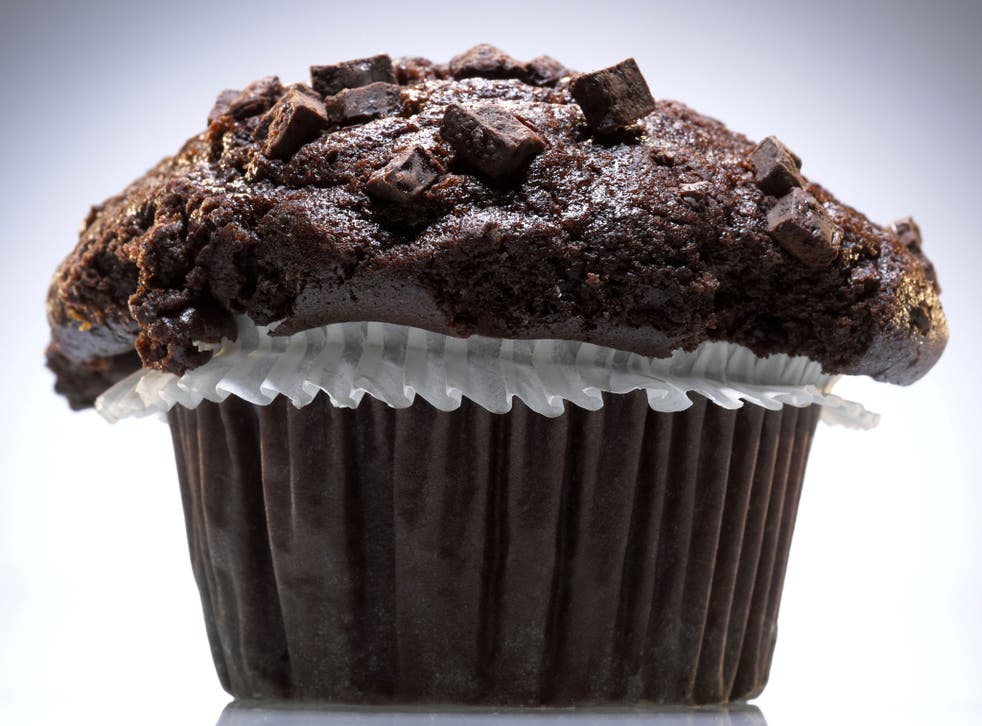 The big fresh food con: Alarming truth behind the chocolate muffin that won't decay
Industry tricks to extend shelf life mean that many of the 'fresh' foods we buy – from bread and cakes to meat and salads – are a lot older than they may seem. Joanna Blythman reports
More than a month ago, I bought a chocolate chip muffin from one of those would-be Italian chain coffee bars. In its homespun-looking paper wrapper, the muffin looked as though it had just come from the baker's oven. It bore no ingredients list – that's perfectly legal for food sold loose – but having a shrewd idea from my investigations into the processed food industry of the likely ingredients, I didn't eat it.
Instead, this muffin has become an illuminating experiment. It's still sitting on my desk, looking exactly as it did at the end of January: no mould, no dryness, no obvious signs of age.
Now that's odd. I have on occasion baked chocolate chip muffins at home. Addictive when warm, even the next day they aren't quite as good, and thereafter they become progressively more solid, stale and unrewarding to eat. So just yesterday, I was intrigued to sample a little piece of my experimental muffin. It seemed preternaturally fresh, if by that you mean still moist. Had I tasted it blind, I'm not convinced that I would have realised that it was meant to be a chocolate anything – sugar, with some residual bitterness, was the dominant taste – but I certainly wouldn't have known that my muffin was weeks old.
This doesn't surprise me. In 1987, a food scientist, Dr Robert L Shewfelt, coined the term "fresh-like" to describe that booming category of products that seem fresh, but aren't, and this hyphenated adjective has since slipped seamlessly into the lexicon of modern food processing. Of course, the adjective "fresh" ought to be time-sensitive. True freshness is a fleeting state, a concept located at the top end of a timescale that inevitably leads downwards to decay. But for food manufacturers and retailers, the word has become inextricably linked with other industry catchphrases: "shelf-life extension" and "perceived freshness". The result? Most of us are regularly and unwittingly eating food that's a lot older than it seems.
Now, if you are the sort of person who reads ingredients labels and avoids the most blatantly over-processed products (ready meals, chicken nuggets, pot noodles, tinned soup, cheese "strings", and more of that ilk), you may find this surprising. But even the most food-aware among us most likely eat food that has been processed, using a number of invisible technologies, to make it seem fresher and newer than it really is.
Do you, for instance, buy from supermarkets red meat that's packaged inside a rigid plastic container under a strong film lid? This is a type of modified atmosphere packaging (MAP). By altering the composition of air to remove all or most of the oxygen, this technological fix keeps your meat looking ruby-red, as if it were newly cut. It also stops your "fresh" pasta from curling up at the edges. The breath of air you might feel as you peel open a wedge of parmesan, or a lunchtime salad bowl? That's MAP.
MAP can add five or six days to the shelf life of a sandwich; just the job for petrol-station forecourts and hospital canteens. Packed in MAP, the use-by date of an upmarket ready meal can be increased from two to 10 days, yet few of us would put a home-cooked meal in the fridge and eat it 10 days later, because we would worry that it was too old. MAP is also a boon to manufacturers because it delays the onset of "warmed-over flavour", or WOF, an "off" taste likened to "damp dog hair", which develops in factory-cooked fish, meat and poultry. By flushing those puffy "pillow packs" of salad leaves with MAP, the companies that prepare them for supermarkets' suppliers can add eight days to their use-by date. No wonder our rocket and spinach swoons like a Victorian heroine when eventually exposed to natural air.
At least the use of MAP must be declared on the packaging: eagle-eyed consumers will spot the cosseting phrase "packaged in a protective atmosphere". (Alternative food industry terms include "gas-flushed", "gas-shocked", or even plain old "gassed", but they don't sound so nurturing.) But many other unlabelled preserving technologies are used behind the scenes of food processing, and most of us are none the wiser.
Perhaps you choose a carton of pineapple chunks as the healthy element in your takeaway lunch? As well as being preserved with MAP, the fruit could have been treated with an enzyme whose purpose, in food industry jargon, is to improve its "fruit integrity"; that's code for firming it up to make it last longer.
In a belt-and-braces operation, your pineapple chunks, or conveniently prepared "fresh" pomegranate seeds, might also have been dipped in an age-defying solution of fruit acids designed to keep them looking fresh when they would otherwise visibly age. The marketing material for one such industrial product shows two strawberries after seven days; the one on the left, the control, has not been dipped in the miracle solution, the one on the right has. The control looks rotten, but the dipped berry looks immaculate. There are kindred images of cut bananas, apples, pears and avocados, with the undipped fruits always looking brown and old compared with their picture-perfect, dipped equivalents.
Whole "fresh" fruits and vegetables can also be dipped, drenched, or sprayed in a combination of sugar 'esters', and other edible ingredients, such as vegetable oils and plant cellulose, to coat each fruit in a very thin, imperceptible, odourless and tasteless film that slows down ripening and makes produce look fresh for twice as long. No wonder our cherries, apples, peppers, cucumbers and aubergines have such a lustre.
Various "smart" edible films are now used by manufacturers on products that are as diverse as cheesecake, deli meats and pizza. Imperceptible when you eat them, such films are made up from sticky substances that inhibit the growth of bacteria, such as starch, cellulose derivatives, chitosan (an indigestible sugar obtained from the carapace of shellfish), alginates (gel-like seaweed substances), soy proteins, egg white and wheat gluten.
The healthy eating trends of 2015

Show all 10
Supermarkets know that many people react badly when they see the old guard of chemical preservatives on food labels. Items such as butylated hydroxytoluene (also an ingredient in embalming fluid), and propyl gallate (often used to make glues) don't whet the appetite, so manufacturers are turning to new-wave "natural" preservatives. One such product, recommended as a shelf-life extender for crisps, is listed as a "plant-derived product line based on mixed tocopherols [man-made vitamin E additives E306-9, used as an antioxidant] and unspecified formulated blends that provide extra protection for high-stress processing conditions". Another anti-fungal blend of dextrose and plant extracts is marketed as "specially designed to enhance the quality of a wide variety of refrigerated and shelf-stable culinary products", such as "fresh" salsas and dips.
But returning to my chocolate chip muffin experiment, what might account for its strangely youthful longevity? From my research, I suspect that it contains a chemical preservative, something like potassium sorbate. A healthy dose of humectant, such as glycerol, will keep it soft, along with a hint of enzyme. Modified starch, gluten, vegetable oil and water, teamed up with an emulsifier, such as sodium stearoyl-2 lactylate; or mono-and diglycerides of fatty acids, a stabiliser – perhaps xanthan gum – and a ton of sugar (the second ingredient by weight), will produce that "just baked" consistency that we all find so beguiling. A toothsome, tempting product indeed – but does it really fit your idea of "fresh" food?
'Swallow This: Serving Up the Food Industry's Darkest Secrets' (Fourth Estate, £14.99) by Joanna Blythman is out now
Register for free to continue reading
Registration is a free and easy way to support our truly independent journalism
By registering, you will also enjoy limited access to Premium articles, exclusive newsletters, commenting, and virtual events with our leading journalists
Already have an account? sign in
Register for free to continue reading
Registration is a free and easy way to support our truly independent journalism
By registering, you will also enjoy limited access to Premium articles, exclusive newsletters, commenting, and virtual events with our leading journalists
Already have an account? sign in
Join our new commenting forum
Join thought-provoking conversations, follow other Independent readers and see their replies