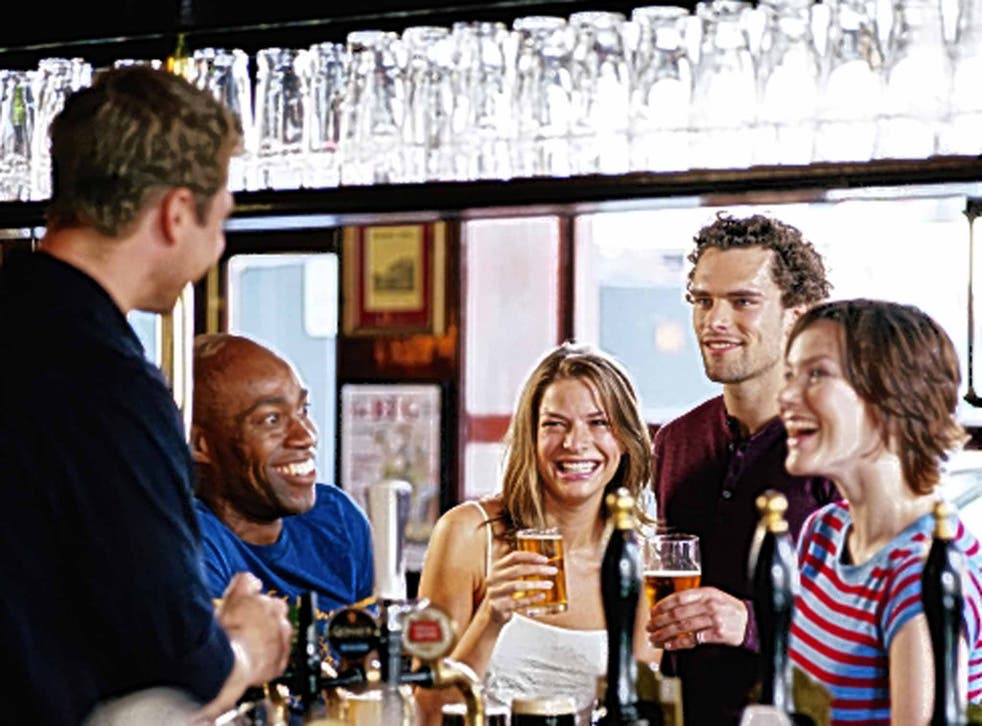 The boozy lunch is an affirmation that life can be about pleasure as much as obligation
Blood, sweat and beers? All in an afternoon's work 
Drinking, we are often told, is bad for you. It racks the brains, rots the teeth, shatters the nerves and leads you irresponsibly to climb fences and sing hymns in pubs just before closing time.
The thing is, it is also fun. Through my early twenties, it was one of my favourite hobbies, perhaps my only one. As my mid-twenties gave way to my late-twenties, and my capacity for staying up all night diminished as my taste for multi-course meals increased, I found new pleasures, and the greatest of these is a boozy lunch.
To sit and eat and drink and chat when you ought to be producing or striving or thinking about your pension, or whatever we all ought to be doing week in, week out, feels naughty; it feels like a transgression, and a full-throated rejoinder to all those people who run to work, eat kale-based lunches, and look aghast when you reply that you "had a Heavy Weekend" when they ask why you have had two breakfasts today.
In a small way, it is an affirmation that life can be about pleasure as much as obligation. And minor pleasure doesn't need to lead to major dereliction. Look at Churchill – no one could accuse him of flaking from duty, and yet he was no flincher at the glass. To look at the amount of claret, Pol Roger and cognac he consumed with lunch throughout his life is to wonder how he managed to conduct a large-scale war when he was clearly not up to operating a motor vehicle after 12pm. And yet he did, and so well. Perhaps the pleasure from lunch sustained him through the blood, sweat and tears of the afternoon?
Some boozy lunches are seared on to my memory. The best ones on a Saturday often ended up with my seeing the dawn from the wrong end. But the better ones happened in the week. I remember a former boss taking me to lunch and my taking him for a ride, ordering more gin martinis than our afternoon could cope with. I came up with ever more far-fetched ideas while he repeated "snacks on a plane", his proposed headline for a piece on aeroplane food, as if it were an incantation. There was another time when I was offered a job by a different former boss over lunch – but only after I had said yes, I would indeed like to join him in a bottle of Chianti. It was, I suppose, a test of my moral fibre.
Booze and lunch go together like, well, booze and sex. The one quite often improves the other, up to a point, of course. Being sick during either activity is a bit much. But just the right amount of booze, just enough to keep you dancing on that gossamer-thin knife edge that marks the line between jolly and pissed-up, is a wonderful thing. It can make boring lunch companions seem like Dorothy Parker and the rest of the afternoon like another planet.
And that is part of the attraction. For a flitting but delicious period, the woes of the day seem to drain away as surely as the bottle. Sure, they will come again soon, maybe even by the time the coffee – or the bill – arrives. But for a little while, for the time you are at that table, you are as light as air.
Register for free to continue reading
Registration is a free and easy way to support our truly independent journalism
By registering, you will also enjoy limited access to Premium articles, exclusive newsletters, commenting, and virtual events with our leading journalists
Already have an account? sign in
Register for free to continue reading
Registration is a free and easy way to support our truly independent journalism
By registering, you will also enjoy limited access to Premium articles, exclusive newsletters, commenting, and virtual events with our leading journalists
Already have an account? sign in
Join our new commenting forum
Join thought-provoking conversations, follow other Independent readers and see their replies