The Chef's Special: Alice Waters introduces a typical menu from Skye Gyngell's Petersham Nurseries

Show all 4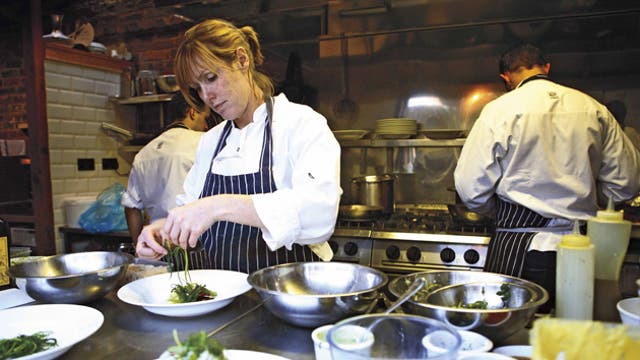 The Chef's Special: Alice Waters introduces a typical menu from Skye Gyngell's Petersham Nurseries
A new book, 'Coco', asks the world's 10 most influential chefs to name the most exciting talents working today. Alice Waters, of the legendary Chez Panisse, chose our own Skye Gyngell. In this extract, Waters introduces a typical menu from Skye's Petersham Nurseries
A restaurant in a garden is something I have always fantasised about, so Skye Gyngell's café-restaurant at Petersham Nurseries, just outside of London, is like a dream come true. Her guests are lucky enough to have an extraordinary view of the nurseries' greenhouses, topiary and herb gardens, and the remarkable landscape of Petersham Meadows.
Skye trained in Paris until 1985, when she moved to London and cooked at The French House, with Fergus Henderson, and at The Dorchester, under Anton Mosimann. Since setting up the Petersham Nurseries café she has received a string of major awards and found time to write two cookbooks, A Year in My Kitchen and My Favourite Ingredients. She also has a regular column in the Independent on Sunday.
Skye cooks simple food, ethically sourced, as she puts it, "in respect of the seasons and in support of small, farmers and producers from the British Isles and further afield – products which capture the flavours of the people and places from which they originate". With Petersham Nurseries' resident forager and general manager Wendy Fogarty, she seeks out the best available local products: pure sea salt from the Isle of Anglesey in Wales, cider made from rare Somerset cider apples, and heirloom varieties of vegetables from small family farmers and the nurseries' own kitchen gardens. By contributing to the local economy and respecting small artisans and farmers, the cookery that results from this collaboration celebrates good stewardship of the land and clean air and soil.
Skye's food is always fresh; she is most inspired by the kitchen garden at the nursery, whose herbs infuse the dishes with the most delightful flavour. I visited Petersham in April a few years ago, and I vividly remember a delicious Dorset crab dish with white asparagus and a simple, but divine, combination of air-dried beef, sheep's milk ricotta, and green tomatoes: food that reflected the setting's green pastures and cool mornings, and tasted of a British spring. n
Farro with porcini, aged Parmesan and Barolo
Skye Gyngell: I much prefer using legumes (pulses) and grains to potatoes. They have a warmth and goodness to them and are a rich source of protein. The grain called farro is rarely seen or used in Britain, but has played a crucial part in the traditional cooking of central and southern Italy since Roman times. It has a delicate, nutty flavour and is both chewy and tender, and is delicious served hot or cold. The great thing about farro is its ability to absorb the flavours with which it is cooked – so don't be too free with salt and vinegar.
I like to use wholegrain farro, usually labelled perlato, semiperlato, or decorticato. It cooks quickly and its flavour is refined. You can also get a type called farro integrale, which has the whole outer, brown hull intact – it needs a few hours of soaking and a longer cooking time and retains a firmness similar to that of wild rice.
Leftover farro keeps well, covered in the fridge, for a couple of days, and makes a lovely addition to risottos, soups, and bean and vegetable dishes.
Serves 6-8
2 tbsp extra-virgin olive oil
1 yellow onion, peeled and finely chopped
2 cloves garlic, peeled and chopped
3 sage leaves, coarsely chopped
Sea salt
120g/4oz dried porcini, soaked in 250ml/8fl oz warm water
300g/10oz farro
250ml/8fl oz good-quality chicken stock
250ml/8fl oz Barolo or other full-bodied red wine
75g/3oz Parmesan, half grated and half shaved freshly
Ground black pepper
Place the olive oil in a medium-heavy saucepan over gentle heat. Add the chopped onion, garlic, sage leaves and also a pinch of salt.
Remove half the porcini from the soaking water and chop roughly. Add to the pan and stir once or twice to combine. When the onion is soft (after five minutes or so), add the farro and mix well with the pan contents.
Add the chicken stock and wine and turn the heat up slightly. Cook for 20-30 minutes until nutty and tender. Stir and taste frequently. Finish with the rest of the porcini and the Parmesan. Adjust the seasoning with a pinch or so of salt and a generous grinding of black pepper. Sprinkle with shaved Parmesan.
Serve hot with peasant-style bread. Alternatively, it's delicious with grilled quail or rabbit. '
Carpaccio of salt cod with preserved lemon, chilli, capers and mixed cress
Salt cod is a favourite of mine. Whenever I put it on the menu at the restaurant, it walks very quickly out the door. Perhaps this is because in Britain, at least, it is not very often eaten at home. Here, we tend to think of it as complicated, even a little scary. It's a hard, pungent, musty thing that resembles a piece of leather. What on earth are we meant to do with it?
I realise that over-fishing makes cod a potential minefield, but I believe that the cultural value of salt cod makes it worth a risk. Its importance in the culinary traditions of the Basque Country cannot be underestimated. And it's very popular in Iceland, thanks to their sustainable fishing policies.
The Marine Conservation Society recommends choosing line-caught cod from a sustainable stock. Talk to your fish supplier – ask if he stocks line- caught fish, and where it is from.
I have never found shop-bought salt cod satisfactory. Often it can be hard, sinewy and massively over-salted. As a result, I became intrigued by curing the fish myself. The idea that you can take an ingredient in its purest form, and by respectfully manipulating it, turn it into something else, is incredibly gratifying.
Through trial and error I have achieved a cure that is gentle and succulent. In fact, the result is beautiful and delicate enough to serve raw and unrinsed. Slice as finely as smoked salmon, then drizzle with oil, lots of pepper and a squeeze of lemon juice.
How to cure your cod
Ask your fish supplier for a skinned cod fillet. Rinse it under cold water and gently pat it dry using a dishcloth. Weigh the fish and season it all over with 11/2 tablespoons of plain, good-quality sea salt per 500g/1lb of fish. Go over the central section of the fish with a little more salt to ensure that this, the thickest part, also receives an even curing. Now lay the fish on a stainless-steel rack and fit it snugly inside a larger pan (which will catch the drips while the cod is curing).
Loosely cover the whole pan with clingfilm to prevent the smell seeping into the rest of your fridge – home- curing cod is a stinky business.
Refrigerate the pan and let cure for up to seven days. Remove and rinse your bottom pan every day because, as the cod begins to firm, liquid will weep from its body. Your fillet will give off about two tablespoons of liquid per kilogram.
Depending on what I am intending to do with the end result, I only allow the fish to cure for three days. Rinsed and filleted into portions, this home-cured cod is gentle and delicate enough to serve simply grilled with a green sauce or roasted tomatoes and a lemony aioli. If I serve it very finely sliced and raw, three days is also more than enough curing time.
For this dish, I suggest that you cure the salt cod for no more than four days. It does not need to be rinsed; the strong, clean flavours that accompany it more than counterbalance the slight salty flavour. You will need a really sharp knife to slice the cod into beautiful superfine sheets.
You can buy preserved lemons, but it is so easy to do them yourself. Slice the fruits into quarters lengthwise, pack into a sterilised jar and sprinkle with sea salt. Seal tightly with a lid and leave at least 10 days before using—well kept, they will last for up to a year. The salt will transform their flavour from bitter to sour-sweet. Always remember to scrape away the bitter pulp and use only the zest.
Serves 2 (as a starter)
1 salt cod fillet, weighing approximately 2kg/4lb, cured for 4 days
1 red chilli, very finely sliced
1 tbsp capers (the ones packed in salt are so much tastier than the ones in vinegar), rinsed and dried
1/2 preserved lemon (zest only), finely diced
2 tbsp extra-virgin olive oil
The juice of 1/2 a lemon
A small handful of mixed cress
Using a sharp knife, slice the fish as finely as possible. Lay the fish in a single layer on a flat plate and sprinkle over the chilli, capers and diced lemon zest.
To serve, pour the olive oil over the fish, squeeze the lemon juice on top and scatter the cress over everything.
Clementine sherbet
Serves 4
8 sweet, juicy clementines
100g/31/2oz caster sugar
200ml/7fl oz double cream
1 vanilla pod, split lengthwise
3 tbsp sherry (Lustau or Pedro Ximénez)
Slice the clementines in half and squeeze the juice. Strain and set aside. Put the sugar, cream, vanilla pod and seeds in a small heavy pan over a medium heat and bring to a boil. Reduce to a simmer and cook for a minute to infuse the cream with vanilla and dissolve the sugar. Remove from the stove, set aside to cool and continue to infuse.
Once the cream is cool, pour through a fine-mesh sieve on to the clementine juice. Stir well, add the sherry, pour into an ice-cream maker and follow the manufacturer's instructions.
'Coco: 10 World-Leading Masters Choose 100 Contemporary Chefs' (Phaidon, £29.95). To order for £26.95 with free postage in the UK, call Independent Books Direct on 0843 060 0030 or visit www.independentbooksdirect.co.uk
Join our new commenting forum
Join thought-provoking conversations, follow other Independent readers and see their replies