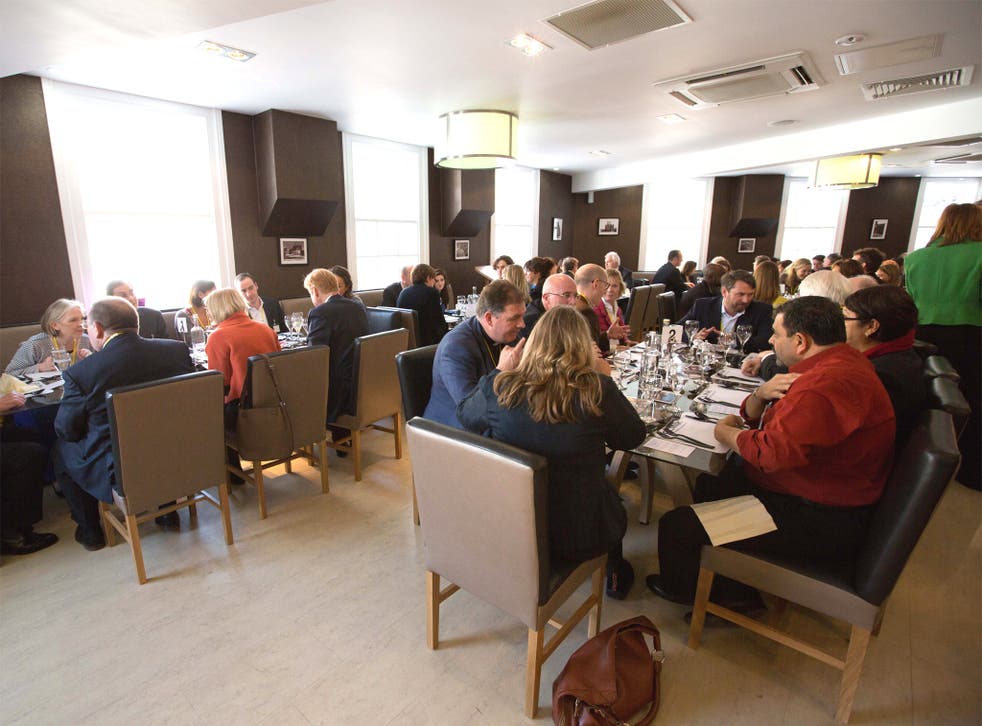 The Clink Restaurant in Brixton Prison gives inmates a taste of what life can be like on the outside - and the skills to thrive there
Diners at the South London prison's restaurant - which opens to the public tomorrow - must pass government security checks to ensure they have no links to crime or any inmates
Three years ago, John, a lorry driver by trade, got sent down for grievous bodily harm after a drunken fight outside a nightclub. He has previous convictions for drug and driving offences. Today, the 34-year-old is serving a starter of ravioli with wild mushrooms, herbs and truffle foam to diners at Britain's newest restaurant - inside the walls of Brixton Prison.
"It's pretty weird, I have to admit," John says earlier as he greets me with a tray of non-alcoholic buck's fizz. His tattooed hands cause the glasses to tremble slightly. "But I had to decide what I wanted to do in here - lie down in my cell all day or do something useful that helps me when I get out."
The Clink Restaurant at HMP Brixton in South London opens to the public tomorrow, after a launch event today. Diners seeking a table for breakfast or lunch must first pass government security checks to ensure they have no links to crime or any inmates. When I arrive I swap my driver's licence for a security pass and leave my mobile phone and cash in a locker. Only then can I step through the prison's giant gates.
A short walk inside, past a complex of blocks fringed with razor wire, the old governor's office has been transformed. Inside, the only indication that this is a prison with a reputation for violence and drug crime are the iron gates, alarm buttons, and plastic cutlery. Otherwise, it looks like any other high-end restaurant, with leather chairs and walls clad in slate. Nearly all the 28 staff are prisoners, mostly here for drug dealing or burglaries.
The Clink Charity now works with the prison service to run three restaurants like this one that give inmates who are approaching release skills and contact with people from the outside. The aim is simple - to reduce re-offending rates, which on average hover below 50 per cent, but at less than 10 per cent among the more than 100 released prisoners who have so far trained in Clink restaurants.
As the kitchen prepares a three-course meal that also includes chicken infused with, yes, thyme (sadly the breakfast menu will not include porridge) Mark Sillery supervises the bar. A chef by trade, he now works with Clink, which also has restaurants at High Down prison in Surrey, and HMP Cardiff. Staff gain formal qualifications and job opportunities with 200 supportive employers, including the Carluccio's, Hawksmoor and Jamie's Italian restaurants. When Clink prisoners get out, mentors like Sillery meet them at the gates and once a week thereafter. "Working here will give these guys a different direction in life," he says.
Guys like Michael Balogun, 30, who I meet for coffee after our chocolate tart with poached pears. Balogun's mother spent most of his childhood in prison for drug dealing. Aged 18, he followed her inside after being done for selling heroin. When he got out, more dealing - but then a turnaround; he got a job at a high street bank. But like many former prisoners who struggle to find work, he concealed his past. After 18 months, the bank found out and fired him.
Gang life in South London beckoned again and before long Balogun was back in prison, for possession of a gun with intent to endanger life.
After two years of fighting and selling contraband, he identified a new future with the help of a kindly prison officer, and seized an opportunity at the Clink at High Down. On his release, Balogun walked into a job at the staff restaurant at Rada, the prestigious London drama school.
"If I hadn't got that job at the Clink I had every intention of getting back to what I knew - that was my job, it was all I'd ever known," he says. "But when my friend got shot in the face and died, I finally knew I had to change."
Chris Moore was director of catering at Harrod's before he became chief executive of the Clink Charity. He works with Alberto Crisci, the chef who proposed the first restaurant at High Down, which opened in 2009, and has plans for several more. "When we started, restaurants were interested in our staff because they believed in us," Moore says. "But now because of a skills shortage in the industry they're coming to us and saying, look, we need good, trained staff - help us. We have more demand than graduates."
Ed Tullett is the Governor here and is moderately pleased with the work of his inmates. "I've had a lot worse service in restaurants in France," he says. "This is really good for us because historically Brixton was known as a bit of a warehouse but we're moving to a different kind of prison."
The new restaurant neighbours the Bad Boys' Bakery, another social enterprise that still flourishes here, two years after it was established as part of a Gordon Ramsay TV series. "These are just some of the things we do to give prisoners purpose and skills," Tullett adds, "because when they leave, we never want to see them again."
At the end of a meal that would cost about £20, John and the rest of the inmates take a round of applause. Balogun sits, clapping. He left Rada for a job at Harbour and Jones, a catering firm, but he'll return to the drama school on Monday - for an audition. "I want to be an actor," he says. "I still know now that I could make a lot more money through crime but then I think about this place." He looks through the barred window of the restaurant. "I don't want to go back to prison."
Register for free to continue reading
Registration is a free and easy way to support our truly independent journalism
By registering, you will also enjoy limited access to Premium articles, exclusive newsletters, commenting, and virtual events with our leading journalists
Already have an account? sign in