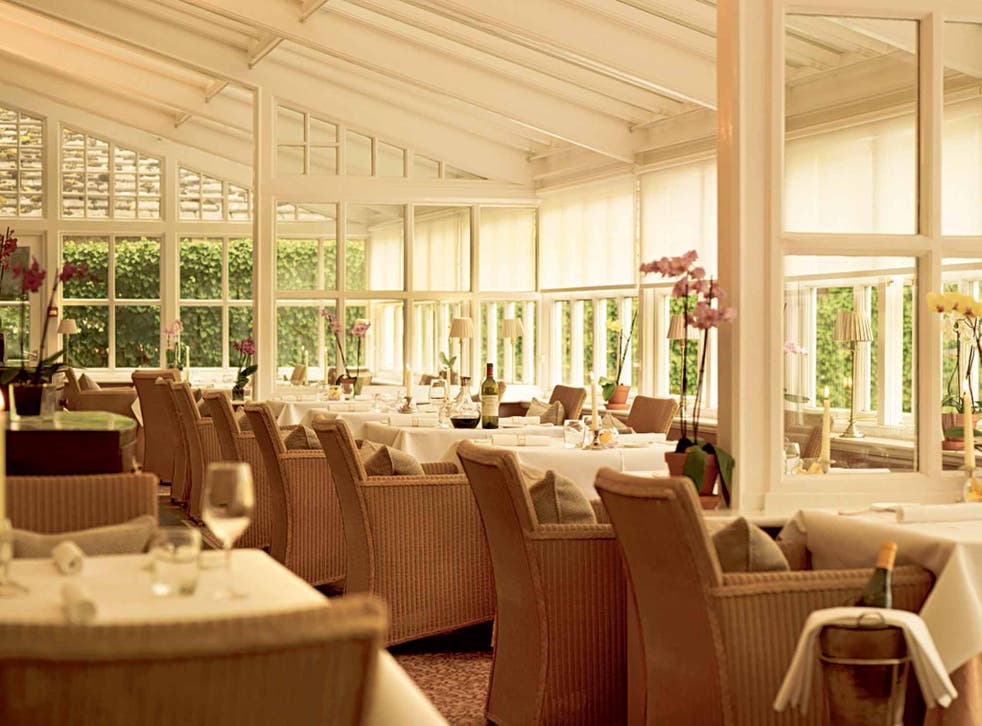 The Devonshire Arms, Bolton Abbey, Skipton: A chef in North Yorkshire with amazing powers of transformation
Chef Adam Smith touches no food that he doesn't instantly transform, even the brown bread here made with Copper Dragon beer and potato in the dough
The Devonshire Arms started life in the early 17th century as an inn and longhouse, where travellers and their animals would all bunk up together. It's part of the Bolton Abbey estate, whose 33,000 acres were appropriated by the Devonshire family in 1753, and an unmistakeable air of Chateau Posh can be discerned as soon as you walk in.
The fire blazes merrily, the log pile suggests we'll be under siege until Christmas, and a handsome model of the SS Duchess of Devonshire sits in a glass case on the way to the restaurant. The cocktail lounge is plushly Axminstered, and School-of-Constable oil paintings deck the walls.
Fine diners in their Sunday-evening best leaf through the leather-bound menu and wine list. The latter is as thick and heavy as Bob Cratchit's ledger in A Christmas Carol. It's so old-fashioned here that, when we reach the restaurant in the long, candlelit conservatory, there's no sign of exposed brickwork or chrome ventilation ducts anywhere.
There's nothing old about the food, though. From the start it was full of perky ambition. Three amuse-bouches slipped down a treat: a duck burger with tamarind ketchup was a tiny concentration of richness, a beetroot macaroon with smoked salmon and horseradish filling was like a savoury meringue, while a shard of black squid-ink tapioca in an oyster emulsion was deliciously briny, despite its resemblance to a rice cracker.
You soon realise that the chef, Adam Smith, touches no food that he doesn't instantly transform, even the brown bread here made with Copper Dragon beer and potato in the dough. Smith worked for nine years with John Williams at the Ritz, and won the Roux scholarship in 2012, which meant a stint at the three-Michelin-star Le Meurice in Paris. He moved to Yorkshire soon after and is clearly going flat out for a star of his own, if this dinner was anything to go by.
Whitby crab wrapped a spoonful of white crabmeat in a gelatin skin topped with caviar and tickled with a cucumber sorbet and seaweed crisp. The portions looked delicate as new-spun silk, but huge flavours exploded in your mouth: a big taste of crab with seaweed bass notes. Scallops, sliced into roundels and marinated in soy sauce and lime juice, were heaven with avocado. Pig's head croquettes were a fine idea – a clever substitute for the usual scallop accompaniments of black pudding or bacon lardons – but were deep fried and their porky quality a little muffled.
I ordered a bottle of Condrieu, the spiritual and physical home of Viognier. The wine waiter reported that none was left but offered a Saint-Peray 2012. It was a Marsanne-Roussanne blend, whose notes of peaches, figs and a touch of pineapple were beyond luxurious. Full marks there.
Main-course turbot came surmounted by a dark meadow of chopped herbs and grated truffles that transferred subtle but sexy aromas to the brilliantly white fish. As a virgin-meets-gypsy contrast, Smith married the fish with smoked eel on burnt cabbage – a risky exercise, offering two charred items, but they all honeymooned together satisfyingly.
My Yorkshire grouse was pinker than I've ever seen grouse cooked before, served with a celeriac and apple puree. The puree was fine, but what happened next was unprecedented. A mouthful of grouse in its own jus, rich and gamey, accompanied by a slice of glazed apple and a whole chestnut, with a touch of pickled elderberries on top, caused such a commotion in my taste buds that it actually brought tears to my eyes. It was a combination I'd never tasted before, like finding a lost major chord. A tiny dollop of potato purée on the side, roofed with a thin slice of truffle, was the final note of it.
I pulled myself together to tackle the Yorkshire blackberries, a blunt-sounding name for a complex dish, involving lumps of almond cake, almond cream, almond ice cream with blackberries, both in jelly and au naturel. It was intensely satisfying. Angie's "granny smith apple" comprised apples served several ways – raw, poached, boiled, sorbeted – and taken to the furthest shores of ecstasy by a walnut brandy snap filled with vanilla cream. Both were washed down by Moscato d'Asti (like grown-up Shloer) and a more appealing South African Adoro Mourvedre.
We finished this epic meal feeling very spoilt. You get the impression that Adam Smith somehow knows how you personally like food to be cooked, how your senses most like to be beguiled, and how twinning roast game with fruit, nut and starch will affect your heartstrings. If this talented alchemist doesn't get a Michelin star next year, I'll eat the SS Duchess of Devonshire, rigging and all.
The Devonshire Arms, Bolton Abbey Skipton, North Yorkshire BD23 6AJ (01756 710441)
Around £65 a head, before wine and service
Food *****
Ambience ****
Service *****
Join our new commenting forum
Join thought-provoking conversations, follow other Independent readers and see their replies