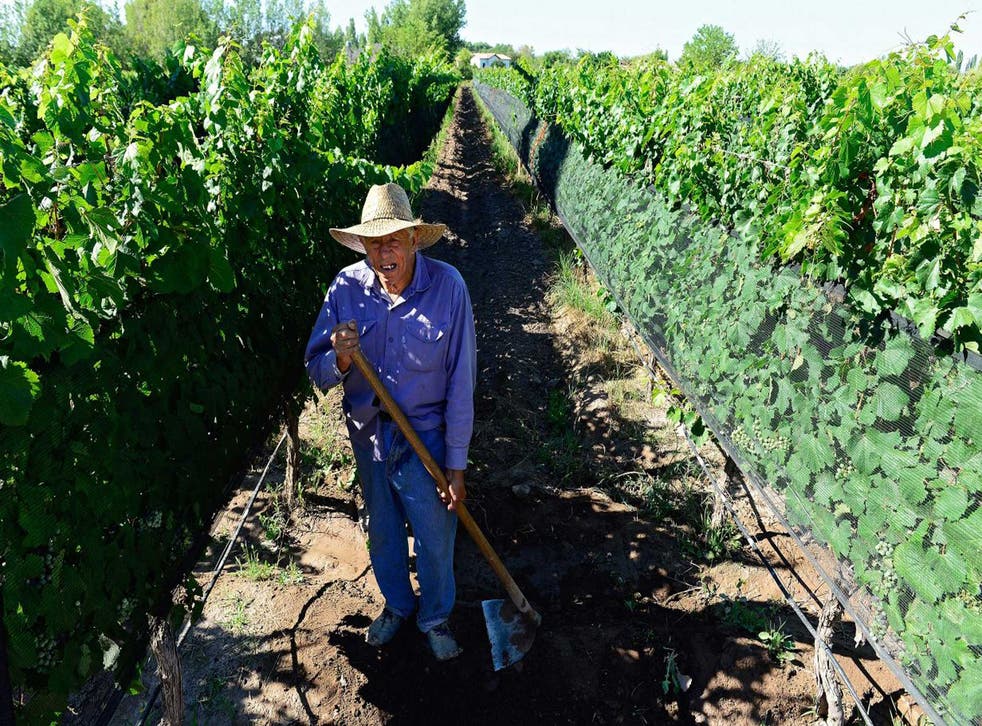 The might of Mendoza: The romantic tale behind Argentina's booming malbec grape
Malbec has often seemed a neglected, sickly member of the great French Bordeaux family. Just as it seemed to be in terminal decline, a saviour appeared
John Walsh
Friday 20 June 2014 16:47 Comments
I first encountered Malbec in 2003 when I discovered the Gaucho Grill chain of Argentine restaurants. The rib-eye steaks I enjoyed there, with their frisky attendant of chimichuri sauce, were the most sublime lumps of charred meat I'd ever put in my mouth. The wine list, however, seemed to me laughably pretentious: it offered a hundred-odd Latin American wines, riojas and tempranillos – and something called malbec, at phenomenally inflated prices. Forty or 50 quid for a bottle of Argie plonk? What were they, kidding?
Knowing nothing about South American wines, I bracketed the Argentine wines with Chilean merlot, a popular choice of cheap-but-drinkable red wine in those days – flabby, short on both tannin and acid, but plummily bearable. To accompany my Gaucho steak, I usually drank merlot and hardly noticed it, what with the sensory onslaught of the charred pampas heifer on my fork.
Then, one day, I found myself interviewing the great Nicolas Catena over lunch at the Gaucho. He's the chap whose Bodega Catena Zapata introduced the world to high-class Mendoza malbecs in the early 1990s. Over lunch (at which, in traditional Argie style, he ate a huge rib-eye without vegetables or anything else on the pristine plate) he discoursed about the malbec grape and its curious history and, since he was buying lunch, chose a bottle of Catena Alba from a few years earlier – 1998, I think.
It was stunning. To a chap whose most exciting wine experiences to date had been with £25 Châteauneuf-du-Papes and the occasional big burgundy, it was a revelation to me. The fume-y wallop of the heady bouquet, with its scents of blackcurrant, coffee and some sweet, unguessable spice, then a complex lake of flavours on the palate, predominantly fruity but with something dark and intense going on – prunes, say, or dates. And then it was over, a tantalisingly short finish to a cornucopia of tastes. Mr Catena grinned, as I sat open-mouthed. "You still think ees overpriced?" he said. I shook my head wordlessly. I was in love. And he told me its story.
Malbec is one of five Bordeaux varietal grapes, along with merlot, petit verdot, cabernet franc and cabernet sauvignon, but it has often seemed a tragically neglected, sickly member of the great French Bordeaux family. It's abnormally sensitive to grape illnesses – to 'downy mildew' and something called 'couleur' – and cannot abide a sudden chill: in 1956 a severe frost knocked out the majority of malbec grapes in Bordeaux. Growers became reluctant to plant new vines. In the late 1960s, there were only 5,000 acres left; by 2000, only 3,600.
Just as it seemed to be in terminal decline, a saviour appeared: the modestly smiling Señor Catena. With reckless impulsiveness, he flew some experimental vines to Argentina in 1993 and planted a malbec vineyard at the Tupungato hills in the Mendoza wine country. And both he and the wine never looked back. The malbecs he extracted from the slopes flourished in their new home and produced huge fruity monsters, of the kind I'd just experienced, crammed at their best with black cherry, plum, raspberry, blueberry and pomegranate, with outriding notes of tobacco, chocolate, pepper and leather.
It's a rather romantic story, isn't it? Malbec, the Elizabeth Barrett of French grapes, reclining on a chaise longue in the sick-room, listlessly reading poetry and contemplating death, until the assertive alpha-male of Argentine viniculture came bursting in like Robert Browning, carried off the supine patient across the Atlantic and showed her the time of her life in the Andes, where she flourished, fattened up, acquired healthy new blooms in her cheeks and produced a million sturdy children.
I decided to go and check out the adoptive home of my new discovery. With my wife, I flew to Buenos Aires, spent some days in the city and the outlying pampas region, then zoomed off to Mendoza. The minute you arrive, you realise how easily a grape might flourish there. Wherever you drive, the Andes always tower up around and ahead of you, but never threateningly; they're more like large, benign companions. The air is warm but never muggy, and light thermal zephyrs glide down from the hills and cool your fevered brow. This is the Napa Valley of Argentina. Just driving around its 144,000 hectares (two-thirds of the country's entire wine production) makes you feel intoxicated with the closeness of several million bursting grapes.
We were guests of Terrazas (terraces) de Los Andes, one of the biggest wineries in Mendoza: a subsidiary of Moët Hennessy, they make 'Reserva' – limited editions – of torrontés and chardonnay, cabernet sauvignon and malbec. Their 'Single Vineyard' bottles of malbec regularly score in the nineties on Wine Advocate and Wine Spectator. The vintners are brilliant, if hands-off, hosts. They put us up in the vineyard's guest rooms, and seated us in a sparkling, steel-and-glass dining-room where the serving staff popped in every 10 minutes or so with new dishes and new infusions of malbec to try. I prowled around the huge fermentation tanks and the thousands of barrels (storing 400,000 litres of wine) in the old winery, whose walls date back to 1898. I even got to inspect the small berries and big sexy leaves of the malbec vine in the front garden.
At a beautiful 'Vineloft' that doubles as a polo ground, I finally learnt the secret of why malbec flourished in Argentina in a way it never did in France. It's the altitude. "There are many factors in winemaking," says Gonzalo Carrasco, aged 33, the Terrazes's charming winemaker co-ordinator. "There's temperature, soil, wind, irrigation, terroir... The major factor for Argentine wines is altitude. You mustn't plant vines too high up because there's not enough water for them to flourish. Too low down and the fruit's too assertive, too marmalade-y. You need a nice, elegant balance between acidity and florality. The higher up they grow, the more refined and complex they are. Between 900 and 1,500 metres is just about right."
I discovered, to my surprise, that the wines are blends of petit verdot, cabernet sauvignon and the malbec grapes themselves. They're harvested in different batches, and processed in different fermentation tanks. "The blend expresses different personalities," says Gonzalo. "We take the best of three different wines and make something unique."
Who decides when the blend is just right? "There's a committee of four people," he says, "who tend to communicate without words. We all understand what we're looking for. Is this wine floral or non-floral? Fruity or non-fruity? How flat, how round, how long, how short? It's all about the balance of components."
The final apotheosis of the once-humble malbec grape came with its marriage to the flower of the Bordeaux vineyards. The world-conquering Cheval Blanc chateau, whose 1947 vintage has been judged the finest claret in history, linked up with Terrazas in 1999 to make a fabulous blend, Cheval des Andes. You can buy it in branches of Majestic Wine Warehouse for £50 a bottle. The Catena vineyard did the same with Mouton Rothschild, to produce the CaRo hybrid. A romantic conclusion, this double wedding, with the punchiness of malbec and the grace of A-team bordeaux getting spliced at the foothills of the Andes for our continuing pleasure and delight. A big fan of both families, I can't personally afford to visit the happy couple as much as I'd like. But I'm working on it.
Register for free to continue reading
Registration is a free and easy way to support our truly independent journalism
By registering, you will also enjoy limited access to Premium articles, exclusive newsletters, commenting, and virtual events with our leading journalists
Already have an account? sign in
Join our new commenting forum
Join thought-provoking conversations, follow other Independent readers and see their replies