The nuts-for-spices crisis: How a complex supply chain makes tracing dodgy food difficult
The worldwide trails that transport the likes of cumin and paprika from the field to the fork is so labyrinthine it's actually extremely difficult to solve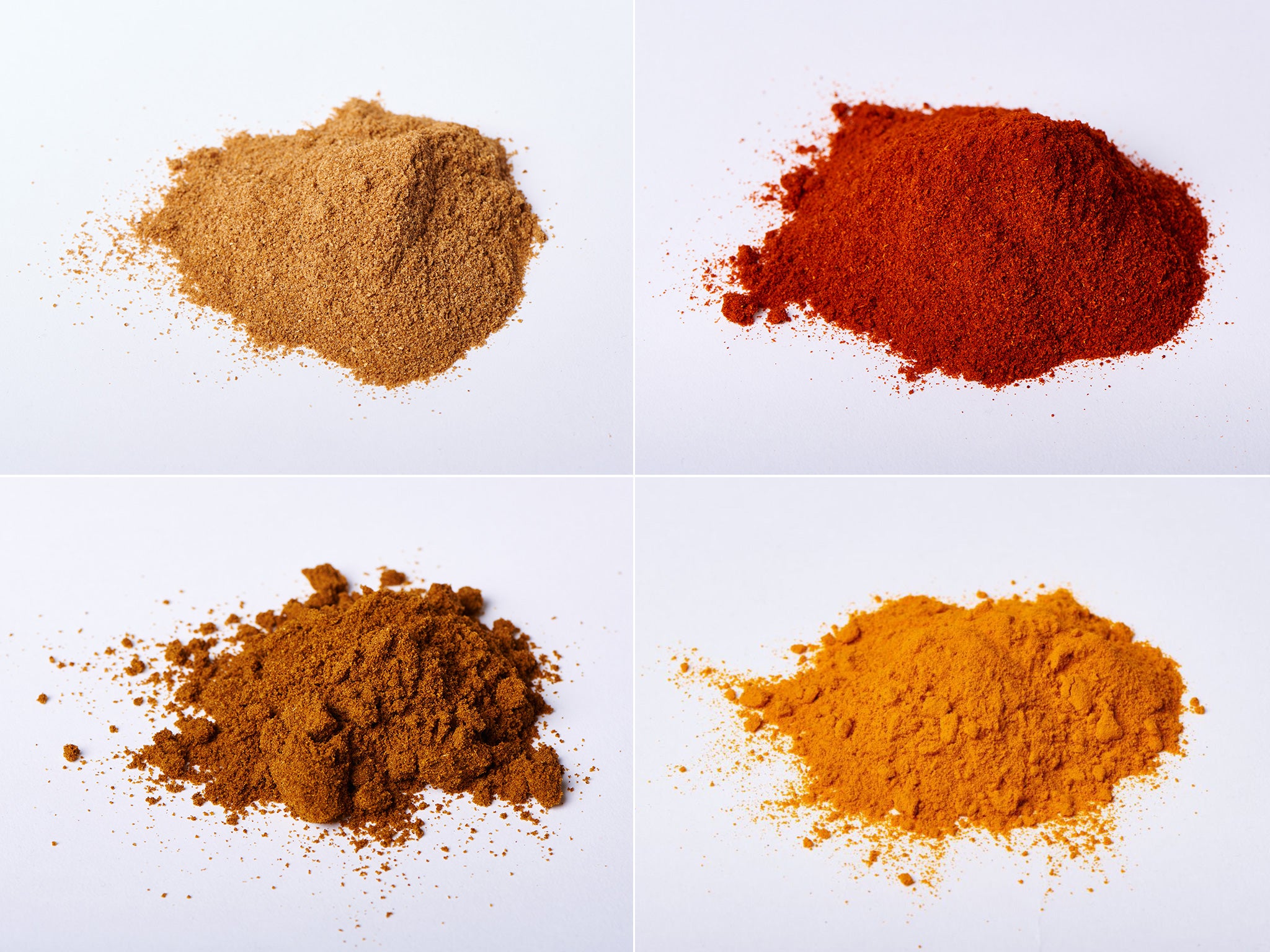 Stretching across vast distances and established across thousands of years, the spice trade has long held a sense of exotic mystery. Yet with dozens of cases identified and linked on both sides of the Atlantic in recent weeks, one might think it should be fairly simple to find the source of nuts that investigators have found are contaminating products now being recalled from supermarket shelves.
The worldwide trails that transport the likes of cumin and paprika – now found to contain undeclared peanuts and almonds in many cases – from the field to the fork is so labyrinthine it's actually extremely difficult to solve, experts warn.
The spices of life: Common seasonings
Show all 9
The more intermediaries the spices pass through, the more opportunity there is for tampering and the harder it is to find the culprit. And there is no shortage of middle men. "The spice chain is long and complex. It can be very difficult to trace back further than one or two levels," said Steve Taylor, a co-founder of the University of Nebraska's Food Allergy Research and Resource Programme.
Government investigators, food producers and retailers across North America, Europe and India are testing spiced dishes for nut contamination – which could put millions of allergy sufferers at risk of illness or even death. Tesco, Sainsbury's and Morrisons have all pulled products from their shelves in reaction.
In the UK and Scandinavia the cases centre on almonds being substituted for paprika and cumin, while in the US and Canada peanuts are being switched for cumin. So far almost all the cases identified have been contained on one side of the Atlantic or the other. However, one product – ground cumin, supplied by the Bristol-based Bart Ingredients Company – has been withdrawn in both the UK and Canada after traces of undeclared almond were found, increasing fears that the crisis could be global in nature.
Experts worry that the substitution is intentional and that worthless almond and peanut shells are being ground up and used to "bulk up" or replace much more expensive ingredients, such as cumin – the price of which has rocketed in recent weeks following a disastrous crop in the dominant growing region of Gujarat in India.
"The global spice chain begins in some very exotic parts of the world a long, long way from England," said Tony Hines, director of crisis management at Leatherhead Food research, adding that the problems tend to lie with smaller players, especially in poorer countries where the motivation for fraud is higher.
"Global spice companies have very good quality standards and know exactly what happens from farm to fork. So it's unlikely to be done by them. But small craft producers who are importing and exporting, possibly via the internet, could be. The nature of the business is that it could be open to substitution and bulking in the milling and mixing process. There are always opportunities in a global supply chain for products to come into the country, that are unlikely to be checked at the port of entry."
"Think about the mountains of Pakistan, or India, or China – their farming is small subsistence units. This means there are lots of intermediaries, as the camel train gets bigger the nearer you get to the city," said Professor Hines.
Once harvested, the raw spices are shipped from farms all over the region to the regional market yard, where they are collected and auctioned in lots. They are then typically passed on to a processor, who will dry, mill and mix the fresh spices into powder ready for export. From there they go to a shipper who takes them to an importer or distributor abroad, and possibly on to a food retailer such as Santa Maria, where they are mixed with other spices into "meal kits" and sold on to supermarkets and consumers. It is also not unusual to export the spice to another country to be processed – for example sending spices grown in Asia for processing in Spain or Turkey – before exporting them again to their final market, such as the UK.
Santa Maria is a Swedish supplier, with a base in Milton Keynes. Dozens of its fajita and enchilada spice mixes have been recalled from supermarket shelves across Europe after being found to contain undeclared traces of almond. These mixes involve spices such as chilli, paprika, cumin, and cinnamon.
Three other factors are increasing the scope for fraud. The first is the sheer growth of the spice industry as "ethnic" food becomes more popular in the West. The UK spice market was worth £327m last year – while in the US it was valued at £2.7bn and is expected to increase to £3.3bn within five years, according to the Mintel research agency.
The second factor is the internet, which investigators fear could be allowing huge amounts of spices to be traded under the radar. "If I could buy cumin on an industrial scale on the internet, how well do I know its provenance?" Professor Hines said.
Finally, there is the growth of food commodity trading among the banks looking to make a profit from price fluctuations in staples around the world, who are spending billions of pounds every year on everything from coffee and wheat to sugar and spices.
This investment – for profit rather than use – can add an extra layer of uncertainty into a distribution system that is already complex, said Professor Chris Elliott, who led the Government's inquiry into the horsemeat scandal.
"It can be very much like trading and stocks and shares. Dealers buy and sell on the same day for a very small profit margin and have no actual physical contact with the product," he said.
Most of the spices the world consumes originate from Asia, where controls are not as tight as in the West, experts say. The majority of paprika eaten in the UK is processed in Spain, mostly originating from chillis grown in Spain, Peru and China. About three-quarters of the world's supply of cumin comes from Gujurat, although Iran, Syria and Turkey are also substantial producers.
The international nature of the spice trail is perhaps the most difficult aspect to monitor – and calls for a global campaign of testing and information sharing.
The spices of life: Common seasonings
1. Black pepper: The world's most traded spice is native to India and extensively cultivated in tropical regions. Vietnam is the largest producer.
2. Ginger: A root spice grown across Asia and Africa.
3. Cinnamon: Obtained from the inner bark of trees of the genus 'Cinnamomum'. Mexico is its biggest consumer.
4. Paprika: Manufactured from chilli peppers and at the centre of the nuts-for-spices crisis in the UK.
5. Coriander: One of the first spices ever used by primitive cooks, it is grown in India, Sri Lanka, eastern and southern Europe and north Africa.
6. Cumin: Its price has soared following a poor harvest in India. This is thought to be the motivating factor behind ground peanut substitutions in the US and Canada.
7. Cardamom: Highly popular in the Middle East. Grown in Sri Lanka and Guatemala.
8. Nutmeg: Grown in India, Sri Lanka, Mexico, Guatemala, Grenada, El Salvador and Nicaragua. Highly prized and expensive – as is mace, which is taken from the same tree.
9. Turmeric: Integral to Indian cuisine with few alternatives. It is used to aid digestion and for skin conditions.
Join our commenting forum
Join thought-provoking conversations, follow other Independent readers and see their replies