The Sportsman, Faversham Road, Seasalter, Whitstable, Kent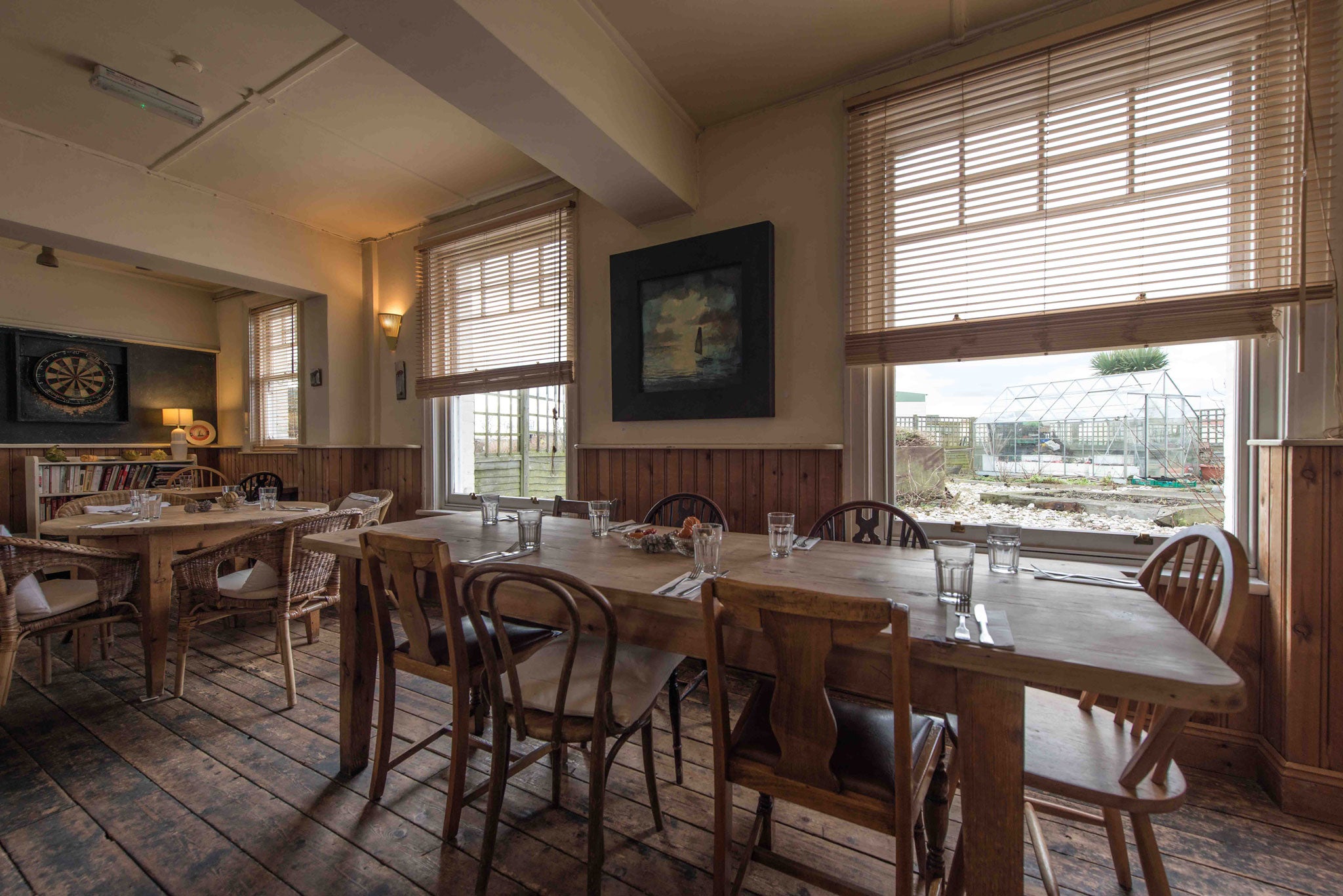 Until last week, the best fish dish I have ever eaten was grilled slip sole in seaweed butter at the Sportsman in Seasalter in Kent. This maritime marvel formed the starter in a lunch that has echoed my memory for years, but I discovered that I had missed the pub's most esteemed offering, a tasting menu whose expertise and finesse are legendary among the food-obsessed. So I called the Sportsman to remedy this annoying omission (48 hours warning is required). "It starts at 7pm," I was informed, "and lasts for three and half hours." Good grief! I wasn't sure that I was quite as food-obsessed as all that.
The gastronomic marathon is served in an unlikely spot. The Sportsman marks the terminus of a tideline straggle of bungalows, oyster sheds and caravans extending a couple of miles from Whitstable. From the outside, it looks unexceptional, a Shepherd Neame pub with a black and white moggy sprawled on an upstairs windowsill. Only a large kitchen, glimpsed through air-conditioning units, suggests that this is a culinary nexus.
Since 1999, the self-taught chef Stephen Harris has attracted a loyal clientele (and a Michelin star) without the benefit of TV appearances, PR machine or cookbook. With John Lee Hooker growling quietly in the bar, we had a preliminary glass of Picpoul de Pinet in the L-shaped conservatory. Asked if we wanted "a surprise or a menu", we stolidly stuck to the latter, which ran to eight courses. This proved to be a slight underestimate. By the end, 17 plates had been delivered.
On the dot of 7pm, we were called to our spacious table. "We start with a few snacks," a young waiter politely intoned. First up was a minute, completely delicious cheese and onion biscuit. I could have managed around a hundred. Then followed pickled herring on soda bread with cream cheese and Bramley-apple jelly – a lively, mouth-wakening morsel – and warm pork crackling, which combined slight crunch with succulent interior.
"New on tonight!" said our man, as he delivered two eggshells sliced longitudinally, Each contained a runny yolk augmented with parsley purée, fragments of smoked eel and crème fraiche spiked with sherry vinegar. We spooned up the subtly balanced richness. But the next arrival, a naked, baked, unbelievably luxurious oyster topped by a few atoms of rhubarb gratin and crystallised seaweed, was even more sybaritic. The sweetness of our second oyster, this time on the half-shell and set under the grill for a few seconds, was offset by the slight tartness of beurre blanc and pickled cucumber.
An hour in, the "few snacks" finally ceased and the menu proper kicked in. Chilled asparagus soup – saline, concentrated and topped with milk foam – came in a large shot glass with a teensy tart of almost-raw shards of the same stalk "It's all a bit like a dolly's tea party," mused my wife. A refreshing dish of summer vegetables pickled in grand cru vinegar involved some serious mandolin work for the paper-thin shavings of courgette, carrot, red onion and the world's tiniest cucumber.
My old friend the slip sole came next. This firmest of all soles, grilled on the bone with homemade butter flecked with sea lettuce (Harris got the idea from the beurre aux algues sold by Jean-Yves Bordier in St Malo) matched my golden memory. However, the next course, a thick, perfectly cooked fillet of turbot topped with a rasher of smoked pork and accompanied by a dab of vin jaune sauce, somehow both rich and light, was better still. Apologies for the demotion, slip sole. The succeeding plate of roast lamb rump, sitting on a tablespoon of buttery cabbage and partnered by confited scrag-end, had an equally wonderful depth of flavour. I've had few better pieces of meat but we were back on earth after tasting heaven.
By this stage, we were on course 13. Carefully judged portions, an absence of carbs (aside from a trio of breads – the crisp, malty soda bread was impossible to resist) and a 10-minute break enabled us to do justice to the puds. An elderflower combination of posset, fritter and ice-lolly, then a scoop of freshly churned strawberry ice cream were splendid celebrations of early summer.
A strawberry-and-cream sandwich in crisped-up brioche was a bit on the sweet side for my taste but would have been the grand finale for many. Except it wasn't the last bite. Two more miniature tarts – salted caramel and chocolate, custard and raspberry – arrived with the coffee. "I love these single mouthfuls," said my wife in a robust denial of satiety. I wouldn't want it every week or indeed every time I visited the Sportsman, but this bravura display of English cooking (with the odd French touch), should be experienced by anyone who sees food as more than fuel.
Food *****
Ambience ****
Service ****
The Sportsman, Faversham Road, Seasalter, Whitstable, Kent (01227 273370). Tasting menu £65 per head
Join our commenting forum
Join thought-provoking conversations, follow other Independent readers and see their replies