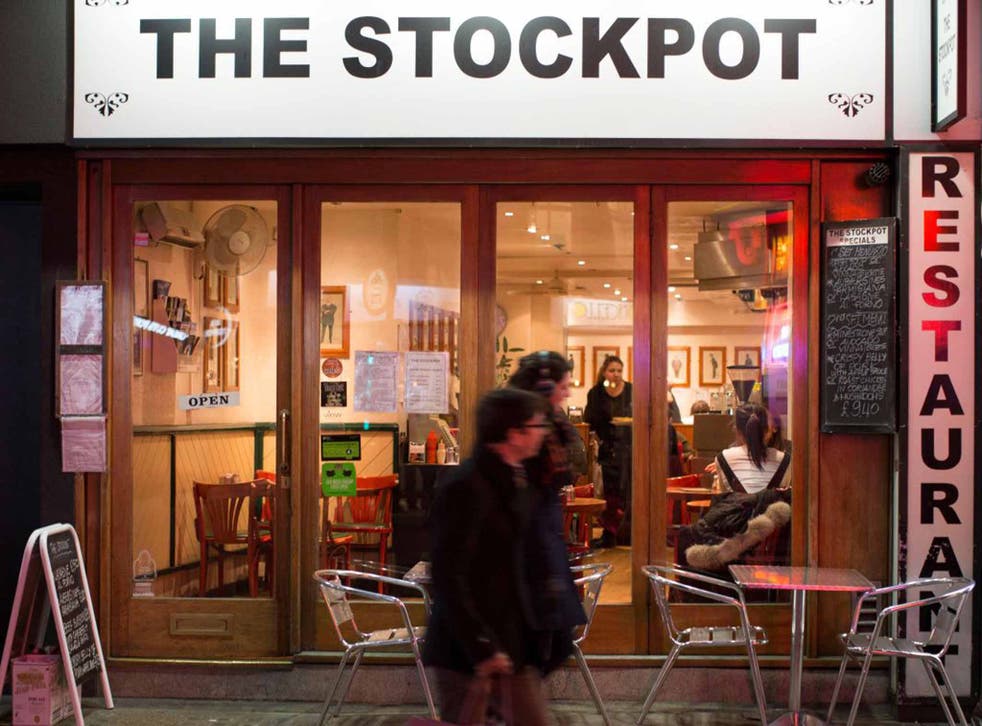 The Stockpot: A sad farewell to that rare beast, a cheap London restaurant
It was part of a tradition that went back to Lyon's tea shops, restaurants where the cooking was not really that important
Stepping into The Stockpot on Old Compton Street in Soho was like stepping back a couple of decades. With its pine-clad walls, its unmoving wall fans and tables pushed so close together you could tell if your neighbour needed a filling, eating there felt like an adventure in 1992. And no more so than when it came to the bill, which definitely was a refugee from the early Major years. Certainly it must have been about then when you last could have been guaranteed two courses in Soho for £8.40, or a rump steak with boiled potatoes for £10.20, or – and this was one of its specialities – fried liver with onions and sage and boiled potatoes for £6.20. Alas, as of last Sunday, The Stockpot is no more.
Twitter is not known for its dry-eyed stoicism, but the outpouring of grief that met the news was hard to overlook, certainly on my timeline, anyway. People shared stories of their first visits: invariably they had just started living in London and were hard-up, or else they were a teenager in town for a night of underage drinking at the surrounding fleshpots and in need of something carby to line their stomach.
Everyone said the same thing: The Stockpot felt totally and ineffably London. Like a distillation of the vast, diverse, scruffy city itself. A movie-land representation of the capital right down to the brusque staff, who seemed to be a reassurance that not everywhere had been taken over by smiley, Americanised waiters. But of course it is a fading vision. Central London is increasingly shiny and bright and breath-taking in its priceyness.
Most of the other old stagers have already gone. While places such as Bar Italia and Maison Bertaux hold on, so many others – the New Piccadilly with its 50p tea and Formica tables – just disappear. Some are the victims of increased rents, some (The Stockpot included) are retiring with their proprietor, but others still fall victim to changing tastes.
The Stockpot was part of a tradition that went back to Lyon's tea shops – restaurants where the cooking was not really that important. You went for the gossipy atmosphere or for sustenance or because you wanted to be back in the Soho of Lucien Freud and Sebastian Horsley and this was the nearest you were going to get.
But all that is coming to end because no matter how many filters you apply to a picture of liver and onions it is still going to look like a £6 plate of offal. And that is the issue. Restaurants like The Stockpot aren't only dying off because of the rapacious greed of landlords, they are dying off because we've changed. Going out now is as much about spectacle as it is about anything else – people want to be the first in at the hot new restaurant with the chef who was on Masterchef with his seasonal, foraged concept menu – and they want to record the fact in half-a-million Instagram pictures and tweets.
That, like it or not, is life today and to complain about it is as silly and pointless as complaining that the potatoes that came with The Stockpot's £10.20 rump steak were overdone.
Register for free to continue reading
Registration is a free and easy way to support our truly independent journalism
By registering, you will also enjoy limited access to Premium articles, exclusive newsletters, commenting, and virtual events with our leading journalists
Already have an account? sign in
Register for free to continue reading
Registration is a free and easy way to support our truly independent journalism
By registering, you will also enjoy limited access to Premium articles, exclusive newsletters, commenting, and virtual events with our leading journalists
Already have an account? sign in
Join our new commenting forum
Join thought-provoking conversations, follow other Independent readers and see their replies