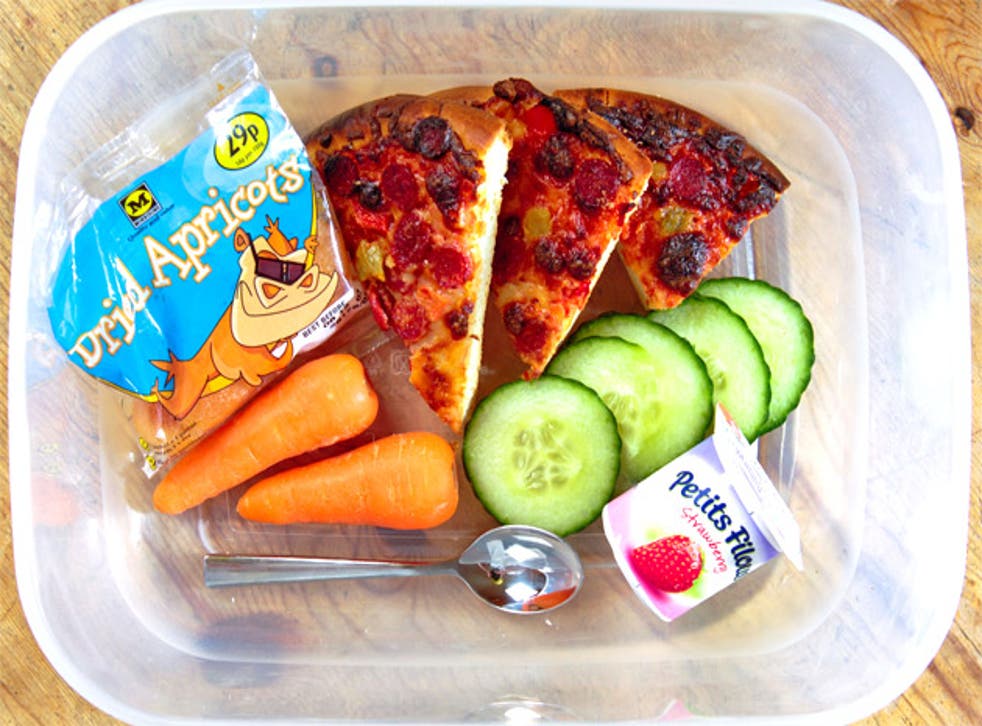 Think outside the box: Top cooks reveal how to perk up your children's packed lunches
Alan Murchison, CEO and executive chef, the 10 in 8 restaurant group
Having four children, I understand the challenges in feeding kids without spending hours in the kitchen. You have to get a balance of "treats" and healthy food into a lunchbox. The most important thing is to get a mix of simple sugars for that quick energy fix and complex carbohydrates such as bread and pasta for slow energy release.
Dried fruits are great for lunchboxes, an easy store-cupboard ingredient that can quite happily knock about in a school bag with no problems. Favourites in our house include dried banana chips, apple, mango, apricots. You could bulk up their lunchbox with a good-quality unsweetened yoghurt and mix in some dried pineapple chunks.
Fussy eaters are always a challenge. Stealth tactics are required. Banana bread, chocolate raisins, yoghurt-dipped nuts and chocolate soya milk have great health benefits while also being very tasty. Vegetables can also be a challenge. Sainsbury's does a great new variety of tomato called tomberries, which are tiny tomatoes the size of redcurrants that my kids just seem to gobble up – must be something to do with their looking like Skittles!
Claude Bosi, chef patron, Hibiscus, London
Perfect for a lunchbox: sausage rolls, chocolate madeleines, chard and broccoli salad, and a bit of fruit. My daughter eats junk food like any other kid but there are lots of good things she likes, too. We ask her to try things before she says she doesn't like them. If she doesn't want any more, we don't push her. Instead, we try to find alternatives: cheese instead of meat, grapes instead of cherries. She's just started eating spinach. You have to make them feel it's a choice.
Anthony Demetre, chef patron, Wild Honey, Arbutus and Les Deux Salons, all in London
I have two young sons. One is a little foodie and the other wants to eat only cake and sweets! I've no idea why – we've raised them the same. I always make sure they've had a good breakfast, such as eggs on toast. We try not to give them sandwiches too often, but I've got a couple that give them a real protein and carbohydrate blast: one combines good-quality peanut butter with banana and the other is humus and cucumber. You want to include fruit, but nothing too perishable. Raisins are good, too – my sons are addicted to them. And there are some healthy treats out there. I buy those Nakd bars – the boys love the chocolate and orange. They love liquorice, too. They've always drunk water, which is great. When I was growing up, I drank soda all the time. You become accustomed to things so it's all about education.
Daniel Clifford, chef patron, Midsummer House, Cambridge
Pork pies, Scotch eggs, fresh fruit salad, fresh baby tomatoes and cheese sandwiches are all good lunchbox staples. I have never fed my youngest children chocolate so they don't have a taste for it – they naturally eat fruit after every meal. Show fussy eaters where the ingredients come from and get them to pick as much fruit and vegetables as possible. Explain that if they don't try things, then they will never know if they like them or not.
Atul Kochhar, chef patron, Benares, London and Vatika, Southampton
I like to give my children lots of fruits and sandwiches made from leftovers. Cutting fruit and colourful combinations has always encouraged my kids to eat fruits – they don't like plain-looking fruits and get bored quickly. With my five-year-old, I work out the flavours he likes most and incorporate them into anything I am cooking.
Darron Bunn, executive chef, Quaglino's, London
As I have two primary-school children we are always looking for fun and healthy items for their lunchboxes. Rather than just sandwiches, we prefer wraps and filled mini pitta breads. We also like to give them cold salads such as pasta and roasted peppers – and my children adore couscous. Smoothies encourage them to eat fruit – especially this time of the year with so much around. For fussy children, it is about educating them straight away. Give them smaller portions of whatever you are eating. That said, it's not simple. Find out what they really love and use it as many different ways as possible.
Andy Rose, executive chef, Boisdale, London
Children often like food they can eat with their fingers, so chop up raw veggies such as carrots or peppers, and give them humus or cottage cheese to dip the veg in. Breadsticks and wholemeal crackers are great finger foods and they can be spread with low-fat soft cheese or eaten with reduced-fat cheddar and pickles. Replace chocolate bars and cakes with fresh fruit, dried fruit or unsalted nuts. Instead of sandwiches, try bagels, pitta bread, wraps and baguettes made from brown, wholemeal or seeded bread.
Be inventive and encourage your children when they try something new. Have a fun project at school were the children are able to do things such as make sandwiches, trying out different fillings. Make "healthy lunchbox" pictures and do quizzes – just things that make the children think about what they eat but have fun doing so. Chocolate, cookies or cakes can be occasional treats, when they've tried something new and healthy.
Allan Pickett, head chef, Plateau, London
I have three children so I know how hard it is to keep them happy with the contents of a lunchbox. We try to stay healthy so we always give ours fresh fruit – berries seem to go down really well – and quality meats such as a real old English ham. There are some really healthy rice-cracker snacks on the market at the moment that aren't packed out with salt and sugars.
Our kids love change, so we mix it up to make it interesting for them. Hunt out the Heritage carrots that are white and purple in colour to make a change from the boring yellow ones and cut up vegetables in different shapes. I normally take my boys shopping with me and let them choose the fruit and vegetables that they will want to try. I also found that part-cooking a vegetable helps to change the texture so the boys are more likely to eat it. Veggies such as sweet peppers work really well.
If you can grow fruit and vegetables with them in the garden, children tend to understand where it has come from and are more likely to eat it. Some of my oldest memories are of me and my grandad digging up his home-grown potatoes.
Nick Coffer, author of 'My Daddy Cooks'
My son, Archie, has periods where he'll eat for Britain and others where he will say "yuck" before he has even seen what he is getting. I think the best thing is just to try to ignore it. If we make a big deal around kids and label them as fussy, they will almost turn into a self-fulfilling prophecy.
In my experience, connecting kids with the whole process of food – from shop to lunchbox – definitely helps. Knowing what they are eating and where it comes from goes a long way to motivating them to eat it – as does getting them involved in the preparation. Savoury muffins are perfect for this in both regards – they are fun and easy to prepare together and you can add in pretty much whatever vegetables you have to hand. As for fruit, try serving it with a fun dip they will enjoy. Or how about a banana cake? Proteins, carbohydrates and sugars, all rolled into one delicious slice.
Kids need energy at school and I would have no problem adding in home-made cakes, muffins and other sweet treats. If you can combine these treats with fruits, too, then all the better.
Mickael Weiss, head chef, Coq d'Argent, London
My wife and I design a menu at the weekend and then stick to it. The kids love a good tuna Niçoise salad made with rice, tomatoes, cucumber, peppers, black olives, French beans and tuna, and we make tabouleh at home. If we have a roast chicken at the weekend, then my son will always want a chicken and basil sandwich for his lunch – it's the same story if we have roast lamb or beef. And they love sausage so they will eat it cold with potato or pasta salad – or even in a sandwich.
We are lucky because my children love fruit and vegetables, so we've never had an issue there. Get fussy eaters to help with preparing the food. Work with your hands and get messy, making sure you taste it on a regular basis with your finger. Eventually they will copy you.
Silla Bjerrum, managing director, Feng Sushi, London
For children, I serve things such as inari – little tofu pouches filled with sushi rice – and onigiri with salmon or a vegetarian filling. They are little rice triangles with a nori wrap. Sweet and savoury dips are always good. Try a berry-based dip for fruit, and serve vegetable sticks with a mild miso dip. Both are low in fat and very healthy.
Offer some choice: give them various things but individually arranged, such as a few pieces of cucumber maki, onigiri, tomatoes and vegetable sticks with dips, poached salmon slices with sesame. They're all healthy choices with simple flavours.
Agnar Sverrisson, head chef, Texture, London
As I'm from Iceland, I'm inclined towards clean, light flavours and there's no reason why you can't feed these to children. Smoked salmon is a good sandwich filling as kids don't often see it as real fish and it's full of goodness. I give it to my daughter on rye bread, which is also very wholesome. Otherwise a yoghurt and barley dip with carrots and cucumber goes down quite well.
Register for free to continue reading
Registration is a free and easy way to support our truly independent journalism
By registering, you will also enjoy limited access to Premium articles, exclusive newsletters, commenting, and virtual events with our leading journalists
Already have an account? sign in
Join our new commenting forum
Join thought-provoking conversations, follow other Independent readers and see their replies