Trainer spotting: Can you match the trainers with their celebrity owners?

Show all 4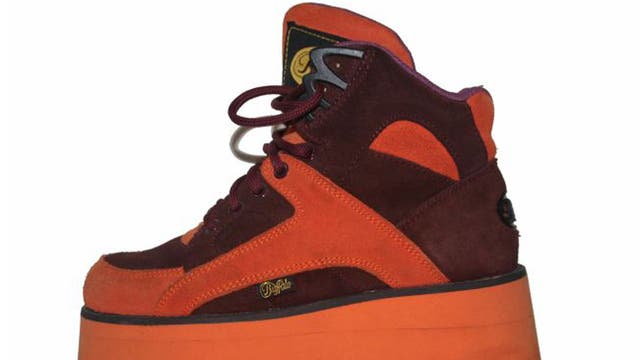 Trainer spotting: Can you match the trainers with their celebrity owners?
The past few decades have seen sports shoes become our first choice in footwear. Now, a new exhibition aims to put names to famous laces. Simon Usborne takes a sneak peek
Worn on racetracks, catwalks and pavements by Olympic greats, supermodels and teenagers running for buses, they are perhaps the most democratic items in our wardrobes. To many they provide comfort and function – they are slippers with soles – but for some they are to be coveted and collected, often selling for sums of money more typically seen changing hands at art auctions.
Shoes of dozens of styles, sizes and values make up an exhibition opening in London on Thursday. The show, Sneaking into Fashion, charts the rise of the trainer from a 1917 pair of Keds, the shoe credited by many with launching the modern sneaker, to a pair of Nikes designed by Kanye West, another pair of which sold on eBay last June for £56,000.
Tory Turk is a former stylist and the curator of the exhibition, put on by the Javari retail website. While she wouldn't qualify as a "sneakerhead", the name given to collectors whose interest can border on fetish, she understands the allure of the trainer.
"Designers speak through trainers to represent the zeitgeist so that collectors feel they are somehow preserving popular culture," the 28-year-old says. "Young people also use trainers to express their identities, and brands target them, inspiring loyalty."
Russell Gater, 38, is a Nike man. Specifically, pre-1984 Nike or Blue Ribbon (as the company was known until 1978) running shoes. His sneaker love spawned a stall at Camden Market in north London and then his own streetwear site, Trainerspotter.com. He is among the world's most serious collectors and has more pairs than he can count, much less wear (thousands, he suggests). Why?
"I was about nine when the late Seventies and early Eighties brought an influx of US culture to the UK," he recalls. It was aspirational and when I saw my first pair of Nikes, that was it. Once you get immersed, you start learning and seeking more knowledge."
It was around the same time that the emerging hip-hop culture co-opted the sneaker, helping to increase its cult status. Nike went from sponsoring tennis players and runners to pairing its Swoosh with basketball players. Air Jordans, designed by Michael Jordan, were an instant hit on their launch in 1985 and trainers became big business.
Lately, as Harriet Walker, The Independent fashion writer and author of Cult Shoes, writes, "the movement has also affected trends and taste in the fashion side of the business" with the resurgence of hi-top styles and other nods to Eighties hip-hop heritage.
Gater, too, says sneaker culture has leapt, Jordan-like, beyond the collector community, which he admits can be geeky. "Trainers had gone out of vogue," he says. "Guys were buying brogues from Topman, but streetwear is the new buzz word and people want brands again, while more people consider themselves to be collectors."
Sneaking into Fashion is a free exhibition at Covent Garden Piazza, London, from 18-28 October; see javari.co.uk/exhibition
Answers:
A (Red platform trainer): Mel B
B (Black three-stripe): Liam Gallagher
C (White with wedge heel): Vivienne Westwood
D (Yellow runner): Mo Farah
E (Yellow and Black Kill Bill design): Uma Thurman
Register for free to continue reading
Registration is a free and easy way to support our truly independent journalism
By registering, you will also enjoy limited access to Premium articles, exclusive newsletters, commenting, and virtual events with our leading journalists
Already have an account? sign in
Register for free to continue reading
Registration is a free and easy way to support our truly independent journalism
By registering, you will also enjoy limited access to Premium articles, exclusive newsletters, commenting, and virtual events with our leading journalists
Already have an account? sign in
Join our new commenting forum
Join thought-provoking conversations, follow other Independent readers and see their replies