True Brit: The Independent's Mark Hix celebrates a decade creating classic recipes

Show all 12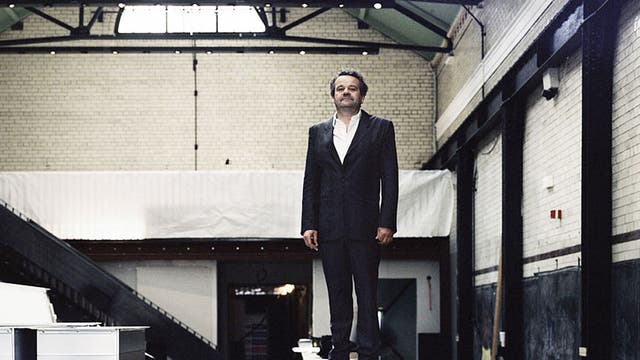 True Brit: The Independent's Mark Hix celebrates a decade creating classic recipes
This weekend, our resident chef Mark Hix celebrates 10 years of recipe writing for The Independent Magazine. He talks to Simon Usborne about his role at the forefront of the British food revolution and revisits 10 of his most influential recipes.
String up the bunting, bake a cake and marinate the herrings in cider (in the fridge, for about five days); Mark Hix, the man from the Jurassic Coast with a highly evolved taste for the foraged, the cured, the well-hung and – above all – the British, is celebrating 10 years as The Independent's resident chef. Appearing every week in these pages, the Dorset foodie has devised as many as 2,000 dishes for you to drool over, be inspired by, and perhaps even to cook. His growing culinary archive charts a decade which has brought him fame and a fledgling restaurant empire. It also spans a period in which British ingredients have risen to the highest – and coolest – tables in the land.
It's 2002: A Beautiful Mind has just won the best film Oscar, Tony Blair is halfway through being Prime Minister, and a young(ish) Mark Hix is the man in charge at The Ivy, the most exclusive restaurant in London. But the chef wants more than to serve steak tartare to celebrities. Over at the Independent Magazine, meanwhile, editors are looking for a replacement for Simon "Hoppy" Hopkinson, the award-winning cookery writer and "chef's chef", who has decided to pass on his apron. One thing leads to another and, after a boozy lunch with the bosses, Hix is in.
Fast-forward 10 years and the chef is ordering more wine in the Soho basement bar of HIX, the third of the soon-to-be eight restaurants to bear his name. "It was a big honour to be asked because Hoppy was a real figurehead," he recalls. "But I didn't think about it for long."
Cooks are as adept at writing as writers at cooking; a facility in one field does not necessarily cross into the other. Hix, now 48, admits his skills lay at the stove. He fell into cookery as a lost teenager in West Bay, near Bridport in Dorset. Aged 15, he chose domestic science over metalwork "for a laugh". But then he won the school prize for his cooking. "It was a bit embarrassing, really," he recalls. A talent born, catering college followed – and the rest is history. But with a background in pans rather than pens, several empty pages in the magazine of a national newspaper must have been a daunting sight.
Hix thinks for a second and then a waiter interrupts to bring our food. The chef has the John Dory with a side of rape greens. The vegetables have barely cooled before he grabs a handful and pops it into his mouth. "I had to wing it a little bit at the start, as you do," he says, chomping. "But it felt natural to be doing it."
These were Hix's first words in the Independent Magazine: "Who knows what effect it has had on the way I've turned out, but some of my early memories involve buxom young waitresses wearing black binliners." You could forgive the chef his nostalgia. He says he wrote the column during a two-week business trip to Kuwait. "You couldn't have a drink or go out on the razz or anything so all I could do was knock out my column," he recalls.
The buxom waitresses were preparing crab meat at the pub Hix worked in as a teenager. The column went on to recall a youth that smelled of the sea. "I didn't realise then how lucky I was to be exposed to such luxury ingredients or what I would be doing with them 20 years on in London," he wrote, before presenting recipes for crab, mackerel and scallops. "I can't get the waitresses to dress up in black binliners any more, and I have to pay for fish."
Hix says the demands of weekly recipes help him innovate and influence the menus at his restaurants. "When I send off my copy, I'll also email it to my head chefs so that, by the time it's printed, one of those dishes might already be on the menu," he explains. "I often end up inventing something unintentionally. I've done whipped broad beans, which I think started when I did a column about beans and was scratching around for a fourth dish. I ended up blending them like a houmous."
Inspiration doesn't always come so easily, however. He says: "Quite often I'll get stuck for something and go shopping down to Waitrose and wander round putting things in my basket and come up with the fourth asparagus recipe, or whatever it might be."
Whatever the provenance of his recipes, if there is a theme in Hix's cooking, it is simplicity and the origins of his ingredients. Generally, that means British. The nation's cuisine had already risen from a gastronomic wasteland of dodgy prawn cocktails with chefs such as Shaun Hill, Rick Stein and Fergus Henderson leading us to brighter plains. Jeremy Lee was part of the movement, too, toiling 10 years ago at the Blueprint Cafe in south London. The Scottish chef left that post and in March reopened Quo Vadis, an institution in Soho, with a very British menu.
"There was a small group of chefs back then drinking way too late into the night who, in different ways, delighted in making plain, simple fare excellent and delicious," he says. "Mark was very much part of that."
Now cooking has arguably come full circle; you can order a far-from-dodgy prawn cocktail at Hix Belgravia, the chef's newest restaurant inside the Hotel Belgraves in London. Lee, meanwhile, who has won praise for his simple dishes, says Hix has helped make the apparently unexceptional exquisite. "It's delightful to thinksomething as deceptively simple as my smoked eel sandwich, for example, can get applause," he says. "Ten years ago eating out was a great event but often there was criticism of anything you thought you could cook at home. That has changed."
As Hix finishes his fish, one of his chefs interrupts to remind him that his tasting skills are required. Hix has scooted across town from a building site that will very soon be the latest – and most ambitious – addition to his empire. The Tramshed is a vast Victorian former electrical station in Shoreditch, east London. Later this month, it will be reborn as a restaurant that will take simplicity to new, carnivorous heights. "I'll do steak and chicken," the chef explains. Beef and bird, cow and fowl. "People like steak," he says. "And they like chicken."
To leave diners in no doubt about his menu, Hix has commissioned a startling work of art for the new restaurant by his friend Damien Hirst. The chef, who is as at home in other people's bars as he is in his own, is fond of contemporary artists, also counting Tracey Emin among his friends. Some give him commissions in return for food but Hirst will have to eat a lot of steak (or chicken) to make up for his new work. Inside one of the artist's trademark formaldehyde tanks will stand a real, whole cow, on whose back will stand a whole chicken. The work will rest on a column in the middle of the restaurant, its farmyard subjects looking down on diners. Will it not put them off?
"I don't think so," Hix says. And with that, he's off again for the tasting. The next day he's due in Stockholm where he says he'll seek inspiration for the recipes that will bring in his 11th year as The Independent's man in the kitchen.
Queen scallops with bacon and wild garlic
Serves 6-8
When I was a kid, the local boats in West Bay used to come into the harbour piled high with queenies and the mother of my old schoolmate Mark Hawker used to send us queenies in little plastic tubs to munch on at breaktime.
We now buy our queenies direct from the Isle of Wight and, since taking part in the Queenie Festival on the Isle of Man last year with Mitch Tonks, we have both enjoyed the luxury of freshly delivered queenies on our menus ever since. They are so fresh that I put them on the menu raw for the first day, served with a tangy dressing.
I've added wild garlic leaves to this, wilted in a little butter and served on the plate with the queens. For this recipe I also sprinkled over a mixture of simple green herbs and breadcrumbs just before grilling.
20 or so fresh queen scallops cleaned and in the half shel
A couple of good knobs of butter
4 rashers of smoked, rindless streaky bacon, finely chopped
A handful of wild or hedgerow garlic, chopped (or you could use garlic chives instead)
A handful of herby breadcrumbs
Preheat the grill to maximum temperature, place the scallops on a tray; cook for a couple of minutes. Meanwhile, melt the butter in a small frying pan and cook the bacon for a minute or so; then stir in the hedgerow garlic. Spoon the mixture over the queenies; serve.
Seashore salad
Serves 4
We developed this recipe when we opened Hix Oyster and Fish House in Lyme Regis in 2008. We have so many wild sea vegetables on the beach, and herbs like wild fennel growing on the cliffs – and with a daily changing menu featuring everything from razor clams, surf clams and scallops, to mussels, lobster, crab and oysters, we wanted to create a dish that gave the customer a little bit of everything! If you're struggling to get wild sea vegetables then samphire and a few small salad leaves will do.
A couple of handfuls of sea vegetables like small leaves of sea beet, samphire, sea purslane, wild fennel, trimmed of any woody stalks and washed
4 scallops, cleaned
2tbsp freshly picked white crab meat
150-200g mussels, cleaned
150-200g cockles or surf clams, cleaned
50ml white wine
4 medium scallops or queenies removed from the shell
4 oysters, shucked and left in the half-shell
Other seafood such as cooked lobster or prawns, etc
For the dressing
The juice of half a lemon
1tbsp white wine or tarragon vinegar
4-5tbsp rapeseed oil
Salt and ground black pepper
Put the cockles and mussels in a pan with the white wine and cook on a high heat with a lid on for 3-4 minutes, shaking the pan every so often until they are all open. Tip into a colander, reserving the juices. Strain this liquid through a fine-mesh sieve into a small saucepan and bring to the boil. Halve the scallops; lay them in a small dish and pour the hot liquid over them and leave to cool.
Bring a pan of lightly salted water to the boil and blanch the samphire, sea purslane, or whichever sea vegetable you are using, for 20 seconds then refresh under the cold tap. Whisk all of the ingredients together for the dressing with a little of the liquid from the scallops and season to taste. To serve the salad, remove half of the mussels and cockles from the shell and arrange with the rest of the ingredients on individual plates or one large serving dish. Spoon over the dressing and place the oyster on top.
Coronation chicken on toast
Serves 4
Constance Spry invented this dish for the Coronation of the Queen back in 1953, and when the dish is made with a little tender loving care, it can make a delicious cold main course that is a million miles away from some of the ghastly versions that you might remember from the Sixties and Seventies.
8 free-range chicken thighs, boned, skinned
500ml chicken stock
Small onion, peeled and finely chopped
2 cloves of garlic, peeled, crushed
1 small, mild red chilli, chopped
1tsp ground cumin
20g root ginger, scraped and grated
1tsp ground turmeric
>4-5 curry leaves
A small piece of cinnamon stick
2 cloves
Black seeds from 3 cardamom pods
1tsp fenugreek seeds
1tsp black mustard seeds
1tbsp vegetable or corn oil
3-4tbsp good-quality mayonnaise
1tbsp Greek yoghurt
1tbsp chopped coriander
1tbsp mango chutney
4 slices of bloomer-type bread
Heat the vegetable oil in a pan and gently cook the onion, garlic, chilli and all the spices for 3-4 minutes with a lid on without colouring the onions. Add the stock and the chicken thighs; simmer for 15 minutes. Remove the thighs and put to one side. Simmer the cooking liquid until it reduces to 3-4 tablespoons then blend in a liquidiser; leave to cool. Mix with the mayonnaise, yoghurt, coriander and chutney and season.
Cut the chicken into chunks and mix with the sauce and leave for a couple of hours in the fridge. Toast the bread and spoon the chicken on top.
Rabbit and crayfish stargazy pie
Serves 4
This was the dish that challenged me on The Great British Menu back in 2007. Rabbit and crayfish are both classed as vermin and in need of culling, so I wanted to think of a way we could eat them.
The back and front legs from 4 wild rabbits, meat removed and cut into rough 2cm chunks
1tbsp vegetable oil
A couple of good knobs of butter
1 small onion, finely chopped
2tbsp flour plus extra for dusting
100ml cider
1ltr hot chicken stock
40 live crayfish, cooked for 2 minutes in boiling salted water and refreshed
3-4tbsp double cream
1tbsp chopped parsley
For the pastry
225g self-raising flour
1tsp salt
85g shredded beef suet
60g chilled coarsely grated butter
1 medium egg, beaten, to glaze
Heat a heavy-bottomed frying pan with the vegetable oil. Season and flour the pieces of rabbit; fry on a high heat for a couple of minutes until lightly coloured. Gently cook the onion in the butter in a saucepan for 2-3 minutes then stir in the flour and gradually add the cider and hot chicken stock, stirring to prevent lumps forming. Add the rabbit and simmer for about an hour or until the rabbit is tender. Peel the crayfish, reserving 4 whole ones for garnish and put the meat to one side.
Break up the shells and fry in a little oil in a heavy-bottomed pan. Add about 250ml water and about 200ml of the sauce from the rabbit and simmer for 30 minutes. Blend a third of the sauce, shells and all, in a liquidiser until smooth; add back to the pan. Stir well then strain all of the sauce through a fine-meshed sieve into the rabbit mixture. The rabbit sauce should be a very thick consistency. Add the cream and parsley and leave to cool. Stir in the crayfish meat and transfer to a pie dish; place a pie bird in the centre.
Meanwhile make the pastry: mix the flour and salt with the suet and grated butter. Mix in about 150-175ml water to form a smooth dough; knead it for a minute. Roll the pastry to about 1cm thick and cut out to about 2cm larger all the way round than the pie dish. Brush the edges of the pastry with a little beaten egg; lay the pastry on top, pressing the egg-washed sides against the rim of the dish. Cut 4 holes around the pastry and insert the tails of the 4 reserved crayfish so that they are facing the centre and brush with beaten egg. You can put a trim around the edge of the dish with a strip of leftover pastry. Leave to rest in a cool place for 30 minutes.
Preheat the oven to 200C/gas mark 6. Bake for 45 minutes, or until the pastry is golden. Serve with greens or mashed root vegetables and small potatoes boiled with parsley.
Hanger steak with bone marrow
Serves 4
I put this dish on the Chop House menu when we opened in 2008 and it's been on ever since. Hanger steak, or butcher's steak, lies just below the kidneys, near the flank and has a wonderful flavour.
4 butcher's steaks (200g each)
1tbsp vegetable oil for brushing
Salt and ground black pepper
2 x 10-12cm lengths of halved bone marrow
4 small shallots, finely chopped
A couple of good knobs of butter
2 peeled, crushed garlic cloves
50–60g fresh white breadcrumbs
4tbsp chopped parsley
First prepare the marrow: cook the shallots and garlic in a little of the butter for 2-3 minutes. Scoop the marrow out of the bones then chop into rough pieces; mix with the shallot mixture, breadcrumbs and parsley and season. Spoon the mixture back into the bones, place on a baking tray and bake for about 12-15 minutes until lightly coloured. Bash the steaks a couple of times with a meat cleaver to tenderise. Heat a ribbed griddle pan. Season the steaks, lightly oil them and cook for about 4-5 minutes on each side then leave to rest. Slice the steaks into 5 or 6 slices and arrange on warmed plates and place the baked bone marrow next to the steak.
Steamed razor clams with chorizo and broad beansServes 4
I first tasted a dish very similar to this one about 20 years agoin Spain. I loved the combination of local ham and seafood and so when I returned to London I matched the razor clams with chorizo and seasonal broad beans as my own kind of homage to Catalonia.
Razor clams are an odd kind of shellfish and they are not very often seen on the fishmonger's slab in this country. I first tried them in Spain, cooked very simply, and I've since discovered that it's the only way to prepare these molluscs.
It's important to use the soft cooking type of chorizo to make this dish, as opposed to the hard dry sausage that is sliced and eaten cold.
1kg live razor clams
glass of dry white wine
A few sprigs of thyme
3 garlic cloves, peeled and roughly chopped
1tsp salt
1tbsp chopped parsley (reserve the stalks)
250g broad beans, shelled
4tbsp olive oil
115g cooking chorizo, sliced to the thickness of a coin
60g butter
Salt and ground black pepper
Rinse the razor clams well in cold, running water for 10 minutes, discarding any that don't close properly when handled.
Put the razor clams in a pot with the wine, thyme, garlic, salt and parsley stalks. Cover and cook over a high heat for a few minutes, stirring occasionally, until all the shells have opened. Drain in a colander and leave to cool.
Preheat the oven to 150C/gas mark 2. Carefully remove the razor clams from the shells, keeping the shell intact (make sure you discard any that haven't opened). Cut away the central, dark, intestinal sac and discard. Cut each clam into 4 or 5 pieces, place back in the shell and arrange the shells on a baking tray. Keep warm in the low oven.
Meanwhile, cook the shelled broad beans in boiling salted water for 2 minutes, then drain in a colander. Heat the olive oil in a pan and cook the chorizo on a low heat for 1-2 minutes.
Add the broad beans, butter and chopped parsley, and season lightly with salt and pepper. Put the clams in their shells on warmed serving plates and spoon the chorizo mixture over.
Duck eggs with asparagus soldiers
Serves 4
This is proper, comforting grown-up nursery food and it has featured regularly on the seasonal menus in my restaurants for many years now.
I'm not sure if this was a new creation when I started doing it about 10 years ago but I've seen this dish since on various menus around the country in many different forms – but I much prefer this pure and simple version.
500g medium to thick asparagus
4 duck eggs
Sea salt
To prepare the asparagus, cut or break off the woody ends. Peel the stalks with a fine swivel vegetable peeler, starting about 5cm (2in) down from the tips. Set aside. Carefully lower the eggs into a pan of boiling water and boil for 6 minutes for duck eggs (or 4-5 minutes for ordinary eggs). Meanwhile, add the asparagus to a pan of boiling salted water and cook for 4-5 minutes until tender.
Cut the tops from the eggs and sit the eggs in egg cups. Drain the asparagus and arrange in bundles next to the eggs, for dipping.
Serve with a little pile of Maldon sea salt.
Crispy duck and watercress salad
Serves 6-8 as a starter
I conjured this up as a tongue-in-cheek homage to the tourist dish that features so often on Chinese restaurant menus when I was at Le Caprice about 20 years ago. I imagine that today it's still one of the best-selling dishes at The Ivy and Le Caprice.
1 x 1.5 kg duck or 12 duck legs
Water to cover
3 star anise
1 head of garlic, peeled and roughly chopped
60g ginger, roughly chopped
20g coriander, stalks only, washed (keep the leaves for the salad)
1tsp Chinese five-spice powder
Oil for deep frying
For the duck sauce
4tbsp tomato ketchup
1tbsp honey
Juice of half an orange
1tbsp soy sauce
2tbsp sesame oil
For the soy and sesame dressing
2tsp soy sauce
2tsp rice vinegar
1 clove of garlic, peeled, crushed
A small piece of root ginger, peeled and finely grated
1tbsp sesame oil
3tbsp vegetable or corn oil
For the salad
4 bunches of watercress, washed and thick stalks removed
100g white radish (mooli), peeled, cut into 3-4cm lengths and shredded into matchstick strips
1 small carrot, peeled, cut into3-4cm lengths and shredded into matchstick strips
60g beanshoots, washed
1 bunch of spring onions, trimmed, shredded on the angle
The leaves from the coriander (see above)
1tbsp sesame seeds, lightly toasted
1-2 punnets of Asian sprouts or cresses, such as shisho, mung, etc (optional)
Cover the duck with the water, add the herbs and spices and simmer gently for 45 minutes. Remove the duck from the stock and set it aside to cool. Skim the fat off the stock and use it as a base to make an Asian soup.
Whisk together all the ingredients for the duck sauce, then whisk all of the ingredients together for the soy and sesame dressing .
To assemble the dish, remove the duck from the bone, then cut into 1cm-thick slices. Preheat the oil for deep frying.
Arrange the watercress on the plates with the white radish, carrot, bean shoots and spring onion.
Fry the duck until crisp, then drain on some kitchen paper or in a colander and mix it with the duck sauce until it is nicely coated. Arrange it in piles on the salad and spoon over the dressing.
Then scatter the coriander and sesame seeds over the top (and sprouts if you are using them) and serve immediately.
Strawberry and Nyetimber jelly
Serves 4
I've always been a big fan of jellies as a dessert and there is no end to what you can make and do with jellies, whatever the time of the year. The Great British Menu jelly I made using perry to flavour the jelly and elderflower for the ice cream was a big hit.
Although this recipe isn't particularly cheap to make, it does produce a spectacular pudding. You can use normal strawberries or wild strawberries for this and to keep it purely British I've used Nyetimber – the best sparkling wine produced in the UK.
Of course you can adapt the recipe, using perry or cider instead of sparkling wine or proscecco, and a mixture of berries, such as raspberries, blueberries and strawberries or redcurrants. For a non-alcoholic jelly, use elderflower cordial, diluted with water or apple juice.
12g leaf gelatine (4 sheets)
700ml fine-quality sparkling wine, such as Nyetimber or Chapel Down, or champagne
50g caster sugar
120g strawberries, hulled
Thick Jersey cream, to serve
Soak the leaf gelatine in a bowl of cold water for a few minutes to soften. Meanwhile, pour 200ml of the sparkling wine into a saucepan, add the sugar and bring to the boil over a medium-low heat, stirring occasionally to encourage the sugar to dissolve. Take off the heat.
Squeeze the gelatine leaves to remove excess water, then add to the wine syrup and stir until fully dissolved. Now stir in the rest of the sparkling wine. Leave to cool until barely warm, but don't allow the jelly to set.
Divide half of the strawberries between individual jelly moulds or attractive martini glasses, then carefully pour in half of the cooled jelly, ensuring the berries are evenly distributed. (Setting the jelly in two stages allows the berries to stay suspended in the jelly so they don't float to the surface.)
Place in the fridge for an hour or so until set. Keep the rest of the jelly at room temperature, making sure it does not set.
Once the refrigerated jellies have set, arrange the rest of the strawberries on top and pour on the rest of the jelly. Return the jellies to the fridge to set.
To serve, briefly dip the pudding moulds, if using, in hot water, then invert on to serving plates and shake gently to turn out. If you're using martini glasses, set them on plates.
Serve with thick Jersey cream.
Cider-cured herrings
Serves 4
Cider is a great drink to use in your cooking, and the addition of Julian Temperley's Kingston Black apple apéritif gives this Scandinavian dish a British kick. You will need to marinate the herrings for 4-5 days before serving. You can scatter some blanched sea vegetables like sea purslane or samphire on to finish for added colour and texture.
16 herring fillets, scaled, boned and trimmed
For the marinade
300ml cider vinegar
300ml warm water
80g sugar
2tsp sea salt
25-30 fresh green peppercorns
1tsp fennel seeds
8 juniper berries
2 bay leaves
6 shallots, peeled and cut into rings
For the sauce
2tbsp good-quality mayonnaise
2tsp Tewkesbury mustard
1-2tbsp Kingston Black apéritif
1-2tbsp chopped dill or fennel
Bring all of the ingredients except the shallots for the marinade to the boil then leave to cool. Add the shallots. Mix with the herring fillets, then lay the fillets in a non-reactive container and pour over the marinade. Leave to marinate in the fridge for at least 4-5 days.
To make the sauce, mix the Kingston Black with the mustard and mayonnaise, then whisk into the marinade to about the consistency of double cream; stir in the dill.
To serve, remove the fillets and dry on some kitchen paper. Fold them in half with the skin on the outside and arrange on a serving plate with a few of the shallots and green peppercorns on top.
Serve the sauce separately.
Join our new commenting forum
Join thought-provoking conversations, follow other Independent readers and see their replies