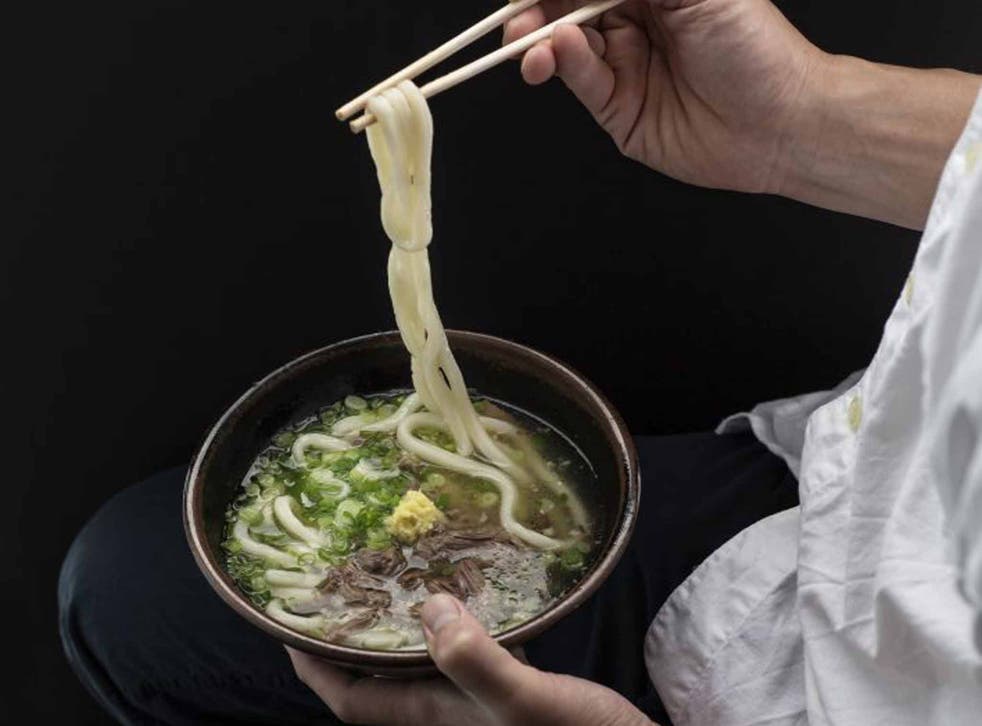 Udon noodles: How an unknown dish from Southern Japan became the Next Big Thing
A bowl of stretchy udon is as popular in Japan as the ham sandwich is in Britain. But the dough is considerably trickier to make. As this tasty staple gets a foot in the door here, Samuel Muston heads to its homeland for a lesson in making them the traditional way
At the upper-most corner of the island of Shikoku sits the newest prefecture in Japan, Kagawa. There, in the east, at the foot of a vast mountain, is the Nakano Udon School, where I now stand with my socks off, trousers rolled up, dancing on the spot to "Happy" by Pharrell. I feel a pincer-like hand on my upper thigh and the music changes to what sounds like the massed drums of the Royal Highland Fusiliers. BANG-boom-BANG, BANG-boom-BANG. I keep moving, as does the owner of the hand next to me, the dough in the clear plastic bag beneath our feet taking the force of the downward blow like a boxer's punch bag.
Ms Ohnishi, the premier maker of udon in the prefecture and head mistress of the school, does not flinch as sweat from my brow makes its salty progress down my chin, the close heat of Kagawa in the summer never having felt closer in the two days I have been here since leaving Tokyo. "Feet higher, feet higher," she repeats, pointing out that my legs are smaller than her upper arm. In this part of Japan they take tradition seriously and here the tradition is to make udon noodles by pummelling them with the soles of one's feet. I do as I am told.
Over the past decade, Sanuki Udon, the long, thick, white flour noodles have become the noodle of choice in Japan, attracting an almost Bieberesque following. On the Tokyo subway every other advertising hoarding seems to feature fine-boned actors slurping noodles, imploring you to visit Kagawa, the "udon prefecture". In the region's capital, Takamatsu, taxis have facsimiles of bowls of udon fixed to the roof, indicating to the peckish that they are in-the-know and ready to drop you off at an udon bar for just the price of a fare.
In 2006, there was even a film released called Udon, which followed the travails of an unsuccessful comedian as he, well, ate in loads of udon bars. Although highly rated in Japan, it suffered from the disability of having "too much udon in it… too much udon-eating in it [which] takes up screen time that might be spent on… things like plot, romance, family and character development", as LA Weekly put it.
Udon, my translator points out to me, are the ham sandwiches of Japan. Unlike the British sarnie, they are unflavoured. Like spaghetti, the attraction lies rather more in their texture, their koshi -ness, that is, elasticity and bite in a single mouthful. They are an everyman noodle in Japan, but in the West udon are the next point of curiosity along the culinary line from ramen noodles, which have now insinuated their way on to British high streets as readily as they have most student kitchens.
Last month, udon's move into the British mainstream was heralded with a small plastic package from M&S. The great bellwether of middle-class mores was now selling them fresh, in hermetically sealed boxes created specially to keep your udon limber. As Erica Molyneaux, M&S product developer, says, "We've been keeping an eye on the trend for noodle and stir-fry bars which have soared in popularity over the last couple years, with restaurants such as Koya, Bone Daddies and Tonkotsu leading the way. We wanted to help our customers re-create authentic dishes at home".
Sainsbury's is similarly enamoured with these slurpy wonders. It took a chance on them two years ago and reports a 40 per cent upturn in sale in the past 12 months. Its Foods of the World buyer, Lucy McCarthy, says this is because: "Japanese cuisine is extremely popular at the moment. Trends on the restaurant scene really boost appetite for product in our stores."
How then, did an unknown noodle from Southern Japan become the Next Big Thing? The restaurant chain Wagamama introduced the idea of the udon to the British public, and its ginger chicken udon dish has proved to be a favourite with diners. It took a small restaurant on Soho's Frith Street, though, to show those in the know what to expect from the real deal . In 2010, John Devitt opened Koya, a pared-back Japanese restaurant with Ercol-style chairs, a menu by chef Junya Yamasaki and its own noodle man, whose job it was to spend the whole day pounding noodles with his feet. "Udon is an obvious choice for an Irishman," says Devitt of his choice to open a noodle bar. "It replaces his potatoes."
Koya served exotic things such as wild boar sashimi, and even more exotic things called udon noodles, which you could order served hot in an even hotter broth, atsu-atsu style, or if you were more adventurous, cold with a hot broth, which is hiya-atsu style.
They were comforting, and the umami-rich dashi broth, like a high-end stock made from skipjack tuna, garnered a fan base of diners who would queue out in the cold for the £9.90 buta miso hiya-atsu – pork and miso noodles – for an hour at a time. Bookings were not taken, but that didn't stop one food blogger I know trying to bribe the manager for a regular lunch table. He was, he claims, politely but firmly rebuffed. He still went every week. It was worth the 30-minute wait, anyway.
John Devitt quickly became nearly as associated with udon in his locale as David Chang was with ramen in New York. He remains so now, despite closing Koya last year and opening a smaller joint, Koya Bar, next door. But there is another reason udon's fame has grown internationally. Japan has seen a 28 per cent increase in visitors since 2013 and many of the tourists, especially from Europe, will come on an All Nippon Airways plane.
Skytrax, the airline reviewer, gave it the maximum five-star rating. This is in part because the airline is old fashioned, in that its staff treat you like you are valued guest and seem to take pleasure in looking after you, to an almost ludicrous degree (there are slippers for you to slip on, and even on the internal flights in Japan, the food is better than any other airline I have ever come across). The food – and Udon connection — is down to its connoisseur's food panel. This group of expert chefs works with ANA to develop dishes for its flights and lounges, which are a danger to your waistlines. The menus don't just offer local delicacies such as kyo-gamo duck and kelp-cured seabass, but also bowls, of simple, steaming hot udon as 'snacks on the plane' something you don't get on BA. It is, perhaps, one of the few in-flight meals that tastes nearly as good at 10,000ft as it does on terra firma, something I can't say about the cottage pie I usually seem to get.

The internationalism is appropriate, given that this most Japanese of noodles was actually first created abroad. Matt Goulding, author of a book on Japanese food out in March, Rice, Noodle, Fish, points out: "Like many of Japan's culinary pillars, udon originated in China. There are half a dozen origin stories, most involving a monk bringing back the recipe. It was considered upper-crust food, while soba noodles were reserved for the lower classes. That relationship has long since reversed, given that buckwheat is more expensive and harder to work than regular wheat."
Goulding's suggestion that udon are "easier to work" than buckwheat is bugger all comfort to me and my sweat-soaked shirt back at the Udon School. I pound and I pound, and then I pound some more, squashing the gluten back into the wheat, water and salt mix dough. After allowing the dough to mature for 40 minutes, and after a brief interlude of giggling from Ms Ohnishi, who points out that I am not as fit as I could be, we roll it thin with a rolling pin, until it is about half a centimetre thick, and then slice it into thin strips, which are then tossed into a bubbling pan of water.
The pasta-like smell of the dough cooking and of the dashi warming co-mingle in the hot air, while the sound of Japanese voices making their way up the mountain to the hot onsen baths drifts in through the open windows. It is a hot, hazy scene, like something out of a 19th-century novella. Or, you know, perhaps there's a movie in all of this. Never mind the plot, let's get to the noodles.
Return economy flights with ANA direct from Heathrow to Tokyo Haneda Airport from £798 (including tax) or via Europe from £569. ana.co.uk. The Aman Tokyo in Otemachi is the first "urban resort" in a capital city. Rooms from 90,750 yen, amantokyo.com
Join our new commenting forum
Join thought-provoking conversations, follow other Independent readers and see their replies