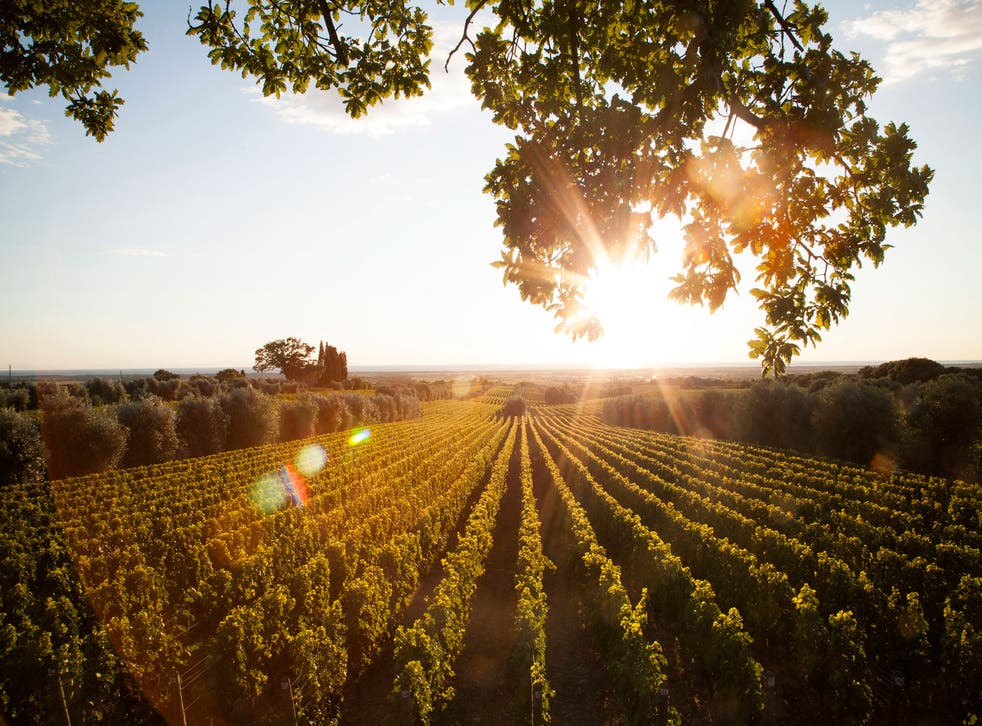 Vintage tales of a 700-year-old winery: The Frescobaldi vineyards' extraordinary history
Thirty generations of Frescobaldis have supplied Tuscany with wine for seven centuries, their heady red drunk by Michelangelo, Donatello and the Pope. And now they're opening their first restaurant in the UK…
The sun begins to set over the vineyard, burnishing the vines golden as they stretch down towards the Tuscan coast. Equally gilded seem the Frescobaldi family – several members of which are holding up glasses of their own, delicious wine to the light, toasting the sunset and our visit. One of the oldest wine dynasties in Italy, the gathered Frescobaldis know this look-out point, a little platform beneath an oak tree on their Ornellaia estate, is a seductive spot.
Glasses are raised, too, to a new venture: a Frescobaldi restaurant soon to open in London. Co-owned by Levent Buyukugur and Sanjay Nandi of the Good Food Society group, Frescobaldi bottles will star on a Tuscan-with-a-twist menu from chef Roberto Reatini.
While the family is enthusiastically facing the future – there will be more international restaurants if the Mayfair outpost is a hit – their story is as much about looking back as forward. I hear this from both Lamberto and Diana Frescobaldi; brother and sister, he is president of the Marchesi de' Frescobaldi company while she co-owns the restaurant.
The business has been in the family for an astonishing 700 years –Frescobaldis have been making wine in Tuscany since 1308 – and several cousins and uncles are still involved, too. With seven estates, there's plenty to do. "I think it's in the DNA," says Diana. "It's k a passion. We are the 30th generation – you feel as if you have to protect this!" The 44-year-old recounts tales from the family's history while we stroll around another estate, Castello di Nipozzano near Florence, and over glasses of the estate's Mormoreto, at lunch.
The family took up residence in Florence in the 1100s, when it was the centre of banking for Europe. "We became quite powerful: we started lending money to the English crown, and being tax collectors," explains Diana.
Although they set up home on the south of the river Arno – what was considered the "wrong" side, socially – the enterprising family built Florence's first ever bridge, Santa Trinità, in 1252, which solved that problem. They also commissioned the architect Brunelleschi to build the church of Santo Spirito in the 1400s; even today, to be married in the sanctuary is a privilege accorded only to the Frescobaldis.
For a time, the family were farmers and wine producers, as well as successful bankers – but things faltered around 1350. "We went bankrupt, as we didn't get some loans back, so that was the end of the banking career," says Diana. "The only revenge was not to provide our wine for a couple of months. So the English crown did not have wine!"
Evidently, they made up – archives show that the family sold wine to later kings of England, including Henry VIII. And he was far from the only famous historical figure to have quaffed a carafe or two of their Tuscan red – they supplied Pope Leone X on the recommendation of none other than Holy Roman Emperor Maximillian I.
Their wines were also popular with artistic types: Renaissance men Michelangelo, Donatello and Michelozzo were fans, presumably enjoying a relaxing glass after a hard day's sculpting and painting. Even more illustriously, one Frescobaldi apparently persuaded Dante to finish writing The Divine Comedy. "He was sent into exile, and he gave Dino Frescobaldi the first seven cantos. When Dante managed to come back [to Florence], Dino said, 'You have to keep writing it,'" explains Diana – laughing that, as teenagers forced to study The Divine Comedy, some of the family had cursed this legacy.
The family play host to dignitaries today, too; visiting royals are asked to plant a vine – Diana points to one dug in by Prince Charles on his visit to Castello di Nipozzano in 1986.
The castle dates back to the year 1000, its 600-hectare estate of silvery-green olive trees, spired cypress and muscly ropes of vines sprawling over the hillside. The cellars – whose damp coolness we nose into – date from 1200, but the wine from that era was poured long ago.
Thanks to its strategic position, Nipozzano has always been of military importance. "There is a nice view of what is going on from the top of the hill, so there was always a fight to get hold of it. In the Second World War it was taken by the Germans," says Diana. "Before leaving they blew up the tower and church. They took a private, family collection of the wine. We have a small cellar with old vintages but the rest are gone."
The cellars also preserve a family tradition: when a baby Frescobaldi is born, wines are put aside from the year of their birth (500 bottles for a boy, 100 for a girl, a gesture of unabashed chauvinism). They do cheat, though: Lamberto was born in 1953, a terrible year, so his father put aside 500 bottles of the 1961 instead.
Lamberto is named after his grandfather, the man who began to modernise the company in the 1950s and, with one of his seven children, Vittorio, developed the vineyards. The result was a shift to high-end, fine wine. "Before and after [the Second World War], the wine consumption per capita [in Italy] was 120 litres a year – wine was a source of calories," explains Lamberto. "Lots of people couldn't afford to buy food; they would have a glass of wine and dip bread in it. Those days, thank God, are over. In Italy today, it's about 40 litres [per person]; England has jumped up to 25."
The Frescobaldis grow up steeped in wine. "I had a little taste as a child," says Diana. "It was something very natural." She's already introducing her own children, aged eight and six, to it: "Just a tiny drop, just for fun."
And while Lamberto explains that Frescobaldi wines are made as naturally as possible today, without chemicals – "We really want to have grapes that speak"– he's not too interested in arguments about whether wine is good for your heart or other such health claims: "I would say, you should have as much wine as is good for your spirit!" A sound piece of advice – and one that London diners will soon be able to follow.
Ristorante Frescobaldi opens in early November. For more: frescobaldirestaurants.com
Join our new commenting forum
Join thought-provoking conversations, follow other Independent readers and see their replies