Wassailing season is upon us: The ancient pagan ritual is bouncing back thanks to a new generation of January revellers
Fill a bowl with ale and sherry, gather round a fruit tree and light a torch to banish the wintry darkness. says Chloe Scott-Moncrieff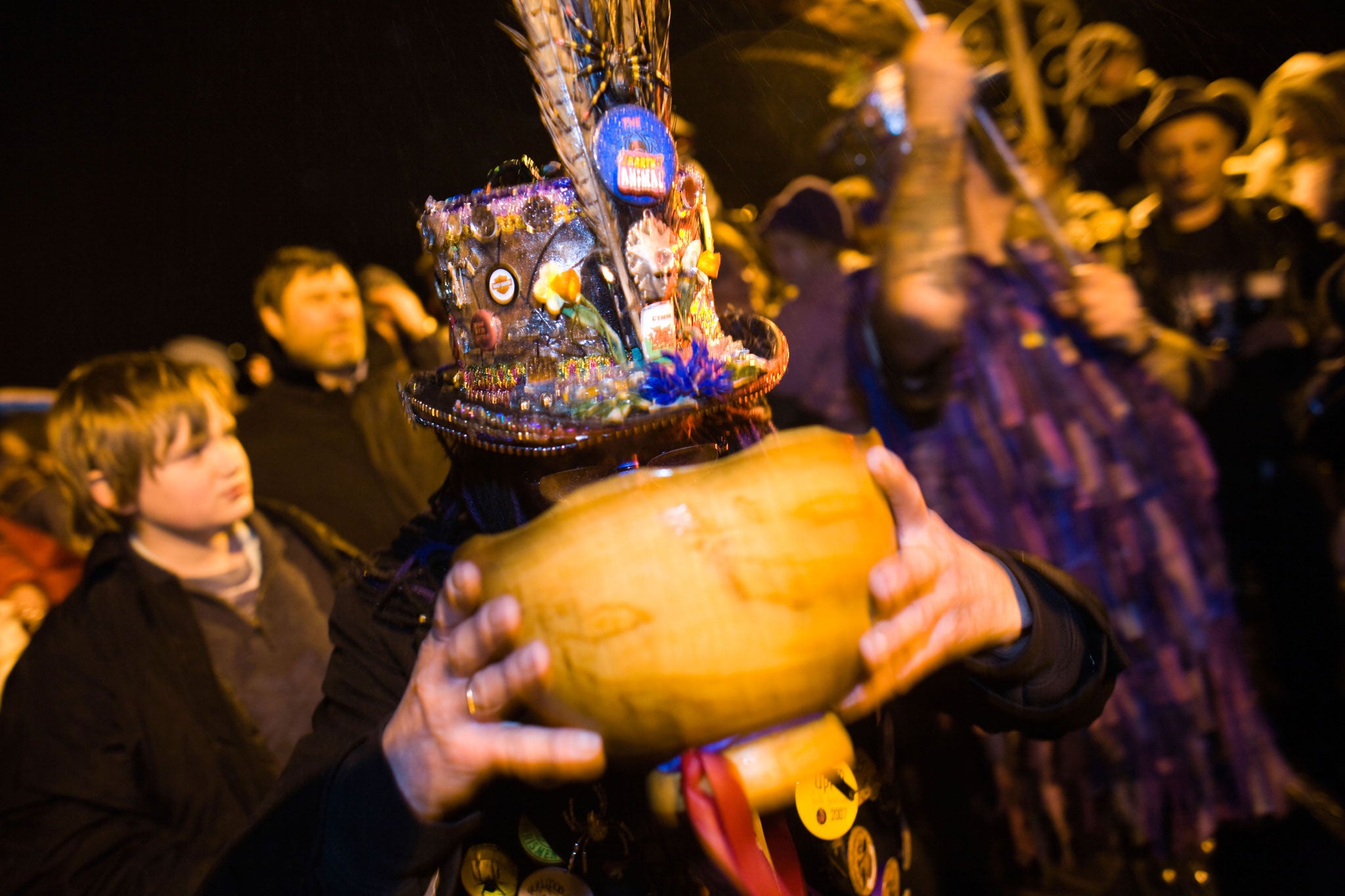 The fire is lit, then they sing and dance in the frosty night, offering good wishes to a fruit tree and slurping from a bowl of carefully brewed spiced alcohol. This is wassailing, a pagan ceremony to bring on the spring.
Once an ancient Twelfth Night ritual on the wane, wassailing is increasingly being appropriated by modern food-and-drink folk. The author and cocktail authority Jared Brown believes the revival is down to the fact that, "We live in a time when you can have a rum and Coke anywhere on the planet; we are now globalised. The wassail cup [the drink] and the tradition surrounding it are the antithesis."
Others believe the resurgence has gone hand-in-hand with the increased popularity of community orchards and allotments, as the ceremony is also held to encourage an abundant harvest. Either way, this year, you'll need to know the etiquette. Here's our guide.
Sounds like a quaint Nordic custom, doesn't it?
Well, actually, you might be on to something. The term "wassail" comes from the Old Norse "ves heill", meaning "be healthy", and was probably introduced by Danish-speaking inhabitants of England, according to the Oxford English Dictionary.
So what exactly is it again?
On a normally bitterly cold night in early January, groups of people, often with their faces painted and feathers adorning them, make a procession down alleyways and footpaths to fruit trees to have a riotous party and please the tree spirits. At the centre of the affair is the "wassail cup", a beer or cider cocktail shared by everyone – drinks lovers have numerous coveted recipes for it.
Then there's the toast. It's offered to the trees; 1990s musos Blur actually released a song about the revelries, singing, "Wassail, wassail all over the town. Our toast it is white and our ale it is brown."
Ironic pop tune aside, what's new is that where it used to be a strictly rustic West Country affair, nowadays, from London's Hackney to fancy restaurants in Somerset, it's becoming rather fashionable.
One fan of it, for example, is drinks guru Victoria Moore, who, in her book How to Drink, states that wassail "may be a toast or salutation, a festivity when much drinking takes place, a drinking song, or a drink…"
I don't have an orchard.
You don't need one, silly, you just need a fruit tree. Although, it will be a more evocative affair if you have torches with flames. Oh, and you will need some pans to clatter to wake the tree spirits from their winter slumber and ward off the untoward ones. Most wassailers do a play in fancy dress, too.
Fancy dress! Now you've got me interested…
In Wrington near Bristol, The Ethicurean restaurant's wassail, now in its fourth year, is a good example. Co-owner of the restaurant Jack Bevan explains the procedure: "Everyone walks down to the orchard with flame k torches. We walk into the orchard, then we perform a Mummers play (a venerable winter play with masked performers). We write our own. You must always have a bad person in it. Last year, ours was a supermarketer. There was an orchard robin who was the guardian of the trees. The goodie was a walled gardener, because we're in a walled garden. You always have a doctor and a green man. I am the green man and prompt people who forget their lines."
Crikey. I won't have to paint my face, will I?
That's just for the hardcore, although you'd be more than welcome. Singing, however, is advised, or you'll risk looking like a numpty not joining in. The songs vary and you can make one up, but one handsome ditty is:
"Wassaile the trees, that they may beare
You many a Plum and many a Peare:
For more or lesse fruits they will bring,
As you do give them Wassailing."
Great, but the main thing is downing a wassail cup to bring on spring, right?
We'd say yes, but that would be bad etiquette; no downing, thank you. The potation needs to be made with as much love and care as any other cocktail, which is why drinks buffs are embracing it. "Historically, it would be class-oriented and regional, so the ingredients included were what you could afford and grew locally," explains drinks historian Anistatia Miller, who co-founded the drinks consultancy Mixellany with Jared Brown. "Among the upper classes, the cup would have something more like a Sherry Flip in it (a cocktail of sherry, egg and spice), while cider, perry and ales were included by poorer people, who couldn't afford to put the eggs in."
An even more esoteric wassail tipple was "Lamb'swool". Boasting a fluffy-looking top, it's made from dark beer, demerara or muscovado sugar, fresh ginger, eggs and cinnamon. The Ethicurean cookbook suggests it's from the Celtic "lamh's suil", meaning hand and eye. "The main thing is that the wassail cup was to drown feuds and animosity in small communities," concludes Miller.
So what's the best recipe if I've friends around?
You won't find much better than Miller's Ale Wassail Bowl (an eggless version).
Serves 6-8
1½ litres brown ale or 1 litre pale ale plus 500ml stout (the recipe can also be made with cider)
250g demerara sugar
1 tsp mixed spices (cinnamon, allspice, nutmeg, and mace)
375ml sherry
1 lemon
7 baked apples (any baked apple recipe should work; try to use tart apples)
Fill a large heatproof bowl with hot water to warm it. Bring half of the ale, sugar and spices to the boil, stirring to keep it from foaming over. Add the remaining ale or ale/stout, plus the sherry. Pour the hot water out of the bowl and add the ale mixture.
Peel the lemon. Squeeze the lemon-peel twists over the bowl to extract the oil and discard them. Add 3 to 4 peeled-lemon slices and the baked apples. Serve.
I see. And if I don't put on my own winter soirée, where should I go?
Here are three ideas for you. In London, the best one is Jane Perrott's informal wassail, which crawls through the urban orchards around Hackney and finishes at The Russet, a restaurant whose name derives from the apple orchard planted by the Tree Musketeers on Hackney Downs in 2009.
(11 January, from 12.30pm; for further information, email hackneywassail@googlemail.com; therusset.co.uk.)
Alternatively, if you're in the Midlands, Nigel Smith's The Fleece Inn in Bretforton near Evesham, Worcestershire, is a foodie pub with bedrooms and good ale. It will be putting on a procession this coming Saturday, from around 4.30pm (they say it's best to call in advance to confirm the time. For more information: 01386 831 173; thefleeceinn.co.uk).
Finally, if you're in the West Country, The Ethicurean's wassail on Saturday includes dinner by acclaimed chefs Iain and Matthew Pennington. Think pork belly and pickled apples, roast beetroot, sticky-toffee apple cake and so on. (Tickets £40, 01934 863 713, theethicurean.com.)
Join our commenting forum
Join thought-provoking conversations, follow other Independent readers and see their replies