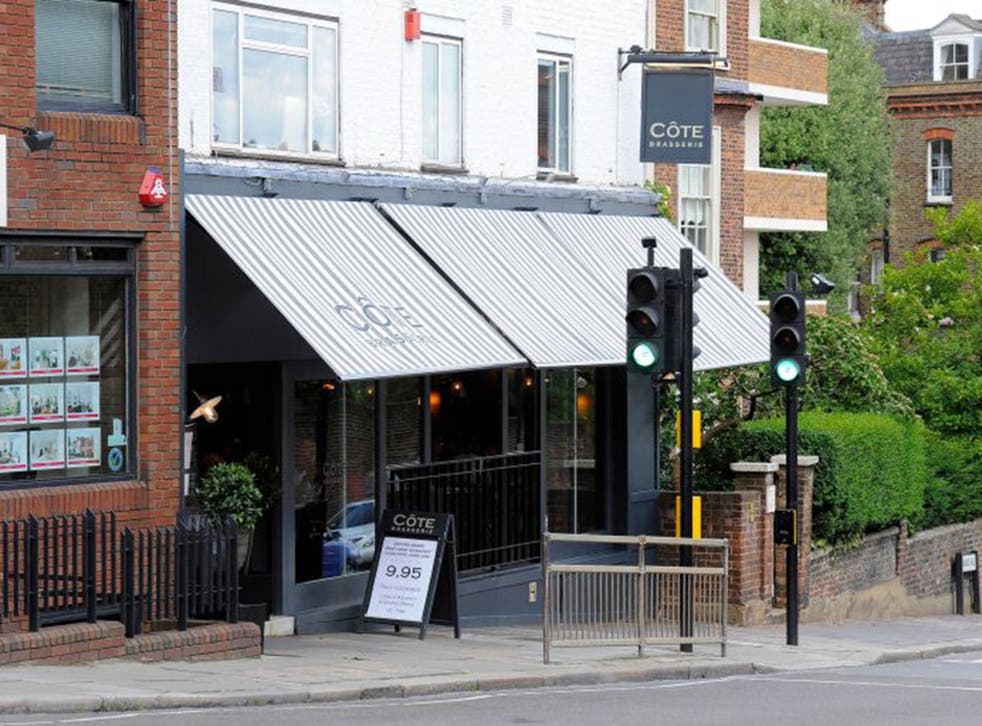 We love Côte - and Kate Moss has made it cool
The model was snapped leaving the Highgate branch of Côte this week
There are many things that are remarkable about the picture of Kate Moss that appeared in MailOnline on Wednesday. The first is perhaps that Moss holding her hand up to cover her face while talking on the telephone is ascribed to her "struggling to hide her emotions", not to the fact that half a dozen photographers are trying to take her picture while she is having a fag. But the most remarkable thing, the thing that drew most comment from my friends, was the fact she was snapped while leaving the Highgate branch of Côte. "Kate Moss in Côte! I go to Côte! Isn't she worth a zillion pounds?" It was as if the late Queen Mum had been pictured at a squat party in Basildon.
And indeed it does seem a tad incongruous. The face that launched a thousand CK One ads is mostly snapped emerging from Scotts or from the Wolseley or indeed from the bar at Claridge's, looking a tad tired and emotional – she generally keeps to the usual hangouts for the usual (famous) suspects. So Côtegate is a bit of a curveball. What she ate seemed to be the primary fascination of my colleagues, with one speculating that the Charentais melon and Savoie ham seemed the most likely choice for a model, if for no one else. Though, for reasons I can't quite fathom, I like to think she enjoyed fish parmentier.
Behind the surprise lurks something else, something a tiny bit insidious: a minor snobbery. The underlying suggestion is, if you are rich, you ought to be in the Savoy Grill ordering your fourth lobster or mainlining oysters at J Sheekey. Which is all well and good. But it is folly to overlook the virtues of Côte, for its house has many mansions.
There is a reason that it has gone from one London restaurant in 2007 to 58 across the country in 2015 (at latest count, though they may open another one any second).
It is not a revolutionary concept. What the place does is take the French brasserie and knock off its edges; refine it for an English market. It offers good, simple French food; nothing too fancy; nothing necessitating a sauce that takes a fortnight to make. Things like steak frite or tuna niçoise or a half chargrilled Breton chicken. And it serves them in a fuss-free way – if you want to practise your French, it ain't the place to do it. The Gallic language has been expunged from the menu, save for place names, and the well-trained waiting staff do not wear bow ties in the Parisian style – to do so would be to make the place less accessible, more exclusive, which is exactly what they don't want. It is no surprise that the founders of Côte also started the Strada chain.
There is something else, too: it is cheap. Or rather, it feels like "it is good value", as my father might say. My colleague, who spoke on the basis of anonymity, gurgled about it as if I had just shown her a particularly handsome newborn. "Oh, the Early Bird Special! I go with my mum before 7pm (we go in at 6.55pm) and then it's a starter and main for £10. And the house wine is so nice."
And there you have it: you get reliability, you get decent food, you get white linen napkins – and you get it all for the price of a Nandos. No wonder Ms Moss is a fan.
Register for free to continue reading
Registration is a free and easy way to support our truly independent journalism
By registering, you will also enjoy limited access to Premium articles, exclusive newsletters, commenting, and virtual events with our leading journalists
Already have an account? sign in
Register for free to continue reading
Registration is a free and easy way to support our truly independent journalism
By registering, you will also enjoy limited access to Premium articles, exclusive newsletters, commenting, and virtual events with our leading journalists
Already have an account? sign in
Join our new commenting forum
Join thought-provoking conversations, follow other Independent readers and see their replies