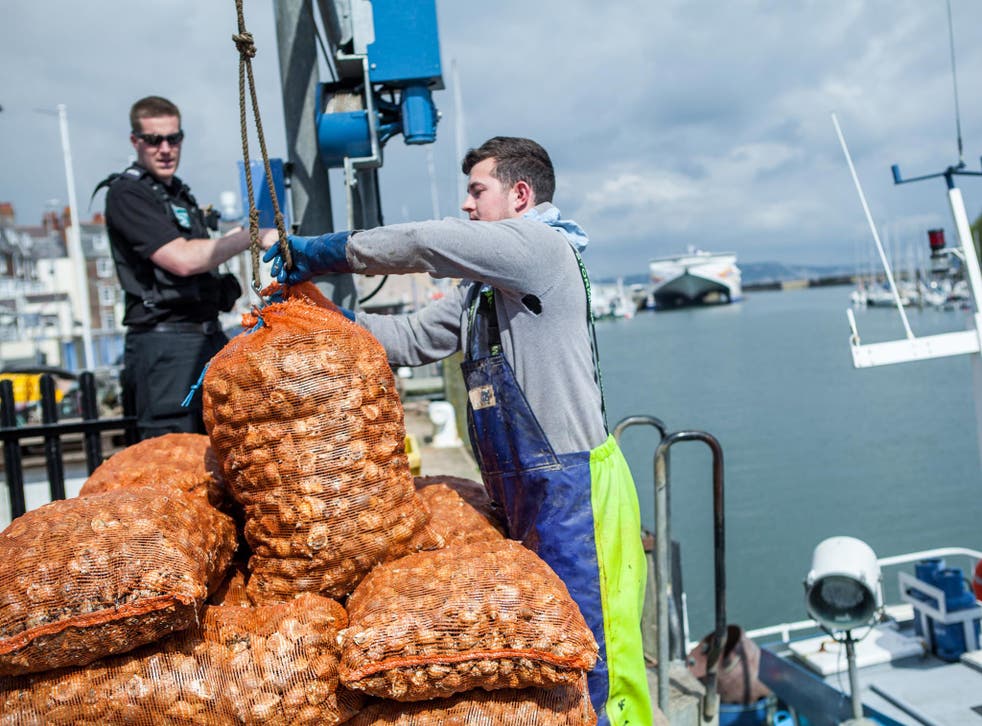 Whelks are healthy, versatile and sustainable - so why did we stop eating them in the UK?
Whelks were the Victorian equivalent of the donor kebab and our stocks are abundant. So why do we now export them all to the Far East? It's time, says Gareth May, for the Great British whelk revival
What's in a name? When it comes to the whelk, quite a bit, and not all of it is flattering.
For most of us, the thought of whelks conjures up memories of beach holidays, beady-eyed seagulls and weather too windy for shorts. Served at seaside counters in polystyrene pots, with toxic levels of vinegar and more bite than a dog chew, it wasn't a question of "how am I going to eat this?" more a case of "when will my parents turn their backs so I can spit it out?"
Take a peek under the whelk's shell, however, and you'll find it to be quite an eccentric little chap. Sold out of wheelbarrows in Victorian London, the whelk was a popular street food in the poorer neighbourhoods of Whitechapel and Lambeth; frequently eaten after a night on the gin, the whelk – selling at six for a penny – was essentially the Victorian man's doner kebab.
Times, of course, have changed. No one would dream of eating street food from a wheelbarrow. Come to think of it, until recently, no one would dream of eating a whelk.
This weekend is the annual Pommery Dorset Seafood Festival and this year they're championing the humble sea snail with the Great British Whelk Revival – attempting to overthrow the rubbery, vinegary overtones and get whelks back on to our plates.
"If we can get over the public squeamishness, there are literally tonnes at the bottom of the sea, right on our doorstep," the festival's director, Brian Cooper, tells me. "When prepared properly, they're a lovely seafood."
Cooper and the whelk go way back. He remembers eating them as a free bar snack in The Boot, his local, during darts games in the 1960s – "served with a light vinegar dressing" and "absolutely gorgeous" – but it was walking among the mountainous sacks of whelks on Weymouth quayside that inspired Cooper to kick-start the revival.
There are certainly enough to go round. The UK lands over 10,000 tonnes of whelks per annum and in Weymouth Harbour last year alone, 722 tonnes were pulled from the sea. However, nearly 95 per cent of whelks landed are shipped abroad to the Far East, in particular South Korea, where they're sold in tins swamped in soy sauce and also served in gentlemen's clubs as an aphrodisiac.
Caroline Drever, owner of the sustainable fishing company Dorset Shellfish, says she's never heard reports of increased libido. She has, however, noticed a 20 per cent increase in whelk sales since 2012. "There's been a boom in the past two decades. Exports have gone up dramatically, which has raised people's interest, and there's also the provenance [aspect] and the journey from whelk pot to plate."
Sustainability and low-impact fishing (the pots have nearly zero impact on the seabed) are just two of the things the humble whelk has going for it. The nutritional value is another: they're low in fat and high in vitamin B12, which makes them good for the blood and the bones.With such benefits and an abundance in our waters, why hasn't the whelk transitioned from seaside fodder to dinnertime staple?
Availability is one of the reasons. Although whelks can be bought through most good fishmongers, few will stock them regularly unless there's a demand. If you don't live near the sea, your best bet may well be online. But for whelks to become a regular dish in the British diet, they would really need to be sold in supermarkets.
I asked Hannah Macintyre, aquaculture manager at M&S, what the whelk's retail prospects look like. She said: "We're always looking at new species and whelks could be an interesting option; they're definitely 'one to watch'."
Another reason is public perception. The social-media drive for the Dorset festival reveals a bit of a Marmite effect. Facebook responses to the whelk initiative range from "vile" and "rubber!" to "I ate them with my uncle in Belfast. He told me they came from space!" But among the disgust, there can be found nostalgia ("always looked forward to whelks as well as Punch and Judy") and adoration ("Can't beat a good old whelk!"). Don't tell the oyster, but we could be on the cusp of a whelk revolution.
One of the men at the forefront is Nigel Bloxham, chef and owner of Crab House Café near Weymouth in Dorset, which has been serving whelks for years. "If I put whelks on the menu they don't sell. If I put other sea snails and whelks in a bucket, they fly out. People think of the whelk as being chewy and rubbery. They needn't be. It's a question of how to cook them."
Bloxham recommends buying whelk meat from your local fishmonger – let someone else pick them from their shells – and then it's time to tackle the chewiness by freezing the whelks to tenderise the meat. This is how squid and octopus is prepared. Little icicles in the crystallised water break up the tissue – the same reason strawberries turn to mush when frozen.
Bloxham urges diners to eat whelks at home. "Why not? They're a sweet meat, like scallops. Chop them up and fry them in a pan with a little bit of garlic, butter, parsley and a squeeze of lemon. Serve them in a bowl and get stuck in to them. They've got a bit of a bite but will take strong sauces; and they're great with Asian dishes and chilli." Fellow Weymouth chef Taher Jibet, owner of The Dining Room and who previously worked with Marco Pierre White at The Mirabelle, agrees. Jibet serves whelks in his restaurants as amuse-bouche in-between courses without people having to order them. "The stigma behind the whelk is that it's chewy and not very nice looking," he says. "I urge people to try it again – you'll be converted."
The whelk is back. Now where did I put my wheelbarrow?
The Pommery Dorset Seafood Festival takes place in Weymouth, Dorset, this weekend. See dorsetseafood.co.uk for details
Whelks en salsa by Taher Jibet
To serve 4 as a starter
500g picked whelks
Half a bunch of coriander
3 large tomatoes
1 yellow pepper
1 red pepper
1 green pepper
2 lemons
Half a cucumber
1 onion
30ml white wine vinegar
90ml olive oil
1 teaspoon Maldon salt flakes
Boil the whelks in plenty of salted water for 30 minutes mand let them cool in the liquid. Strain and put aside. Chop the tomatoes, onions, cucumber and peppers into small squares and mix with a spoon in a bowl. Chop or slice the whelks and add to the salsa.
Season with Maldon salt and cracked black pepper. Squeeze the lemon juice into the mix and add the chopped coriander, vinegar and oil.
Buffalo Whelks by Taher Jibet
To serve 4 as a starter
500g picked whelks
Half a bunch coriander
2 cloves of garlic
150ml Tabasco sauce
390ml water
350g panko breadcrumbs
4 eggs
200g plain flour
20g Maldon salt flakes
Bring the water, Tabasco, mgarlic and coriander to the boil. Put the whelks into the boiling liquid and simmer for 30 minutes. Remove the pan from the heat and let everything cool down together.
Place in a plastic container and leave to marinade in the fridge for 3 days. Strain the whelks and remove the garlic and coriander.
Beat the eggs in a bowl and set aside.
Add the Maldon salt to the panko breadcrumbs and mix through. Set this aside, too. Roll the whelks in the flour first, then dip them in the egg mix and finally roll them through the breadcrumbs. Repeat this process twice.
Turn your deep fat fryer to 180C and deep fry the whelks till golden and crispy. Serve with a tartare sauce or lemon mayonnaise.
Register for free to continue reading
Registration is a free and easy way to support our truly independent journalism
By registering, you will also enjoy limited access to Premium articles, exclusive newsletters, commenting, and virtual events with our leading journalists
Already have an account? sign in
Register for free to continue reading
Registration is a free and easy way to support our truly independent journalism
By registering, you will also enjoy limited access to Premium articles, exclusive newsletters, commenting, and virtual events with our leading journalists
Already have an account? sign in
Join our new commenting forum
Join thought-provoking conversations, follow other Independent readers and see their replies