Wines of the week
7 wonderful whites from the Maconnais
The chardonnays in this southern burgundy region have come a long way in recent decades, says Terry Kirby, delivering better value than the Grand and Premier Crus from the north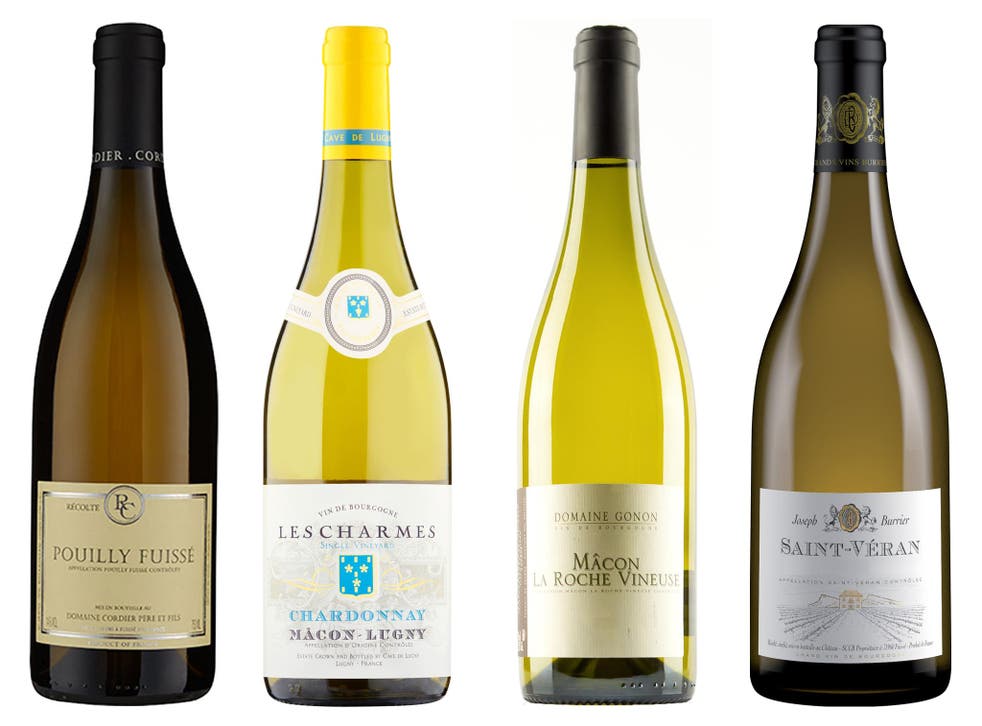 Writing last week about the rich and oaky chardonnays of Oregon, where great pinot noir is also made, prompted me to think: "why not write a column about chardonnays from that other area, the one whose name escapes me, but also produce the finest pinot noir.
"Oh, yes, of course, Burgundy…." And so to Burgundy, or more specifically, the southern Maconnais area of Burgundy. Once seen as producing undistinguished bulk whites, it has in recent decades seriously upped its game and is now home to some fantastic, high-quality white wines – which are much cheaper and can be much better value than the Grand and Premier Crus in the northern parts of the region, who have always slightly looked down on their less prestigious neighbours.
What is straightforward about these Maconnais wines is that they are generally of high quality, produced by small, usually family concerns, always making chardonnay from grapes grown on limestone soils which deliver bracing minerality to the sometimes creamy or bready, plus citrus and other fruit flavours, the key variability being the use of oak ageing to deliver greater depth or texture to the wine. And most of these wines are meant to be drunk young, not suiting the great ageing of the Crus.
And for the average consumer, it's therefore a much simpler job to find good wines, without worrying too much about the vintage or whether it's a Cru or not. There are, however, some names of good producers and appellations to look out for. And to avoid repetition, all these wines are perfect companions to shellfish, particularly prawns and oysters, as well as almost all smoked and white fish.
And, by coincidence, the Wine Society currently has an offer on white Burgundy featuring six excellent wines from the whole region, but including several from the Maconnais, such as the Domaine Gonon, Macon La Roche Vineuse 2018 (£10.95 thewinesociety.com) from a producer in Vergisson who has been working with the Wine Society for 25 years. This is unoaked, has plenty of body on the palate, with distinct flavours of baked apples and a touch of sweet, honeyed spice, but very dry. A lovely wine with simple baked or grilled fish. Another name to look for is Saint Veran and the Chateau de Beauregard Saint-Veran 2017 (£16.50 thewinesociety.com) again with apple, lemon and bready flavours characteristic of chardonnay, this is slightly more weighty that the previous wine, is unoaked and would be equally at home with all kinds of fish dishes. There are other excellent wines in the current Wine Society offer and full details can be found here; it is a good starting point to explore the whole region, but beware that some of these specific wines will not be re-stocked once they are sold out. And the offer ends on 8 March.
The Saint Veran appellation lies adjacent to what is probably the most well-known name in the Maconnais, which is Pouilly-Fuisse (and which is not to be confused with Pouilly-Fume, much further west in the Loire, where Sauvignon Blanc rules) and where the wines tend to be much fuller bodied and usually lightly oaked.
Domaine Cordier is another name to look for in Burgundy and the Domaine Cordier Pouilly-Fuisse 2017 (£22.99 or £19.99 if bought as part of a mixed six-bottle purchase, majestic.co.uk) is a step up in price and quality: full bodied, rich, with ripe tropical fruit and peach flavours and whiff of vanilla from the oak ageing. A good dinner party match for pork in creamy, garlic sauces or a herby roast chicken. Another excellent Domaine Cordier wine is the Domaine Cordier Macon Milly Clos du Four 2017 (£14.95 thewinesociety.com; £19.50 leaandsandeman.co.uk) which is mineral, lemony and has some lighter oak touches, so falls somewhere between the Pouilly-Fuisse and the Saint Veran.
It is widely believed that the name of the chardonnay grape originated in the village of that name in the Maconnais, so of course there is an appellation named after it and the unoaked Mallory & Benjamin Talmard, Mâcon-Chardonnay, 2018 (£12.25 frazierswine.co.uk; £12.50 tanners-wines.co.uk) from an estate which dates back to the 17th century is gorgeously rounded on the palate, with flavours of citrus fruits and nuts, shot through with a clean minerality.
In a similar vein is the Macon-Lugny, Les Charmes, 2017 (£14.99 waitrose.com) from a high-rated vineyard: again, lovely creamy, citrus flavours, ripe stone fruits, plenty of minerality and a clean finish; ideal with shellfish and simple white fish and chicken dishes. Finally, Vire-Clesse is one of the more recently awarded appellations and the Cave de Vire, Vire Clesse, 2018 (£14.99 or £12.99 if bought as part of a mixed six-bottle purchase; majestic.co.uk) and is a great example of the Maconnais as a whole: ripe stone and tropical fruits, freshness and minerality. And pass the oyster knife…
Join our new commenting forum
Join thought-provoking conversations, follow other Independent readers and see their replies