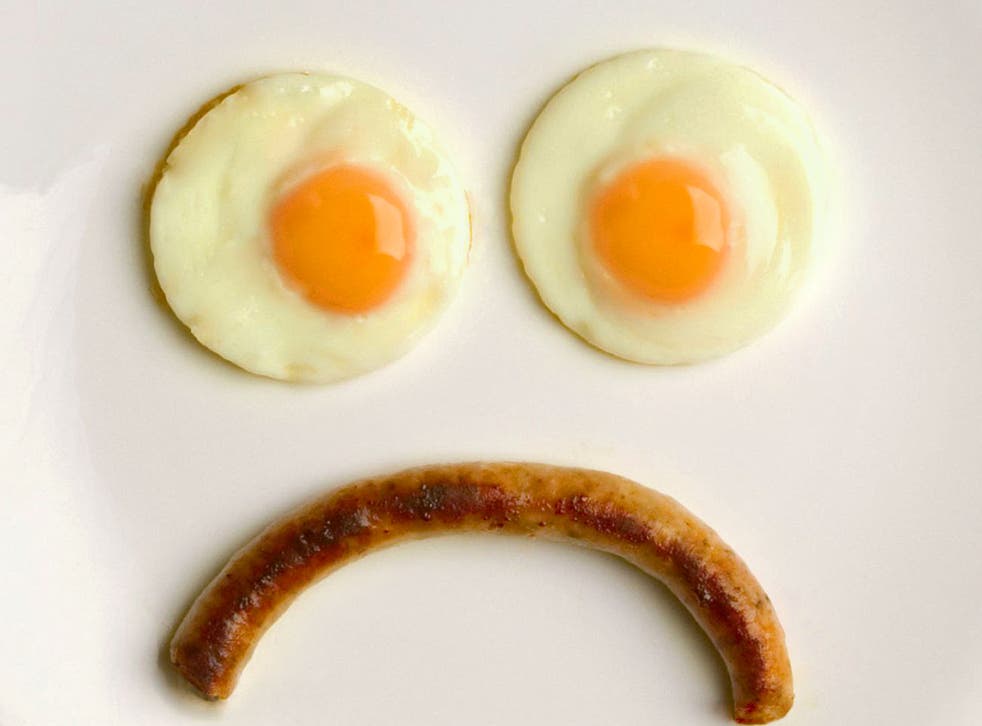 Why children's menus don't always mean happy meals
It shouldn't be all about burgers, bangers and nuggets. Restaurants ought to offer as much choice for younger diners as for their parents, says Clare Dwyer Hogg
Chicken nuggets. Burgers. Chips. Pizza. Throw in some fish fingers and ice cream for luck, and there you have it: the standard children's menu. Now you're ready to feed them, those small people, whether their parents take them fine dining or to a chain. And the strangest thing is that restaurant-goers accept it, take what they're given and pay the bill. Why has the nation embraced such a limited choice for our children when we're so focused on getting the best for our money in just about every other realm?
It's tempting to scan the culinary landscape and point the finger of blame at McDonald's. After all, those golden arches have been responsible for ushering in so much of our collective dining consciousness and what it serves children has become a blueprint for anyone who wants to emulate a good business model.
But while the introduction of the Happy Meal in 1979 was undoubtedly a seminal moment in shaping our perception of what children want to eat, McDonald's has always just been a burger joint – it wasn't ever going to offer its young clientele much else. What is perhaps more telling is that the McDonald's employee who came up with the idea was not a chef but a regional advertising manager. Thus, Dick Brams, "father of the Happy Meal", created a colourful Pandora's box that would put food firmly in second place to merchandise; the marketing of a free toy effectively made the contents of dinner an afterthought. And that still works, 34 years later.
Most parents would concede that there's nothing wrong with a toy: distraction is a good ploy when trying to keep a child in its seat. And the overwhelming need to maintain an aura of calm around other diners should not be underestimated: sometimes, if that takes fried food, you'll do it. I know this first hand. As a result, the bells and whistles are all reserved for the colouring-in paraphernalia, while the food itself is either a bland replica of what adults would class as junk food, or some form of pre-packaged freezer fare. But is it unrealistic to imagine that the meal itself could be part of that distraction? And why does this feel like such a radical thought?
It shouldn't be, because eating out hasn't always been like this. James Pembroke, author of Growing up in Restaurants, ate dinner out almost every night when he was a boy. This was in the days before "children's food" had entered the lexicon and he is flabbergasted at the current state of affairs. "I think children's menus are symptomatic of the Disney-ification of children," he says. "The idea is that children need to be wrapped in cotton wool and need to eat special itsy-bitsy food that's cute." He points to a wider malaise, too, that goes beyond just dulling palates: giving children food that can mostly be eaten with their hands isn't a great education in social proficiency either. "Lots of children don't know how to use knives and forks as a result," he says, recalling his sister's experience as a waitress, when she frequently served children of 10 and 11 who couldn't use cutlery. "If you had a school meal in Italy, it would be a sit-down three-course meal."
Of course, it's not up to restaurants to educate children about eating, but we have become so accustomed to eating out (around 40 per cent of parents in a recent survey by the Soil Association said their family eats out about once a fortnight), that it has become a cultural reference. And when the culture moves in a certain direction, it inevitably plays a part in the formation of expectation in young minds. Tiny menu choices, Pembroke thinks, just compound a general problem towards eating.
"Part of the evil of these menus is not about how healthy they are – it's just not an introduction to food," he says. "You may as well give them a pill that fills them up instead." He points out that if you were to look at the Good Food Guides of the 1960s and 1970s, children's menus weren't a feature. Instead, as he experienced growing up, restaurants did half-portions: children ate what their parents ate, with all the variety that entailed.
What makes our current set of expectations particularly ironic is that, in theory, we are much more noisy these days about what is healthy and unhealthy – just look at the efforts to which McDonald's has gone (salad, nice chairs, fruit and calorie counts) to alter its image. But if restaurants are supposed to cater to demand, we aren't demanding, we're just accepting their dogma. Take the story that broke this summer about children's food expert Annabel Karmel. Her name is a brand now and the lynchpin of her multimillion-pound empire: 27 books (lots of clever salt-free meals and vegetable-heavy dinners), a deal with Disney and a devoted following around the world.
But her collaboration with BHS restaurants is a morality tale about style over substance. Her menu was billed as "healthy and nutritious" and it launched with great fanfare. It took a Harley Street nutritionist to spot the Emperor's New Clothes and make a complaint to Croydon council: burgers, chips, and sausages, she said, could not possibly be branded as healthy. BHS quickly changed the labels (not the food). The meals still stand, but now they're described as "quick and tasty", which could also be a description of a deep-fried Mars bar.
There are some notable exceptions to the rule – Wagamama, say, with its mini-chopsticks for children and smaller portions of noodles and rice – but in an ongoing investigation called Out to Lunch, the Soil Association and food brand Organix found that only 11 out of 21 chains would tell them if their food was cooked freshly and where it came from. Out of those 11, only four restaurants were actually making most of their food for children in the kitchen. Drum roll please, for Jamie's Italian (which came top of the league table), Wagamama, Carluccio's and Café Rouge. And while 10 of those surveyed didn't include a portion of fruit in their children's desserts, only two offered drinks that were free from added sugar and sweeteners. Just one (Harvester) had children's cutlery as standard. The Out to Lunch campaign is putting on the pressure for change. But with things so dire, there's no reason why ordering an adult meal and dividing it between children shouldn't be the done thing instead.
Martin Lam agrees. In the 1980s, he opened Le Caprice with Chris Corbin and Jeremy King before becoming chef-director at the renowned L'Escargot in Soho for the next decade. By the time he and his wife opened their own restaurant in 1992, he knew exactly how children would be treated: "Our attitude when we opened Ransome's Dock was that in no way would we do special food for children, except same quality, scaled down and simplified."
Lam admits that he was an incredibly difficult eater as child, so he sympathises with parents, but thinks the key is a healthy diet of normal food that adults would eat. "We made children smaller portions – or using ingredients we had that day, anything we were able to," he says. If a parent told the chefs that their child liked fish, but preferred it to be in breadcrumbs, they'd make fresh fish and wrap it in breadcrumbs. "It was in no way to condescend," he says. "That's what irritates me: the condescension, especially of chains, thinking that children don't have discrimination. It's a given that children are picky – but within that, if they think they're participating in a shared table, they are far more likely to eat." Lam points to the separation in UK culture between "serious" restaurants and "family- friendly" ones – something which has not been his experience in France. Ransome's Dock closed this month, but "one of the enduring pleasures", Lam says, "was seeing three or even four generations eating together: just what you want".
As a judge of the Organic Food Awards for the past 15 years, Lam says he finds the disparity between the obsession for (expensive) organic baby food and the attitude about restaurant meals for slightly older children a fascinating subject. "It's a strange economic fact I've never been able to reconcile," he says. "Parents spend money on the very best food for their babies, and then suddenly when they reach the age of three, they're prepared to pay for second-rate frozen food."
He's right. It's time to buck that trend and stop accepting what other people tell us our children will eat. We wouldn't let them dictate to us in any other aspect of parenting – so why this?
Join our new commenting forum
Join thought-provoking conversations, follow other Independent readers and see their replies