Why you should get to know the butcher
There are plenty of reasons why even cash-strapped food-lovers should choose a local butcher over a supermarket – and the recent horse-meat scandal is only one of them, says David Gerrie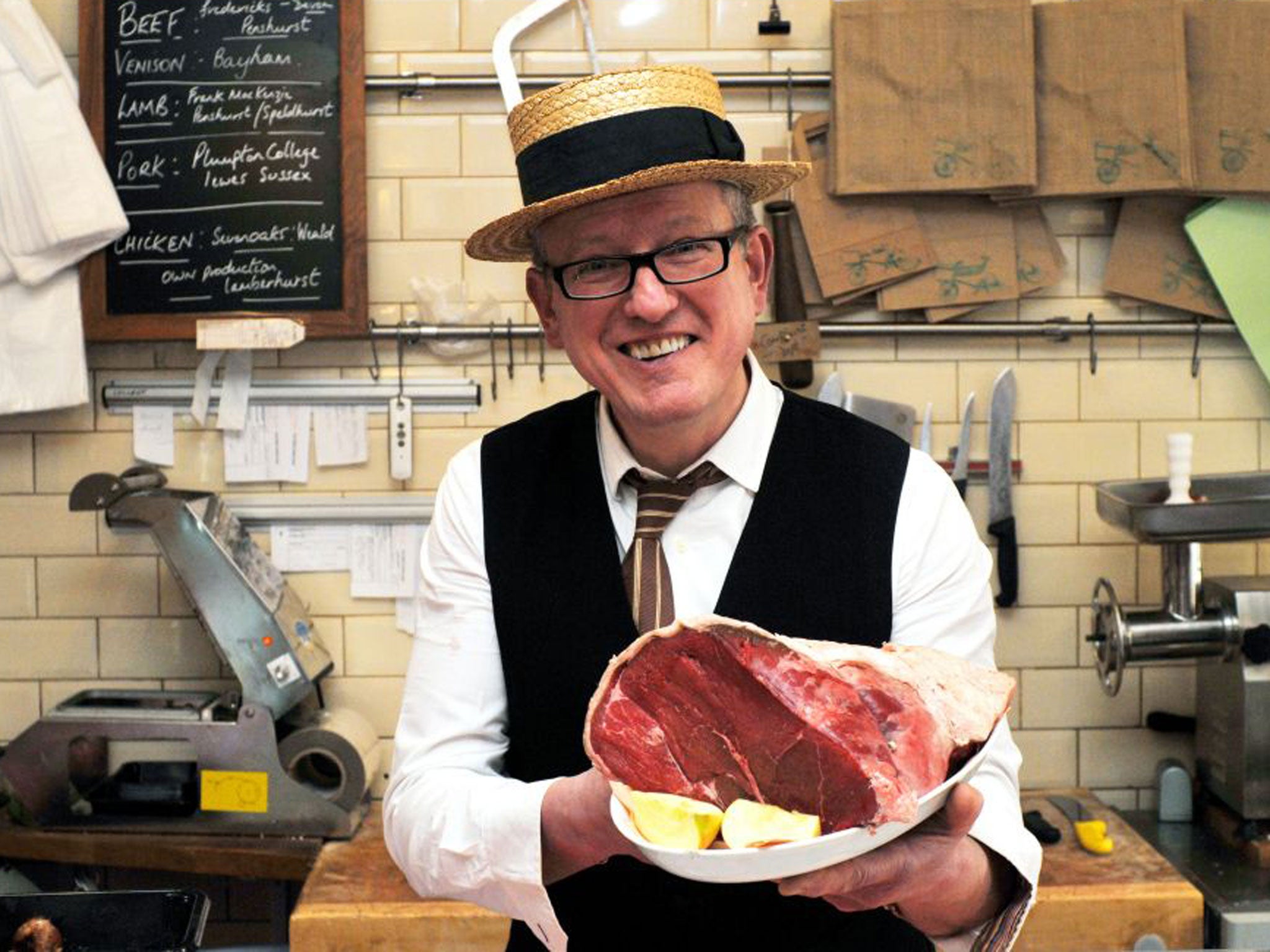 Next week (4-10 March) is National Butchers' Week, but with the number of UK butchers plunging from 30,000 to 6,000 in the past 20 years, is there really very much to celebrate?
Well, yes, actually, because as a direct result of Dobbingate, the man or woman with a boater and bow tie who stands proudly behind their display of provenance-proven protein is in for a treat. So, if they bother, are their customers.
Since he opened a few years ago, I have made repeated unusual, occasionally unreasonable, requests of Tunbridge Wells butcher Peter Speaight. A "Jewish fillet" steak? Something called onglet discovered at a Provence bistro? Freshly ground ingredients for a home-made pâté in the midst of his Christmas rush? A "rack'n'black", made by stuffing black pudding through a rack of lamb? A Jacob's ladder of beef short ribs? Slice a marrowbone horizontally ­without removing its unctuous contents?
No worries. Mr Speaight, a second-generation butcher of 30 years' standing, who has seen a recent 25 per cent increase in trade, came through every time, and you'll find your independent butcher can perform similarly for you, unlike the person behind the supermarket meat counter.
"For supermarkets, whose main concerns are yields and profit margins, a butcher's counter is a waste of space," Speaight says. "They want to sell you the same old cuts wrapped up neatly in little boxes and have tried to copy the American business method rath er than sticking with our traditional Continental style of service.
"Now, customers are saying, 'I was never that thrilled with supermarket meat, but now I'm even less impressed.' Can a supermarket butcher bone and roll a shoulder of lamb in front of you in a matter of minutes and do it well? The recent scare has exposed the lack of real butchering skills behind the supermarket counters, and that plays right into my hands.
"A proper butcher can say exactly where his meat came from because he probably unloaded the lorry carrying it. He will know how every ­single muscle on an animal works and how best to recover and prepare it for sale. He can advise about various cuts, their different cooking ­methods, what to serve with them and possibly which wine best accompanies them."
Butchers, he adds, need to find ways of adding value, such as his offering of classes, including one for field butchery for those who want instant gratification from their day's shoot.
"Today's butchers have had to move up a notch," says Rowley Leigh, the chef/proprietor of London's Le Café Anglais. "The old high-street chains have vanished completely because they weren't doing anything different from the ­supermarkets. Also, people here still don't understand that quality meat costs a lot of money, whereas in France and Italy, where meat actually costs more than in the UK, they do. A decent chicken should cost at least £12, but people say they are too 'time-poor' to learn how to use the whole bird efficiently.
"At a butcher's, you will have personal service and the meat you buy will have been properly hung, come from a traceable provenance, cut to order and in every way will be hugely better than anything a supermarket can offer."
Brindon Addy, the national chairman of the Q Guild of Butchers and the owner of Addy's Butchers, of Hade Edge, West Yorkshire, has seen a 20 per cent rise in trade since the horse-meat débâcle: "A lot of butchers weren't prepared to change and they went under, but whenever there is a food scare involving meat, people rush back to their independent butchers. We buy direct from the farm, so our supply chain is much shorter.
"A lot of people are still intimidated by a butcher. They see a counter full of raw meat and become confused, but that's why we're here – to offer advice on what to buy and how to cook it."
As a clue to the importance of a good butcher, New Forest restaurant and hotel The Pig is proud of rearing its own porkers and producing its own charcuterie, yet head chef James Golding still relies on New Milton butchers T Bartlett & Son to supply the mouth-watering sausages and bacon he serves up for breakfast.
"A major problem is that people usually revert to a butcher at Christmas," says owner and third-generation butcher Alan Bartlett, who has seen a recent 30 per cent increase in business. "They buy a lot of meat, receive a large bill, say, 'That was dear,' and avoid us for the rest of the year. But if they averaged out the cost of buying from a butcher all year, they'd find we're no more ­expensive than a supermarket and our quality is usually higher and much more reliable."
One man who is taking a punt on the renaissance of the independent meat-erie is Ian Chatfield, a butcher of 40 years' experience, who opened his self-titled shop in the distinctly un-ritzy environs of Kent's Tonbridge High Street, which, he recalls, used to be home to no fewer than eight butchers back in the day.
"I knew the local market and the footfall was there," he says, "but I never expected the day we opened would be the day the horse-meat scandal broke, so I can honestly say business has been brisk.
"Today's butchers have to move forwards and create added value. We have a bakery upstairs, so all our pies and pasties are made on site. We sell meats such as goat and mutton and run a one-day 'work-experience' session at the shop to learn about the various cuts and how to prepare them, which a lot of wives are buying for their husbands."
A "Meat Crusade" campaign to save the high-street butcher has just been launched by West Yorkshire farmer and wholesale butcher John Penny, aimed at putting quality butchers' meat back on British dinner tables.
"The way we shop for meat has been radically altered by the domination of faceless but convenient one-stop shops, which encourage the use of mass food-production techniques to create high volumes," Penny says. "These techniques often reduce an animal's quality of life, which in turn affects the taste and quality of the meat we buy.
"You have butchers that have been trading since 1815, operating the same way as they did in 1815, who have to change with the times and keep pace with the market. If one in 10 people returned to their local butcher, it would make a real difference. If it was one in five, it would start a revolution."
As a final warning, he adds: "High-street butchers are our conduit to honest, reliable-quality meat and they're slipping through our grasp. If shoppers aren't more conscientious in their purchasing decisions, next time there's a food scare there may not be any butchers left to save the day."
Join our commenting forum
Join thought-provoking conversations, follow other Independent readers and see their replies