The Independent's journalism is supported by our readers. When you purchase through links on our site, we may earn commission.
Wines of the week
10 wines under £10
Many of us are feeling the pinch right now, but that needn't mean a compromise on quality, says Terry Kirby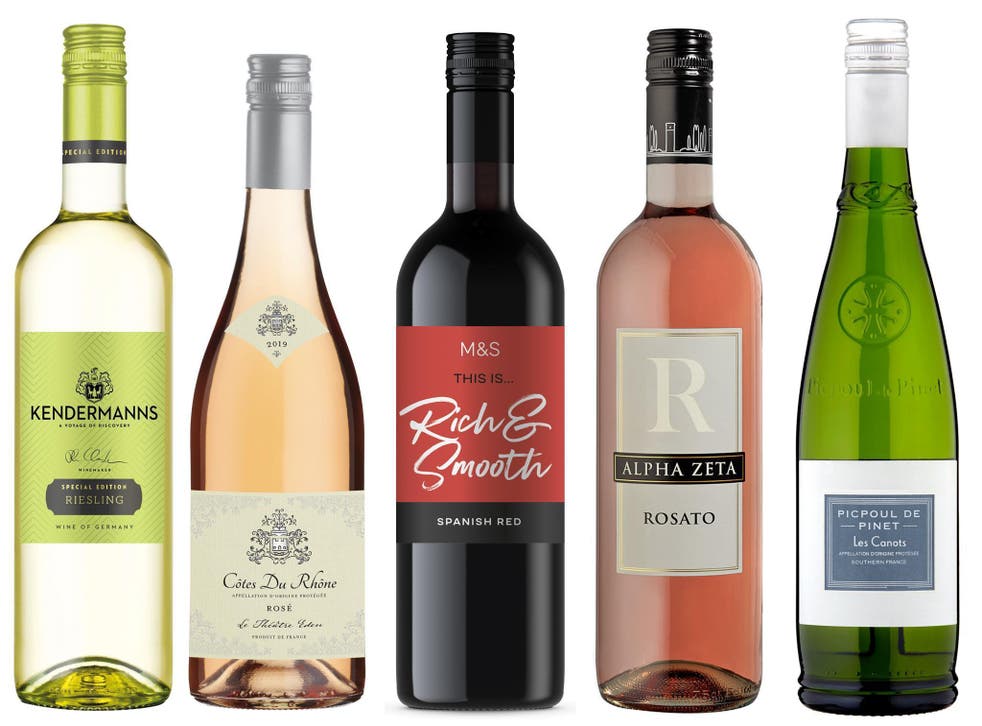 For many of us, the lockdown has been financially hard: we've been furloughed at 80 per cent of our salary or asked to take pay cuts; for the self-employed freelancers – whether you are a journalist, an actor or a plumber, it's very likely your income has declined over the past few weeks and is likely to remain so, even if restrictions have been eased a bit this week.
But that is no reason to deny yourself a consoling glass of wine to ease the lockdown lows, because you don't have to spend a fortune to get a decent bottle. I'm aware that the last couple of couple of columns have mostly featured wines in the £10-20 bracket, so here are some great little wines for less than £10 that won't break the bank and deliver excellent value for money as well as individual character.
Firstly then, to some excellent whites. If you are a sauvignon blanc fan, but are a bit wary of riesling because it might be a bit off-dry, try the Kendermanns Special Edition Riesling, 2016 (£7.49 waitrose.com; back in stock at waitrosecellar.com next week) from the Pfalz region of Germany, bursting with lime and other citrus flavours this is wonderfully zesty and zippy, bone dry and a really refreshing fridge-door white for grabbing at the end of the day and brilliant with oriental foods.
If you really, really want to crack open the chilled sauvignon blanc, then there are many sub-£10's on the market, with New Zealand Marlborough a very well known and reliable region. But if you sometimes find it's a bit too gooseberry-ish, try a sauvignon from France, which is where the grape originates. Sancerre is prime sauvignon but can be a bit pricey, but bargains are to be found in the less well known Touraine region on the Loire, such as the Thierry Delaunay Manor Touraine Sauvignon Blanc 2019 (£7.99 if bought as part of mixed six bottle purchase; otherwise £9.99, majestic.co.uk); still very zesty and refreshing, but some lees-aging gives a good bit of body and texture, with lovely citrus flavours and a hint of stone fruits, creating a really well balanced wine. Perfect with any fish or lighter chicken dishes.
Marks and Spencer has responded to the budget zeitgeist with a new cheerfully labelled bargain range, available in stores only. The South African This is... Chenin Blanc (£5.00 M&S stores) is a bright and lively fridge-door white, packed with sparky citrus flavours, while the This is... Spanish Red (£5.00 M&S stores) is a ripe and juicy glugger, ideal for pasta and pizza dishes.
Back to whites; the currently fashionable picpoul grape grows only in a small area of the Languedoc coast and its zippy but slightly smoky lemon and pear flavours pair wonderfully with the local oysters and other shellfish. The Picpoul De Pinet Les Canots (£8.49 in stock at Waitrose shops and waitrosecellar.com next week) is a fine example of the style and great also with any white fish.
Rose is also very popular in the south of France and so it's no surprise that there is a rose made from the red version of the grape, picpoul noir; although it's a fairly rare beast with only 250 acres of the grape grown. So treasure the excellent Foncalieu Pique Poul Rose 2019 (£9.99 henningswine.co.uk), very dry, very pale in the Provencal style and with clean red-berry and light tangerine flavours. For fish soup or any tomato-based Mediterranean dishes.
For a more traditional southern French rose, the Cote du Rhone Rose 2019 (£8.00 M&S stores) has the typical blend of grenache, cinsault and syrah, the latter two adding just a little spice to the mix. Italian rose tends to get a bit overlooked amid the flood of French rose and tends to be fuller and fruitier than the dominant Provencal style. The dry and refreshing Alpha Zeta Rosato 2019 (£7.55 vinvm.co.uk; £7.38 thedrinkshop.com), made in the Verona region from mostly corvina grapes with touches of merlot and rondinella, has strawberry and cherry flavours and would be my choice to accompany a takeaway pizza on a warm spring or summer evening.
The weather has actually been a bit on the chilly side this week, but it's due to warm up this weekend and maybe some of you might be thinking of a garden barbecue now or in the future, so here are two excellent barbecue-friendly reds, just ideal with any grilled meats: the Exquisite Collection Argentine Malbec (£5.99 Aldi stores) is a punchy, very typical Malbec, with rich but fresh plum, mulberry and chocolate flavours and, of course, ideal with steak.
But this week's standout wine for quality and value for money must be the Cotes du Roussillon Expression Lesquerde, 2018 (£8.50 thewinesociety.com), a single-village blend of carignan and grenache, made from high altitude, low-yielding vines, with brambly, dark fruits and a real depth of flavour worthy of a wine twice the price. Great for a leg of lamb, whether it's in the garden or on the dinner table.
Register for free to continue reading
Registration is a free and easy way to support our truly independent journalism
By registering, you will also enjoy limited access to Premium articles, exclusive newsletters, commenting, and virtual events with our leading journalists
Already have an account? sign in
Register for free to continue reading
Registration is a free and easy way to support our truly independent journalism
By registering, you will also enjoy limited access to Premium articles, exclusive newsletters, commenting, and virtual events with our leading journalists
Already have an account? sign in
Join our new commenting forum
Join thought-provoking conversations, follow other Independent readers and see their replies