The Independent's journalism is supported by our readers. When you purchase through links on our site, we may earn commission.
Distinctive wines from the ancient tradition of Lebanon
The Middle Eastern country has a long history of winemaking that comes through in the strong individual character of these bottles, writes Terry Kirby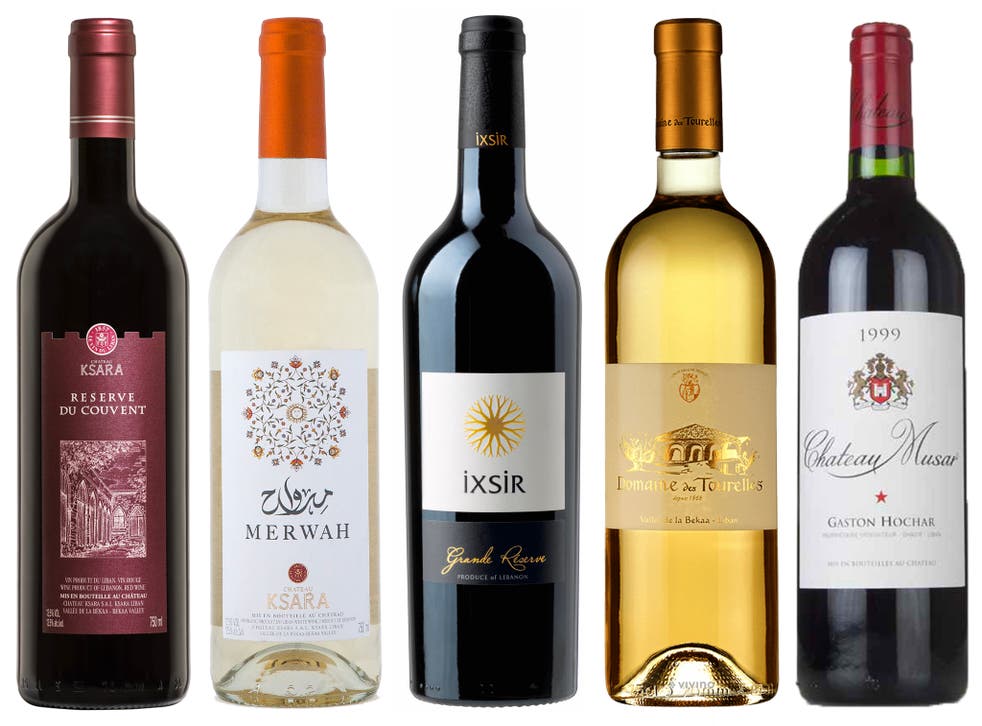 After Portugal last week, here is a selection of wines from another small country, but one with a much older winemaking tradition, which has survived centuries of war and conflict.
Vines have been grown in Lebanon since very ancient times and it was once the heart of the Phoenician empire, the first big civilisation to have wine as part of their culture and whose traders carried it around the eastern Mediterranean basin.
Their religious and wine-related rituals influenced Greek and Roman love of wine and may have been the origins of the Roman god Bacchus. In more modern times, despite for many centuries being part of the Muslim world, where alcohol was forbidden, wine drinking was always allowed among the substantial Christian communities.
Serious commercial winemaking, largely led by growers and producers of French origin, only began in the middle of the 19th century. It was assisted by Beirut's era as a fashionable and cosmopolitan centre in the Middle East, and survived the various wars and conflicts that have dogged the country in the last few decades.
Although the industry, which is largely concentrated around the Bekaa Valley, remains small by comparison with other countries, the quality of wines is very high and they are surprisingly widely available in the UK, one of its biggest markets.
Because of its French origins and its climate and terroir, Lebanese winemaking remains largely dominated by familiar Bordeaux and Rhone-style red blends, which nevertheless have their own distinct take, with strong individual character and representing good value for money compared with similar wines from France or elsewhere. And when it comes to whites, there are some very interesting developments.
Chateau Ksara, founded by Jesuits, is said to be the oldest surviving winery and accounts for around 70 per cent of the entire production. If you are already thinking about Christmas wines – some of us are, you know –  and are looking for an alternative to claret to pair with the goose, game or beef, then the Chateau Ksara Rouge 2016 (£17.49 strictlywine.co.uk; £18.39 allaboutwine.co.uk) is a great bet. A cabernet sauvignon-dominated blend with some merlot and petit verdot, it's a powerful, sun-drenched red, with smooth cedar, vanilla and dark berry flavours. 
Possibly even punchier is the Reserve du Couvent Rouge 2017 (£10.95 thewinesociety.com, from 9 November; £12.39 allaboutwine.co.uk), a combo of syrah, cabernet franc and cabernet sauvignon bursting with peppery, dark ripe fruits and just the ticket for any Middle Eastern mezze style dishes, falafel or some herby lamb. 
When it comes to whites, the Chateau Ksara Blanc de Blancs 2018 (£12.00 winepoole.co.uk; £12.99 strictlywine.co.uk) is a creamy, citrusy and aromatic blend of sauvignon blanc, semillon and chardonnay, and is ideal with seafood. 
The grapes grown by the Phoenicians probably never had individual names, but one of them may well have been what is today know as merwah, an ancient white variety that is used in the Chateau Ksara Merwah 2018 (£12.99 strictlywine.co.uk; £14.99 oakhamwinesonline.co.uk), the first wine solely made from the grape, using 60-year old vines grown at 1800 metres above sea level, with terrific results: full bodied, with creamy tropical fruit flavours and a clean minerality about it. Again, it's ideal with shellfish. Let's see more like this, please. 
Another ancient indigenous variety is obeidi, which is blended with viognier and chardonnay in the Domaine des Tourelles Viognier Blend 2019 (£12.99 or £10.99 if bought as part of mixed six-bottle purchase, majestic.co.uk) from another very long-established winery to create a fruity, rich and aromatic mouthful, full of exotic fruit flavours and aromas. Try this one with more complex foods, such as creamy curries and Thai salads or, more conventionally, a pork schnitzel.  
Chateau Musar is probably the one name many associate with Lebanese wine. Established by Gaston Hochar in the 1930s and still run by his family, it lies a few miles north of Beirut. It was sometimes caught up in the civil war that raged for 15 years until 1990, but lost only two vintages of its legendary, powerful, long-lasting red, the Chateau Musar Bekaa Valley (2001: £27.99 waitrosecellar.com; 2013: £27.00 thewinesociety.com; also available elsewhere in other vintages, see here). 
A combination of cabernet sauvignon and cinsault, and sometimes carignan, it is capable of long ageing, although the proportions and therefore the style and flavours can vary slightly from year to year. Ripe and outgoing in its youth, more mellow and complex with age, it's an intriguing and beguiling mix of a conventional French-style blend, overlaid with exotic Middle Eastern nuances and is a conversation piece at the dinner table. And, as with the Ksara Rouge, it's a great bet for Christmas.
Musar also produce a probably more exotic white, the Chateau Musar White 2012 (£26.99 thesolentcellar.co.uk; £27.95 slurp.co.uk), a very individual blend of merwah and obeidi, designed to keep for years, if not decades. It's a full-bodied, textured, oak-aged wine with layers of flavours of tropical and dried fruits and nutty, honeyed notes; think viognier meets chardonnay with extra oomph. A real special occasion wine, probably better with white meats and cheeses than with fish.  
New Lebanese wine producers are rare, but one that has made its mark is Ixsir. Founded in 2008 and based outside the Bekaa in the mountains of the Batroun region, it has adopted a more contemporary image than Musar and the others, with labels that don't look like French chateaux.
The Altitudes Red 2016 (£18.85 greatwine.co.uk) is a full-bodied 100 per cent cabernet sauvignon wine, with rich black fruits and notes of tar, cedar and vanilla, while its bigger brother is the Grand Reserve Red 2012 (£29.50 greatwine.co.uk), made entirely from syrah, with concentrated black fruits and abundant spice. 
Again, these are varietal wines, but both with distinctive, individual character that can only come from their location. Both are perfect with roasted red meats, casseroles and hard cheeses, but are probably most at home with lamb, which forms such an important part of Middle Eastern cuisine. I'm sure the Phoenicians would have approved.
Register for free to continue reading
Registration is a free and easy way to support our truly independent journalism
By registering, you will also enjoy limited access to Premium articles, exclusive newsletters, commenting, and virtual events with our leading journalists
Already have an account? sign in
Register for free to continue reading
Registration is a free and easy way to support our truly independent journalism
By registering, you will also enjoy limited access to Premium articles, exclusive newsletters, commenting, and virtual events with our leading journalists
Already have an account? sign in
Join our new commenting forum
Join thought-provoking conversations, follow other Independent readers and see their replies