Yotam Ottolenghi interview: 'Getting stressed about food? It's a waste of time!'
The Israeli-born chef, author and gay dad, tells Susie Mesure why cooks should really forget about impressing others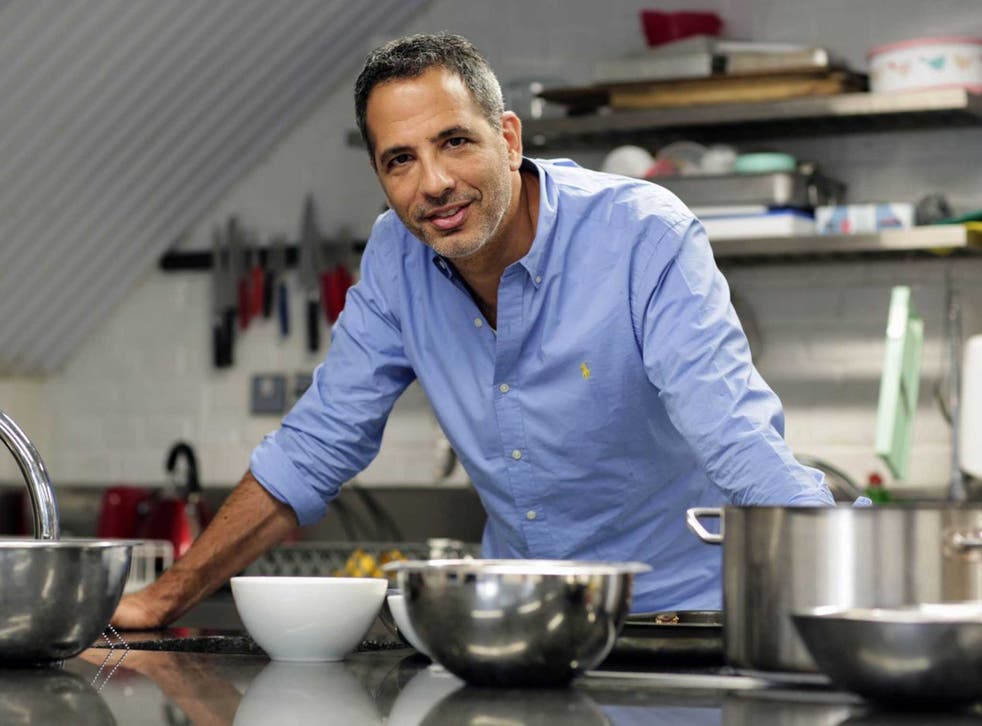 "Where's my kashk?" asks Yotam Ottolenghi, as he walks into a box of a meeting room next to his north-London test kitchen. In jest, I assume: I'd tweeted a picture of his latest must-have cupboard staple, Iranian fermented whey, as a joke the previous evening. But it turns out the Israeli-born chef has outdone himself this time, naming it as one of his three new favourite ingredients in his latest cookbook, Plenty More, as it's something even he can't get.
"We've stopped being able to source it. It's very difficult to get because of the fermentation; it needs all sorts of rigorous bacteria checks, so I don't know if it always passes." For Ottolenghi acolytes seeking a spot of dinnerparty one-upmanship – that'll be anyone who has ever cooked one of his recipes –there are two others to try: dakos, a Cretan rusk; and black garlic, so called because it is caramelised.
But heaven forfend you try to brand the man aspirational! Despite sprinkling za'atar and sumac on his dishes with the regularity that others might reach for the salt and pepper, Ottolenghi insists there is a "50/50" split between his "practical" recipes and anything too ambitious. What's more, he hates people getting in a bind over mastering the latest dish.
"People get stressed out about food. They really need to impress others in the dinner parties and do the next thing and always change their repertoire. I really don't like this competitive attitude to food. I think if you make something really, really well, just keep on doing it, because it gives you a lot of satisfaction and none of the angst involved in mastering the next culinary trend. I think that's a waste of time and very negative energy."
Well, amen to that. But it hardly sounds like the best promotional strategy? "It's not good for cookbooks, but it's good for people's sanity," he laughs. "Some of the best cooks are ones who actually limit themselves. I have a friend and she cooks five dishes all the time. You know you are going to get them, but they are like the best thing ever, and you look forward to them." And if someone has bought Plenty More, which like its forebear, Plenty, is a paean to vegetables? "Look for something that looks good to you and cook it. And if it's good, just do it again."
All he really wants is for people to embrace other methods of preparing vegetables than boiling them to death. "The cooking technique is very important," he says of the chapters, which range from Simmered to Roasted. "I tried to show that if you grate the cauliflower and eat it raw, it's one thing; if you roast it, it's another. Something like a Brussels sprout, people have very little imagination as to what you can do."
For Ottolenghi, who runs four restaurants with his Arab-Israeli business partner, Sami Tamimi, food has the power to unite, although he stops short of believing in a chick-peas solution to the conflict in their homeland. I argue the opposite: that food, at least in Britain, divides like little else, given the dichotomy between Asda mum and farmers' market mummy. Isn't food the new, acceptable face of snobbery? "This country is very class-focused, so there's always going to be a way to enhance this structure. But it doesn't need to be the case. I don't think, if you look at people who cook my food in America, that it's class-related."
Arms folded across his trim frame –the only hint I'd put him on the defensive – he points to the popularity of hummus. "It's the most-sold supermarket spread in the UK. Everybody buys it, all social classes. That's something that would have been considered elitist five or 10 years ago. If there is a division, then obviously it will always manifest itself in food, but I don't think food inherently does it." The ingredients in Plenty More are, he says, flicking through the colourful pages, pretty cheap: "Rhubarb, beetroot, just a little bit of cheese. This one is all about cabbages and sweetcorn and red onion. It's not fillet steak or lobster. Now Jamie's just done a thing –I love Jamie [Oliver] – but I was watching his programme and he did a pasta bake with lobster. Nobody would accuse him of being an elitist, right?"
Ottolenghi, who moved to London 15 years ago, embodies cosmopolitan Britain, being foreign, gay, and a foodie. As for feeling British, "I guess I'm always going to be an immigrant but I've had a big hug from the Establishment, so I'm probably as British as I'll ever get." He even has a British passport, acquired two years ago, but says he'll probably "always be an Israeli because I was there at such a crucial age in my life". Stridently metropolitan, from his crisp, blue Ralph Lauren shirt, down to his cream jeans, his core fan base is north London rather than the north of the UK. But sell-out book tours to Liverpool, Sheffield and Edinburgh show he also has appeal further afield. And yes, he "immediately admits" he's a middle-class magnet. "It would be silly not to. But it doesn't have to be necessarily like that. I think, long term, many, many people will be enjoying pomegranate seeds – or hummus, or tahini sauces. All these things are cheap and cheerful."
And like modern British favourites such as Italian, which was a novelty before Elizabeth David broke the news about a new carbohydrate called pasta, he thinks Middle Eastern food could become second nature. "It's what people are looking for in terms of nutritional advantages: grain heavy, vegetable heavy, and it really delivers on the flavours." And no, he can't take the credit for making tahini flavour of the month. "I'm just lucky enough to be in the right place at the right time."
Despite devoting an entire book in 2012 to the recipes of Jerusalem – where he and Tamimi were both born in the same year, one in the west, one in the east, although they met in London – Ottolenghi has avoided being branded an Israeli chef. In part, because he thinks his and Sami's cooking is "broad Mediterranean with a slight emphasis on the eastern side" rather than being Israeli, but he also notes that in London "you're much less inclined to call yourself an Israeli restaurant than you would be in New York". Even the latest Soho hotspot, The Palomar, run by the same men behind Jerusalem's favourite joint, Machneyuda, avoids any mention of the "I" word, he notes.
"It's … not a good time for Israel," he says. "If you're from that place, and you're writing about food and presenting it, whether it's Palestinian or Israeli under the headlights, you're bound to make someone unhappy." He avoids the issue unless pressed or unless he thinks there is something to say. And is there? "Well, look, this is not a good time. And I'm not saying anything you don't know, but I'm really quite depressed about the way things are. Both [sides] are very stubborn and this stalemate is bad. I would have wanted to see people come out of their shells and do something radical. It doesn't help to throw the blame on the other side. It hasn't worked and it will never work."
If this hardly counts as taking a stand, well, Ottolenghi insists he isn't the campaigning type. "I've never felt that fire in me to campaign for something; you need to be a certain kind of person that I'm not." He's content thinking people eat more vegetables now than they used to, but stops short of proselytising about vegetarianism, mainly because he eats meat himself, something that shocked people who initially thought his vegetarian recipes came with "cleaner credentials".
Where he might be persuaded to be more vocal is on the issue of gay parenting: he has a 19-month-old son, Max, born to a surrogate mother in the US, with his husband Karl Allen. And, "yeah", he would like another, "at some point". But because you can't pay women to carry surrogates in the UK, achieving this is "not easy". Still, he's loving fatherhood, which has made him slow down and work fewer hours. At 45, he's accepted he's going to be an older dad, but says at least it's easier for him than for a woman. "I don't care really if I'm judged or not. Women get a harder deal on every front, but especially when it comes to motherhood."
But if he can do for gay dads what he's done for obscure Middle Eastern spices, then he might just have to accept that he has a zest for more than just sharp flavours after all.
Curriculum vitae
1968: Born in Jerusalem. His father, Michael, is Italian – a Chemistry professor at the Hebrew University of Jerusalem.
1980: Attends school in Jerusalem's Ramat Denya neighbourhood.
1989: Serves his conscription in Israel Defense Forces.
1995: Begins a combined bachelor's and graduate degree at Tel Aviv University, in literature.
1997: Moves to Amsterdam. Travels to London; begins training at Le Cordon Bleu cookery school for six months.
1999: Is appointed head pastry chef at Baker & Spice, in Chelsea. Here he meets his future business partner, Sami Tamimi.
2002: Opens first deli in Notting Hill with Sami.
2004: Opens four more delis in London.
2008: Publishes his first cookbook: Ottolenghi: The Cookbook.
2011: Marries Karl Allen in Massachusetts. His first documentary, Jerusalem on a Plate, airs in the UK.
2012: Receives British citizenship after living in the country for 15 years.
2013: Son Max is born, via a US surrogate.
Nisha Mal
Register for free to continue reading
Registration is a free and easy way to support our truly independent journalism
By registering, you will also enjoy limited access to Premium articles, exclusive newsletters, commenting, and virtual events with our leading journalists
Already have an account? sign in
Register for free to continue reading
Registration is a free and easy way to support our truly independent journalism
By registering, you will also enjoy limited access to Premium articles, exclusive newsletters, commenting, and virtual events with our leading journalists
Already have an account? sign in
Join our new commenting forum
Join thought-provoking conversations, follow other Independent readers and see their replies