The Independent's journalism is supported by our readers. When you purchase through links on our site, we may earn commission.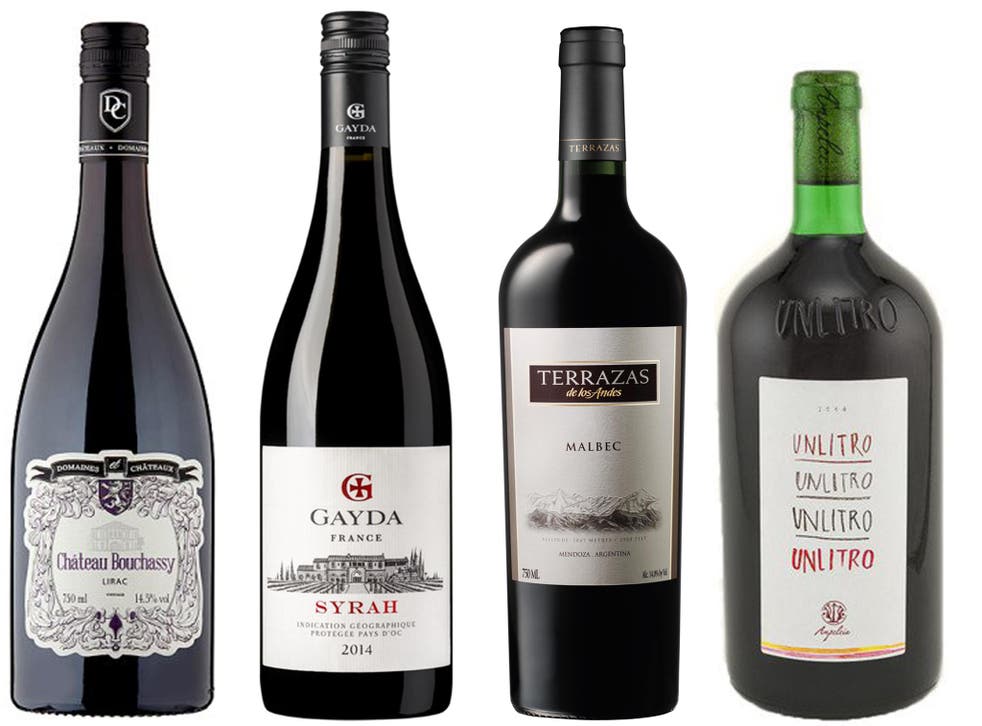 Wines of the week: Five barbecue reds
OK, the weather this month is about as un-summery as it gets. But it must brighten sooner or later, and when it does, you'll want a BBQ – and a well-matched wine – all ready to go. Terry Kirby shows the way
Friday 04 August 2017 18:22 Comments
My columns over the last three weeks have offered plenty of suggestions for white and rose wines for outdoor and barbecue eating. But now we approach the, er, real meat of the matter of outdoor cooking: what red wines to drink with grilled and charred flesh?
And are we just talking some great sausages and homemade burgers for a mid week meal? Maybe it's a boned and rolled leg of lamb, slowly turning on a spit for an outdoor lunch or dinner? Or a butterflied chicken or poussin, marinaded in Middle Eastern or Indian spices?
For such dishes, do not even think of uncorking your finest pinot noir or aged claret, but stick with robust reds made from syrah and/or grenache grapes, which will handle charred, smoky and spicy flavours.
The south of France is a great place to look for full bodied, brambly red blends – if you on holiday there, the choice is vast, but at home, the ripe and boisterous Chateau de Bouchassy 2016 from the southern Rhone appellation of Lirac, which is a real bargain (£9 Tesco.com) would be ideal with sausages, particularly spicy Moroccan merguez or Spanish chorizo (but beware the 14.5ABV) or the smoother, more elegant Domaine Gayda Syrah 2014,( £9.95 slurp.co.uk) perfect for lamb or chicken.
Of course Argentine malbec is being touted as the great barbecue wine and its certainly fabulous with steak wherever you choose to eat it, but also works well with lamb or most other red meats. There are plenty to choose from and the quality is generally very consistent, but one to bank on is the Terrazas de los Andes (£15.49 Ocado.com) from Mendoza, packed with rich, black fruits.
Food and drink news

Show all 35
Or perhaps it is a mostly meat-free barbecue? Think grilled vegetables like peppers, courgettes and aubergines, halloumi cheese with flatbreads or corn on the cob, dripping with chilli butter? All flavours that might overpower the sensitive souls that are most whites and elegant roses.
For this, you might chose a lighter red, chilled in the fridge for about an hour, such as this easy drinking, blueberry and cherry flavoured, biodynamically produced grenache and mourvedre blend from the Tuscan coast, Unlitro IGT Costa Toscana 2015, (£15.00 vintrepid.com; £18.50 josephbarneswines.com) which is only available in litre bottles, making it great for gatherings; drink from glass tumblers because it just feels better that way. It also works brilliantly with a tuna steak, given just 30 seconds a side on the griddle.
Finally, from mostly French grapes grown in Italy to an Italian grape grown in Australia: the Blind Spot Kings Valley Barbera 2015 (£9.50 thewinesociety.com) is a fabulous find from the Wine Society and part of its Blind Spot range of individual varietal wines from small vineyard parcels, in this case from Victoria.
Fruity, lively, supple, with real depth of flavours of black cherries and plums with some oak to give backbone and complexity, it is versatile enough to be chilled with lighter foods, but kept at room temperature for meatier choices. So, that's the barbecue recipe: fire up and chill…
Register for free to continue reading
Registration is a free and easy way to support our truly independent journalism
By registering, you will also enjoy limited access to Premium articles, exclusive newsletters, commenting, and virtual events with our leading journalists
Already have an account? sign in
Join our new commenting forum
Join thought-provoking conversations, follow other Independent readers and see their replies