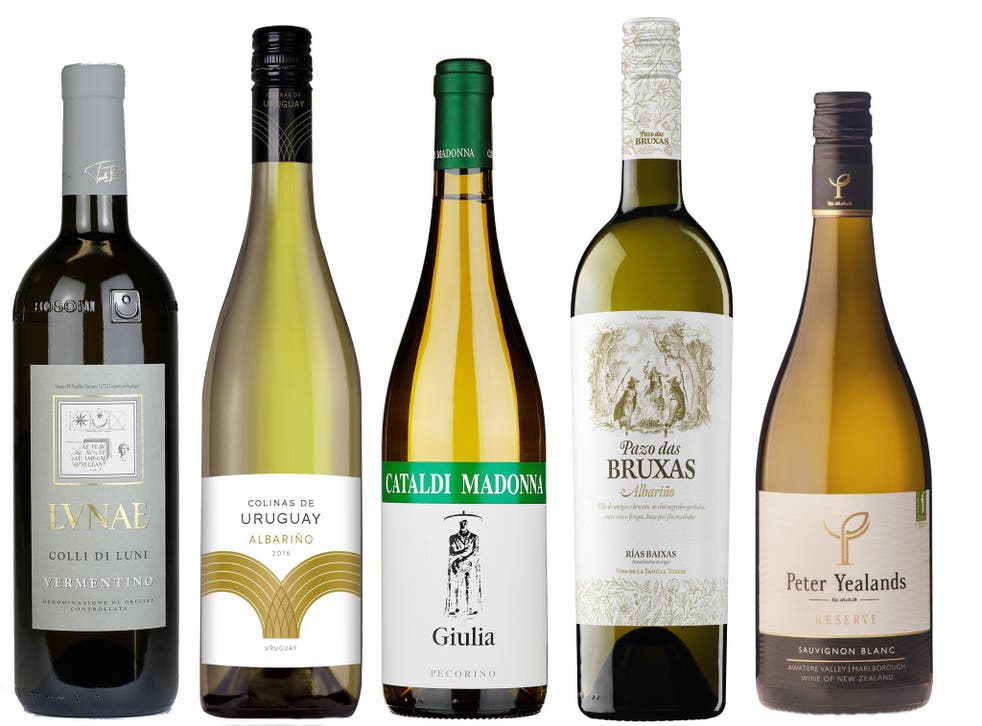 Wines of the week: Five summery white wines to drink now
Don't fall into the trap of over chilling your white wine says Terry Kirby. It will lose its flavour. And look to wines from Uruguay and north west Spain ahead of the go-to Pinot Grigio and Sauvignon Blanc varieties
What do we want from a white wine in summer? We need them cold, yes, but not too cold. Roses generally benefit from being really chilled, but being too cold takes the edge of most whites, simply deadening the flavours, so be sure to allow most whites a little time to warm up, particularly if they have been in the coldest part of the fridge.
We need wines for everyday refreshment, kept open in the fridge door for a couple or three days (and no more!) for that handy after work/putting the kids to bed glass/preparing dinner drink.
And we also want wines to accompany summer foods such as salads, for picnics and barbecues and for special occasions, like family gatherings and dinner parties.
What we probably do not want are heavier, oaky, more complex whites: save them for pork belly and richer fish dishes in cooler times.
What kind of grapes are we talking here? Naturally zingy, grassy Sauvignon Blanc comes to mind, but let's also explore similar grapes that produce mineral, light bodied and refreshing wines, like the Spanish favourite Albarino or Italy's Vermentino and the more obscure Pecorino….
However….first to Uruguay, where the locals have given a makeover to Albarino to create a terrifically good value fridge door white, Colinas De Uruguay, (£8.00 Sainsburys.co.uk) which simply bursts with floral aromas and crisp flavours of white peach, almonds, green apples and lemons. Great with goats' cheese salads and sushi as well as the picnic cool box, where the screw top comes in handy. If you want to push the boat out a bit more, try the grape in its homeland of the Rias Baixas in Galicia in north west Spain, with the Pazo das Bruxas 2015 (£11.99 tauruswines.co.uk) where the flavours are more restrained, a bit richer and deeper, but still retaining that clean finish. More dinner table than fridge door; for white fish, oysters and mussels.
Over in Italy, they know a bit about light whites to be sipped on sunlit terraces. But please sidestep the often bland Pinot Grigio, the smoky autumnal Soave or popular Verdicchio and seek out bright and lemony Vermentino, mostly grown in the north west and in Sardinia. The Coli di Luni Etichetta Grigia 2015 (£11.21 tannico.co.uk) offers lingering flavours of acacia, lemons, almonds and goes well, it is said, with traditional Ligurian cuisine such as pasta with mushrooms and stuffed squid. In Abruzzo, the relatively rare Pecorino grape is worthy of being more well known, delivering similarly fresh but fuller flavours. Tannico also have the gorgeously elegant Cataldi Madonna Guilia Pecorino IGT 2016 (£13.10 tannico.co.uk) which would be brilliant with any prime fish.
But, I hear the cry, what about our Kiwi Sauvignon Blanc, the nations go-to summer white? All right, if you must, try the ultra dependable Peter Yealands Reserve Sauvignon Blanc 2016, from the Marlborough valley in New Zealand. Punchy, tropical fruit flavours and a clean finish (£8.69 until August 8, normally £11.49, Waitrose.co.uk) And you really need to throw a spiced and butterflied mackerel on the barbecue to go with it….
Join our new commenting forum
Join thought-provoking conversations, follow other Independent readers and see their replies