Flor, restaurant review: Where they pack a lot into a little room, and menu
Ed Cumming visits one of this year's most anticipated openings, a bakery and restaurant in Borough Market, and finds the food confident but uncomplicated, but that comes at a disappointing price
Thursday 12 September 2019 14:48
comments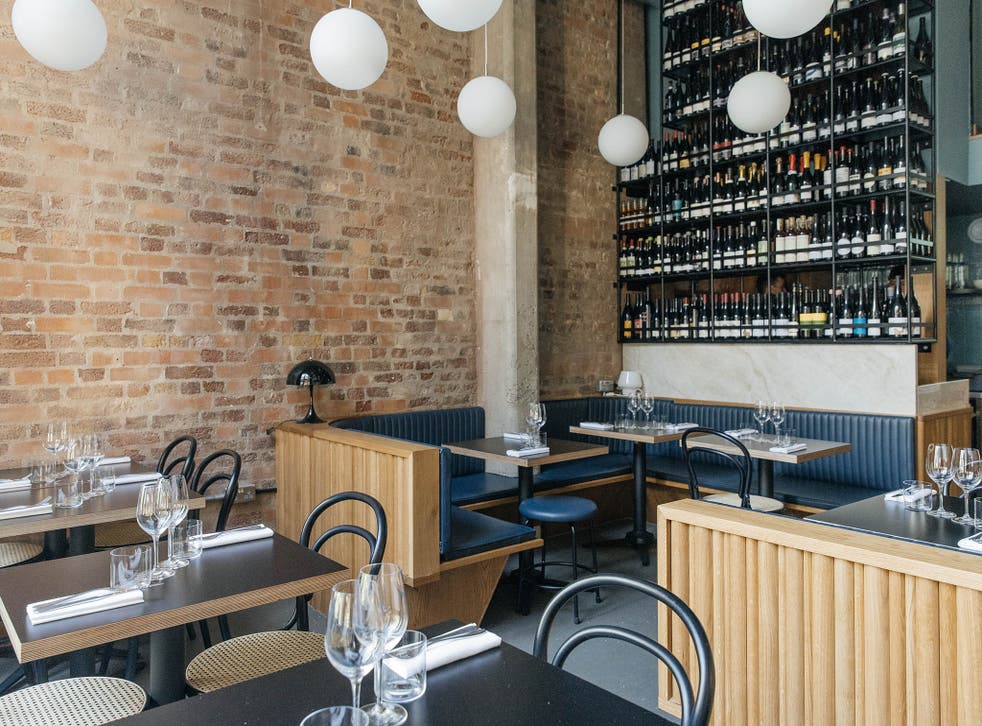 Flor is one of the most anticipated new openings of 2019, a restaurant and bakery in Borough Market from the team behind Lyle's, James Lowe's Michelin-starred restaurant in Shoreditch.
Seeing his name, along with his partner John Ogier, attached to a new project is like noticing a racehorse has been sired by Frankel: without a persuasive reason not to, the temptation is to have a punt.
Designers have worked a tiny space into an intimate marvel. You enter past an appealing baked-goods display to a narrow room, with wood panels, bottles stacked overhead, a few tables and a marble counter, behind which a team of too many chefs work in close quarters with good-humoured efficiency.
A narrow staircase leads up to the second floor, where there's more of the same. In a group of more than four, you'd feel like a stag do.
The menu is similarly delicate. Lyle's veterans will not be surprised that the emphasis is on seasonal ingredients without much done to them. Some of it is unassailable. The default press shot, and the dish that appears most on Instagram, is a plate of three scarlet prawns, which are not the strapping Oxbridge-educated langoustines you might expect for £18, but decidedly prawnish.
The heads are served cooked, with a little plug of white meat stopping the brain juices from seeping out until you are ready. This presentation elevates the eating of the head, which I'd always thought of as vaguely dirty, into a respectable activity. You pinch the antennae array, raise it to your lips, bite out the barrier and suck until all the fishy nectar has been extracted.
The bodies come on a separate plate, raw, tiny landscapes of translucent pink etched with purples and reds, bright with freshness and smeared with a yuzu orange kosho. The flesh offers just the right resistance to the bite, and the citrus cuts through the flavours of the sea.
The kitchen plays the same trick on a couple of oysters, adding scotch bonnet chilli to the mignonette, so the eating ends with a gentle rising heat rather than a cool red-onion sweetness.
It's confident but uncomplicated, as is a generous basket of springy sourdough, and a flatbread covered in cheese and garlic and mussels. A shallow dish of smooth cod brandade, golden yellow with little tangle of red peppers on top, was the fish pie your mother never made.
Given how good it is when it's good, you can see why people want to rave about Flor, but not everything sticks the landing. At £130 for two, this is a bit of a shame.
Sea bass came lying under a shroud of thinly sliced green tomatoes, like old furniture under tarpaulin, with an olive sauce that failed to add much to the fish.
Prosciutto and melon was, shockingly, prosciutto and melon. What am I doing ordering ham and melon in a place like this, like a 10-year-old? I want to have a long, hard look at myself.
Halfway through the meal, eyes bigger than stomachs, we ordered a tart of daterini tomatoes and ricotta, beautifully presented but a bit earthy.
Did we drink some wine? Yes, a couple of glasses of riesling.
They save the best until last. The brown butter cakes, which sound harmless, turn out to be no talk and all trousers. They are presented unadorned on their plate. Go on then, they say. Eat us. See if we care. But when I do, I'm briefly reminded of the million-calorie eclair in The Simpsons, with 25lbs of butter per square inch, and then remember that that plot line was about a chef trying to kill a reviewer.
Still, these cakes are like some kind of experiment in miniaturisation, to see if the richness and flavour of 10 full-grown cakes can be baked into one warm, sweet, buttery puck. Like Flor, they pack a lot into a little.
Would I got back? Yes, for cake at very least
Should you go? Yes
Could you take your parents? Yes, but no more than two of them
Join our new commenting forum
Join thought-provoking conversations, follow other Independent readers and see their replies