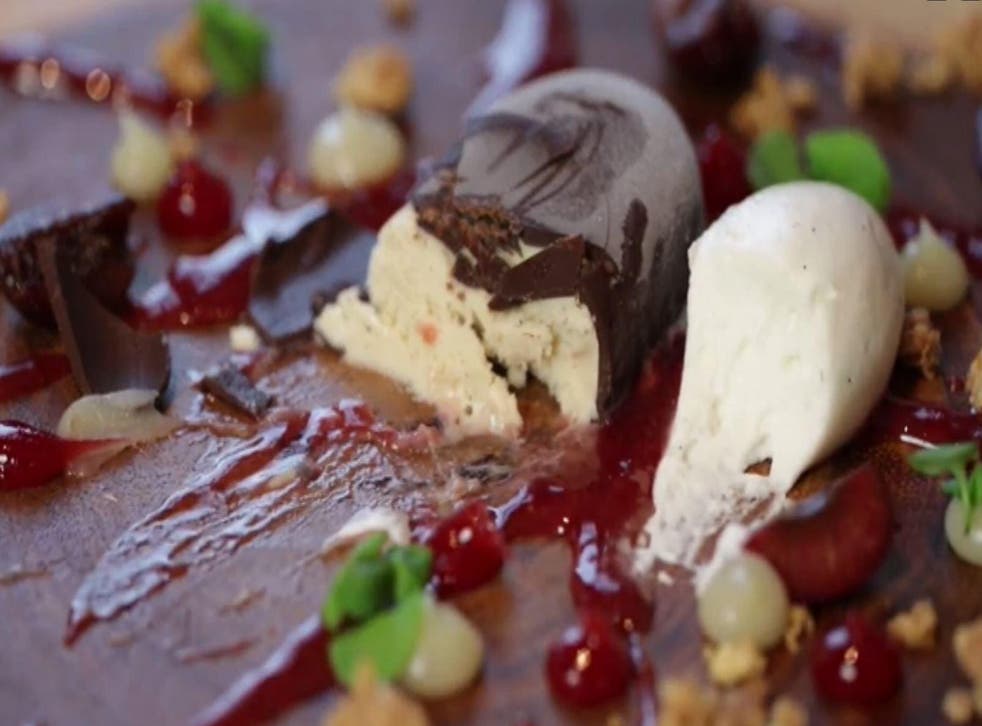 Foie Gras Banana Split: Chef creates offal dessert at California restaurant
It looks better than it sounds
The classic combination of sweet and savoury has reached its extreme conclusion: offal with dessert.
Chef David Rossi in California has whipped up a foie gras banana split - with the fatty liver infused into a thick vanilla ice cream.
The indulgent dessert has been cooked up at The Ranch restaurant in Anaheim, California, to mark National Sundae Day.
The ice-cream is covered in a house-made chocolate shell, and served on top of strawberry sauce.
It's plated up with peanut crumble, boozy cherries, banana gel, and a vanilla bean sabayon.
It's served on a cross-section of tree, and is remarkably artistic, as well as decadent.
The fatty French liver product is created by force-feeding ducks and geese.
Animal rights campaigners and politicians have made calls for a ban on the dish, but EU rules has so far prevented this.
Pressure could increase for a ban once Britain leaves the European Union.
The world's biggest food fights

Show all 11
Last year a ban was lifted in California after two years, when a judge determined that the law clashed with federal government regulations.
It is prized more for its texture than its taste: with a smooth, silky melt-in-the-mouth feel, and only a very subtle taste.
Join our new commenting forum
Join thought-provoking conversations, follow other Independent readers and see their replies