How a new wave of food halls became the high street's hottest place to eat
At a time when causal dining chains are closing by the dozen, food halls are springing up everywhere, regenerating areas. They represent a new way to eat where choice is king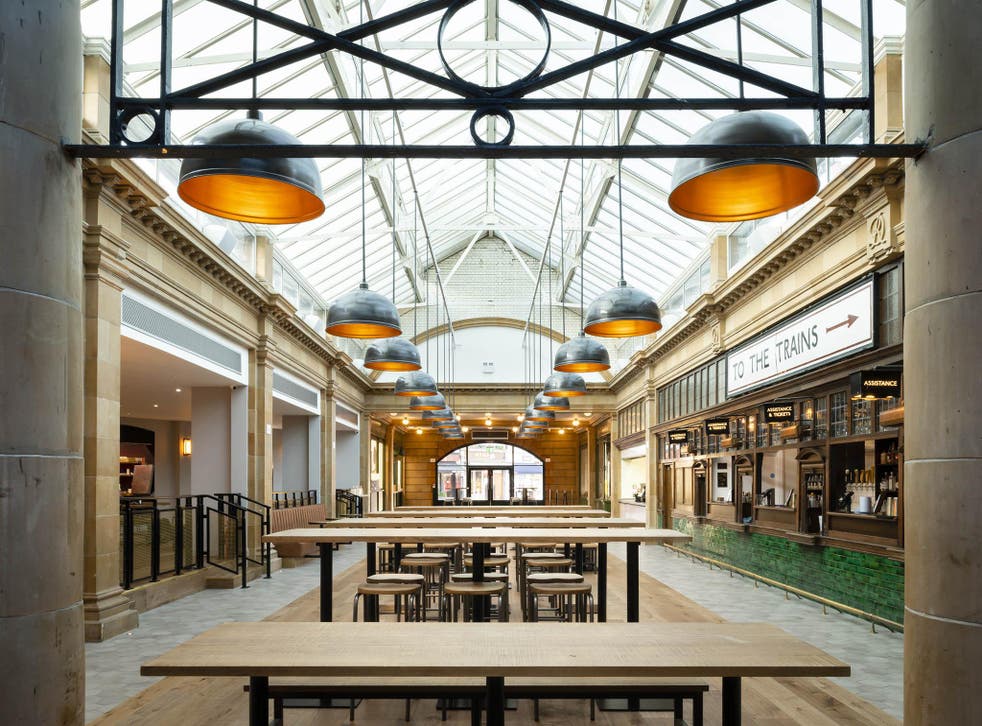 It hasn't been a good year for high street chain restaurants. Since January, 12 out of 37 branches of Jamie's Italian closed and it's been declared that 20 Byron restaurants are at risk, 30 Carluccio's will close, and Prezzo is to close 94 branches. It sounds like the death of the middle market restaurants.
But it's not that we've gone off our food; it's the way that we like to eat out that's changing.
Now it's about independent restaurants, plenty of choice, high quality, worldly influences and street food-style eating. All of this is injecting new life into our high streets in the form of food halls. But not as you might know them: they're grownup spaces, with hand-picked vendors serving up a variety of different foods and cuisines that are the best in their game. Reflecting this, there are 16 market food halls scheduled to open in London alone, according to property agents Cushman & Wakefield.
We spend more on food and leisure than we do on any other vice, including drinking or smoking. On average, we eat out twice a week and spend £45 weekly on restaurants and hotels, according to ONS stats. Our disposable income is the highest it's been in five years. But what we want is changing as we value experiences over material goods. And food comes in high on that experience list.
In west London, the Edwardian Walham Green ticket hall in Fulham Broadway is the first of three buildings to be given the Market Hall treatment. Headed by property investors and restaurateurs, Market Halls reclaims historic architecture. It's brought the Grade II listed building in Fulham back to life, retaining the former ticket office and many of its original features.
Following the Fulham site, two more will follow in Victoria, where the infamous Pacha club once was before closing in 2014, and Oxford Street, in the former BHS building.
Inside the first site is 10 kitchens, including Butchies barbecue, Yard Sale pizza and a bar with central seating that caters for up to 180, and that's the smallest of the three.
The duo behind Market Halls is Andy Lewis-Pratt, a retail investor, and Simon Anderson who brought us Pitt Cue Co, which began life as a food truck along London's Southbank and turned into a bricks and mortar site in Soho.
Although they're aware food halls are nothing new, they're bringing together regeneration and a variety of places to eat under one roof. "We made a shortlist of restaurants we wanted, with a pizza place, a meat focused restaurant and an Indian etc, and then whittled them down and got in touch. Most people were really receptive, as it gave them a chance to open in west London," says Anderson.
The setup is essentially a gravitational move for the street food eateries in east London which might not be able to afford the pricier rents in the west. "People are fighting for space in east London, but here there's nothing else like it," he adds.
The street food areas in the east of the capital, such as Dinerama, Street Feast and Kerb, have a more takeaway feel with their single-use plates and cutlery. But at Market Halls, there's a much stronger sense of feeling like you're at a restaurant – albeit one where you order food at each counter and receive a buzzer to collect it. They're sustainability-conscious and use proper plates and metal cutlery, and there's a dedicated team to clear up.
Down the road in Hammersmith is Eat17's fifth outpost, set up by stepbrothers James and Chris, who started out in 2006 with a restaurant in east London. But each of their shops are different; here they've created a convenience store and a mini food hall, selling everything from their own-brand produce (from coffee beans to bacon jam) to "everyday products" like cornflakes and basic brands as well as their refillable stations you take your own Tupperware to fill up. There's three street food pop-ups: Pizza Project, Knowing Meat Knowing You, and Empress Market Pakistan Kitchen, which all sell food under £10 that you can eat on inside or outside tables, along with a bar and cafe.
But the best is yet to come. In 2020, London is expecting the debut arrival of it's biggest food hall so far: Eataly, set up by Oscar Farinetti, which has been branded a foodie theme park. At the moment, sites are in 12 countries including Japan, Seoul, Moscow, Istanbul and of course Italy (Torino was the first in 2007). The NYC outpost has become a go-to destination for tourists. For them, it's all about high quality produce, where you can "eat, shop and learn" all things Italian (there's even masterclasses available).
On the continent, Time Out turned another neglected market hall, in Lisbon, into the world's first food and cultural market back in 2014. It's essentially the living form of the world-renowned magazine and city guide. Last year, 3.6 million people visited it, and enjoyed its 32 restaurants and eight bars and cafes, and attended workshops at the Chef's Academy and Time Out Studio.
Back in the UK (and outside of the capital) is Altrincham Market, in Greater Manchester. Behind it are Nick Johnson, local and former deputy chief executive of regeneration company Urban Splash, and business partner Jenny Thompson. Together they're credited with regenerating the area, and in doing so became pioneers of the food hall concept in Britain. The communal dining space (seating 250) is home to five kitchens, a coffee shop, a chocolatier, a wine shop and craft beer bar (even the washing up is communal and shared, which also keeps costs down).
Johnson says his idea was born after he spent years regenerating other communities but hadn't done anything to his hometown. As an original market town since 1290, Altrincham had some of the highest vacancy rates in the country, so the pair decided it needed to be turned into a "modern market town".
Their alternative approach to regeneration, which says food and drink should never be the afterthought when sprucing up an area, meant they changed places cost effectively and by "hand picking talented independent businesses and not investing in vanity real estate".
Now it's "one of the best places to live and a big reason is the Market House which brings good quality food to a variety of people, in an informal environment which has a wide appeal" says Johnson.
Its second site is Manchester's Mackie Mayor food hall that seats twice as many; opened in 2016 in a former meat market, with a 180-seater hall, six kitchens – from Korean steamed buns to sourdough pizza – coffee shops, bakery, wine shop and craft beer bar. Between the two sites 25,000 people are fed per week. And the success seems to be growing as a third site from the same team is due to open in Macclesfield in 2019.
We'll still be eating on the high street, technically, but at least no one will be arguing about whether to have pizza, Thai or sushi when we do so. The choice is ours as we welcome in a new wave of independent businesses that will benefit from our cash. We're moving on to better things.
Register for free to continue reading
Registration is a free and easy way to support our truly independent journalism
By registering, you will also enjoy limited access to Premium articles, exclusive newsletters, commenting, and virtual events with our leading journalists
Already have an account? sign in
Register for free to continue reading
Registration is a free and easy way to support our truly independent journalism
By registering, you will also enjoy limited access to Premium articles, exclusive newsletters, commenting, and virtual events with our leading journalists
Already have an account? sign in
Join our new commenting forum
Join thought-provoking conversations, follow other Independent readers and see their replies