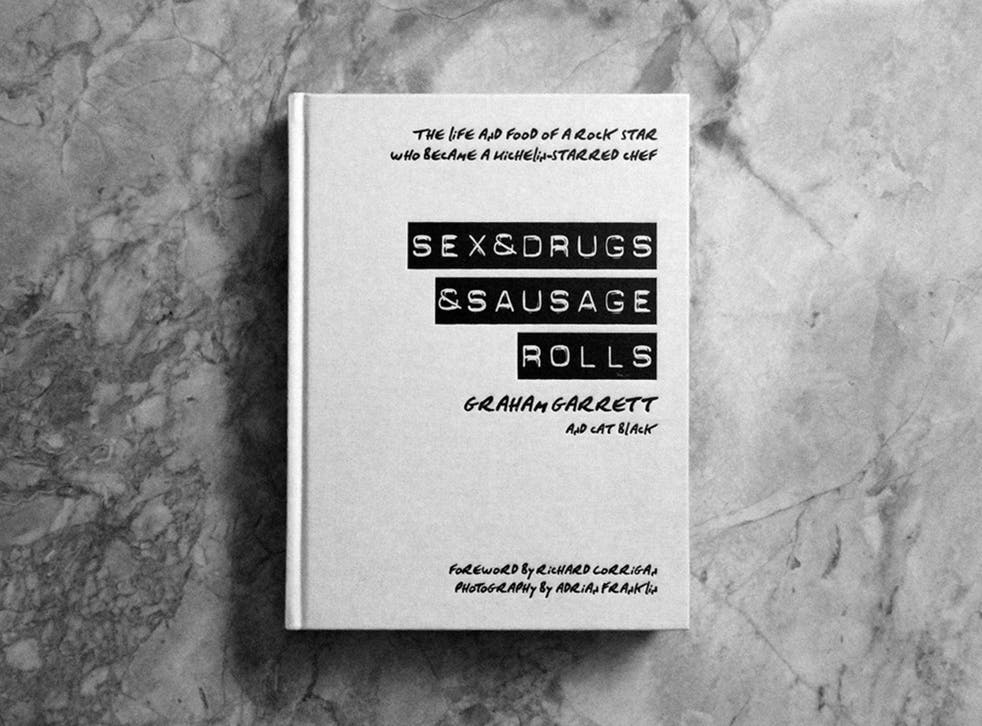 Book review: 'Sex and Drugs and Sausage Rolls' by Graham Garrett
Part memoir, part cookery book, the drummer-turned-chef charts his background in the music industry and the journey to his first Michelin star, with recipes for his signature dishes
Eliot Collins
Friday 03 March 2017 18:14 Comments
The first time I met Graham Garrett he described to me one of his favourite food and travel experiences. It was a well-trodden journey to a cider house in San Sebastián where a large group of hungry gastronomes were handed a mug, perfectly shaped for lapping up a newly cracked barrel of local cider. Alongside the fresh apply booze was a locally hunted hog, spit-roasted and shared among friends like a ye olde post-hunt celebration.
I haven't had the chance to follow in his footsteps but it's on the bucket list. I think this demonstrates a beautiful common trait in all great chefs: a passion for food that is social, cultural, meaningful and adored. Garrett is in a position to share these stories another time in another book (hopefully) but for now these tales are of the world of music.
It's not often you come across a book that combines the hard graft and delectable recipes of a Michelin-starred chef with the anecdotes and stories of a rock'n'roll lifestyle.
Sex and Drugs and Sausage Rolls is a highly unique read. When Garrett was bashing the skins of his toms-toms with glam rock band Dumb Blondes, Panache and Ya Ya back in the 1980s, I was just starting to eat solids. Reading his account of this decade with a musical lens really provides a perspective I can appreciate and be somewhat envious of.
So why the transition from drumsticks to Thermomix? Well, while all good things must come to an end it doesn't mean good things of a different kind can't begin.
If we just focus on the food for a second, Garrett demonstrates an understanding of the importance of simple, true flavours, with basic methods and recipes for homemade butter, buttermilk and dripping.
A set of household staples from many moons ago, these three addictive ingredients are now fashionable again as we adopt the "backwards is the new forward" approach to food. Indeed, just as nostalgic are humble recipes for cakes with ginger, banana and almond and his stunning treacle tart.
Garrett also gives readers an interpretation of British classics with an element of finesse in "eat off the page" recipes for sausage rolls with foie gras, smoked haddock salad and Eccles cake.
There is something for all eager cooks, with more than 50 recipes ranging from sweet and savoury snacks to full-on indulgent dinners. My favourites are the spiced mackerel kebab, lamb bacon, sweetbread, peas and roast suckling pig.
Influenced by Britain, the Mediterranean, Japan and beyond, Graham demonstrates his passion for great flavours that are big, bold, subtle, humble and elegant.
I'm not sure if his hands are more cut up from the dozens of fills he made holding on to a splintering pair of Vic Firths, or de-boning game birds with a razor sharp Sabatier under the watchful eye of Nico Ladenis. Either way, this modest artist who is now 13 years into cooking Michelin-starred food as the chef and owner of The West House in Kent deserves a pat on the back for this highly engaging and well-selected tome.
Visit greatbritishchefs.com for more cookery book reviews.
Register for free to continue reading
Registration is a free and easy way to support our truly independent journalism
By registering, you will also enjoy limited access to Premium articles, exclusive newsletters, commenting, and virtual events with our leading journalists
Already have an account? sign in
Join our new commenting forum
Join thought-provoking conversations, follow other Independent readers and see their replies