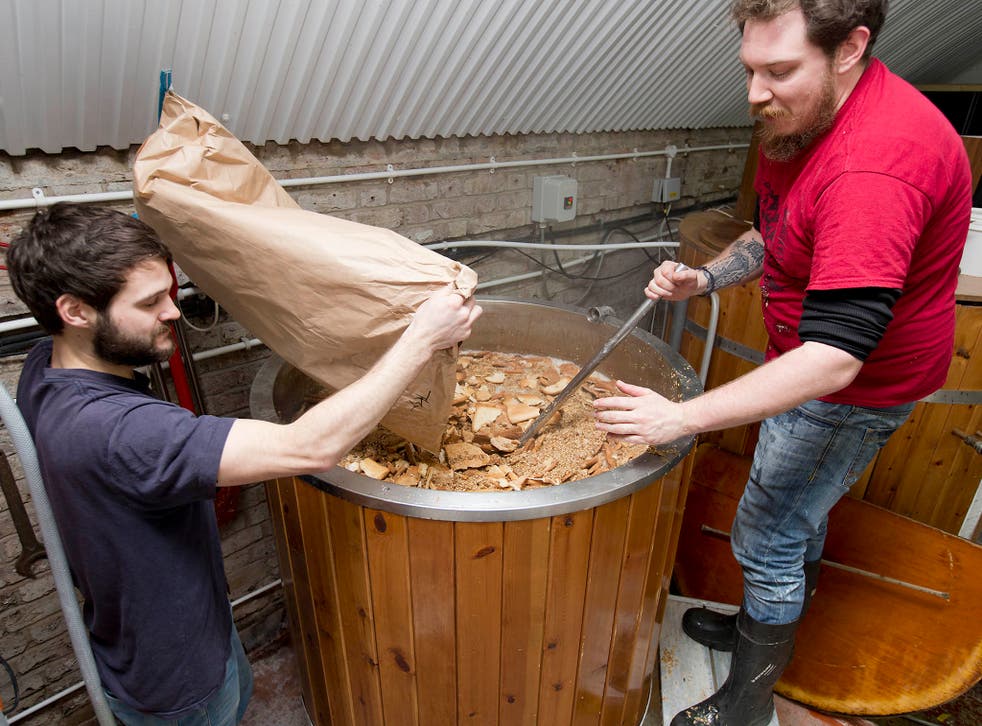 Food waste revolution: Turn trash into treasure and save the environment at the same time
A staggering 1.3 billion tonnes of food waste is thrown away across the world each year. Lizzie Rivera finds how food waste is undergoing one of the biggest revolutions where left over bread is renewed as beer, coffee grounds are turned into fuel and citrus peel is being spun into clothing
The world of food is undergoing yet another revolution and it's a lot of bigger than matcha tea or unicorn toast – though your Instagram feed might suggest otherwise.
Inspired by the staggering statistic that a third of food produced across the world goes to waste, innovative food-conscious entrepreneurs are finding new ways of reaping the full benefits of what we sow.
This means the most innovative food developments are happening outside of the kitchen – with used coffee grounds being transformed into fuel, pineapple leaves into vegan-leather and bread into beer.
Trash to treasure
In the UK, up to 40 per cent of fruit and vegetables are rejected before they even make it to the supermarket, largely because of cosmetic reasons. But companies such as ChicP, Snact and Rubies in the Rubble are turning this so-called "wonky" fruit and veg into tasty hummus, crisps and relish.
A mammoth 46 million slices of bread are also thrown away in the every year, so Toast Ale has teamed up with bakeries and sandwich producers to use their leftovers to brew craft beer (for its yeast producing properties – it doesn't affect the taste), with all profits going to food waste charity Feedback.
"Our bigger objective is to get rid of food waste globally, so there isn't surplus in the supply chain," says Toast Ale's chief brand and finance officer, Louisa Ziane. "It should be used to feed people. Producing great quality beer is a way to highlight an important issue in a fun way."
Toast Ale have global ambitions, they have just launched in the US and are setting up franchises in Iceland and South Africa, too.
Orange is the new silk
Across the globe, textiles manufacturers are also getting a different food waste issue all sewn up – the by-products of food production. Piñatex is a strong and flexible leather-like material being created from pineapple leaf fibres in the Philippines, by the UK-based Ananas-Anam, and used to make everything from shoes to furniture.
In Italy, Orange Fiber is spinning some of the one million tonnes of citrus peel discarded every year into a soft and shiny silk-like material. It claims to retain Vitamin C to nourish the skin for up to 20 washes.
Meanwhile, UK-based Starseeds are mixing used coffee grounds with recycled polyester to create yoga garments that are said to draw moisture away from the body and absorb odour.
As well as being stylish and functional these natural materials are intrinsically sustainable as they are by-products of existing industries and don't require any extra farmland, water, fertilisers or pesticides to produce.
Liquid assets
Just three years ago, architecture student Arthur Kay also recognised the potential of used coffee grounds as a fuel resource while working on a coffee shop project at UCL.
In an incredible story of entrepreneurship, he completed his studies and founded Bio-Bean, which now recycles one in 10 cups of coffee drunk in the UK - or 50,000 tonnes of waste coffee - at its Cambridgeshire production plant.
The wet coffee grounds are effectively sieved, dried and compressed into carbon-neutral solid biofuels used to heat homes and hospitals. In a separate process that is still being developed, oil is extracted from the coffee grounds to create biochemicals for industry, and biodiesel, which has the potential to fuel cars and buses.
"When we first started I wasn't clear on was how good coffee would be as a fuel source," says Kay, 26. "The most extraordinary thing is as solid biomass pellet or coffee log, it works better than conventional fuels, such as wood. Now that the oil content can be converted too, it gives a double-benefit. You couldn't choose a better feedstock in some ways."
Whisky is also a previously untapped resource in terms of fuel. In Scotland they create two billion bottles of whisky a year, and the production process only creates 10 per cent whisky – resulting in around 500,000 tonnes of waste draff and 1.6 million tonnes of pot ale.
For the past 10 years Celtic Renewables, based at the Edinburgh Napier University, have been perfecting the process of turning this by-product into the biofuel biobutanol, with the aim of blending this with petrol for use in cars to help lower carbon emissions. It can also be converted into ethanol, which is used to create plastics, and the left over solid material for animal feed.
"It's multi-dimensional, we try not to have anything coming out that we can't reuse," says founder Professor Martin Tangney. "It's not about being primary producers but about adding sustainability to existing industries."
The sweetener
According to Professor Paul Dupree from the University of Cambridge, globally the biggest biofuel potential comes from the by-products of crops such as straw and sugarcane.
In Brazil, about 40 per cent of vehicles are already powered by the juice from sugar cane that has been converted into fuel rather than edible sugar.
But once the juice has been squeezed out of the cane, the remaining fibre - 'bagasse' - can also be converted into fuel in a process that extracts the sugars from food and converts it to ethanol. This increases each crop's biofuel potential by around 50 per cent.
Creating biofuels from the residues of farming is reported to reduce CO2 output between 50-80 per cent compared with petrol.
With the technology largely developed already, the barriers of taking this to scale are now financial, rather than technical. The drop in oil prices creates little motivation for consumers to switch to more eco-friendly, but more expensive, biofuels and therefore little incentive for bioenergy companies to invest in processing plants that cost hundreds of millions of pounds to build.
Growing crops especially for bioenergy can also be a contentious issue because of the potential problems of displacing crops that could be used for food - not to mention the extra emissions created through land clearance and cultivation.
It's almost certain to change the economics of farming. "There is the potential for extra income for farmers; in Africa, for example, the bagasse is mostly just left to rot," says professor Dupree. "These developments could also make it viable to farm a crop by selling both the residue and the food component in places it might not be beneficial just to farm and just sell the grain for food."
Diminishing raw materials, climate change, and staggering food waste are forcing us to rethink how we consume and scientists, entrepreneurs and campaigners are rising to the challenge in a truly inspirational way. We no longer live in a world where food is simply what we eat. Used coffee grounds heat schools, sugar powers cars, shoes are made from discarded pineapple leaves and excess bread is turned into beer.
Waste not, want not has never rung so true.
Lizzie Rivera is the author of ethical lifestyle website bicbim.co.uk
Two super simple recipes to use up food waste:
Veg peel chips by Rubies in the rubble
This is a super simple recipe and is a fantastic way to make the most of your veg. Whether you're making vegetable soup or mashed potato, think twice before binning the peel. Instead, pop them in the oven to make delicious crisps – perfect as a side dish or as a nibble with a glass of wine.
We made our veg peel crisps with carrots, parsnips and potatoes – a most satisfactory threesome. Beetroot would also make a nice addition
Olive oil
Seasonings (i.e. salt, pepper, cumin and a dusting of chilli powder)
Preheat the oven to 200°C. Put the peels in a large baking tray and drizzle with olive oil and seasonings: we recommend salt, pepper, cumin and a dusting of chilli powder.
Toss the tray to ensure an even spread of the seasoning. Roast for 15 to 20 minutes : Stir halfway through roasting, and remove them once they're done to your liking. Once the peels are cool enough to eat, devour without delay
Fresh green dip by Chicp
The fresh green dip (depending on how fresh your herbs/green veg were) should last about 6 days in the fridge if you add enough lemon juice and olive oil.
100g Any greens left in your cupboard: Spinach, herbs, broccoli…
​100g Any pulse you would like to use up: Chickpeas, lentils, quinoa
Juice of ½ lemon
1 tbsp Tahini
½ garlic clove
1 tbsp Olive Oil
Salt and pepper to taste
Blend the raw (if they're already cooked, this is also fine) green vegetables and herbs in a blender until finely cut. Add the cooked pulses followed by rest of the ingredients. Blend until smooth.
If the consistency is too thick, add a tbsp of cold water and a little more lemon juice.
Join our new commenting forum
Join thought-provoking conversations, follow other Independent readers and see their replies