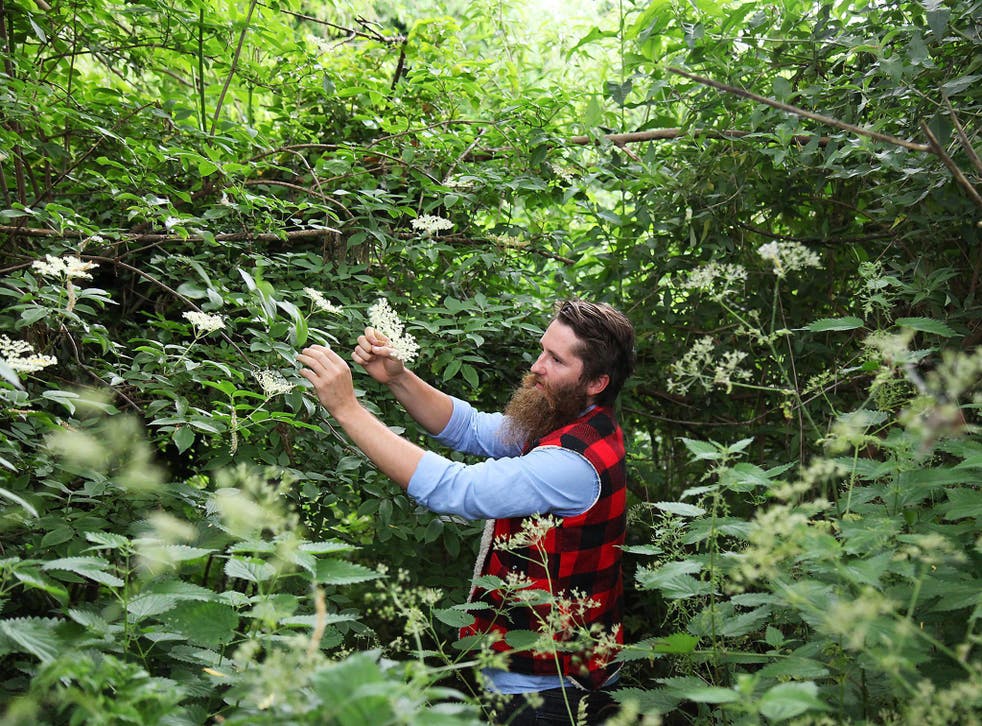 Beauty and the feast
Fancy giving squirrels a run for their hazelnuts? In miles and miles of country you can forage for groceries that are hard to come by in supermarket aisles – and the wonders extend into cities too
On glorious spring days, such as we've had over the past week, there are few places better to be than the wild and beautiful great British outdoors. The countryside is in bloom and ripe for the picking, offering up fresh flavours and unique textures from field, or park, or beachfront, to plate. We are amid a wild-foods resurgence, our interest for foraged plants and herbs piqued by world-famous restaurants such as Copenhagen's Noma – and celebrity chefs like Hugh Fearnley-Whittingstall – which have long promoted the virtues of locally sourced, uncultivated ingredients.
"Seven years ago, people would look at me weirdly and ask what I was doing. Now people stop to ask what ingredient I'm picking," says Wross Lawrence who forages full-time in East Sussex between March and October supplying organic food delivery service Abel & Cole. The East Sussex coastline is great for samphire; sea purslane, which "tastes like the sea" and is good for making a pesto for cod; and sea aster, a huge, tough, salty blade of grass that Wross wraps in a tempura batter and cooks with Indian-style spices. His work naturally lends him to become an experimental cook – seaweed butter is his favourite creation to date – and he has a book in the pipeline.
Our willingness to forage and cook with new ingredients is spurred on by the joy of discovering new tastes and our desire to understand where food comes from. Ingredients don't come much more organic – or sustainable. Wild foods are also said to be good for your health, easing digestion and heartburn. Wross is taking children with liver disease foraging this summer to help them select plants that could help with their condition, as part of a Duke of Edinburgh's Award project. "It's what the body was used to eating for thousands of years before farming," he says. "There's nutrients in foraged food that you don't get in cultivated food."
Matthew Pennington, co-founder of renowned Bristol restaurant The Ethicurean, set in the magical Barley Wood Walled Garden, believes the rise of foraging is also linked to people placing increasing importance on experiences over material possessions. The restaurant aims to put at least one foraged garnish on each meal, to arouse guests' interest. "A lot of what we do is to try to help people understand the process behind food production," he says. "Guests commonly say 'I had no idea you can eat that – it's all over my garden and I thought it was weeds'. "
Thanks to their curiosity in uncultivated cuisine, The Ethicurean's modern British fare is often compared with Scandinavian culture and restaurants, where foraging is commonplace. Scandi style currently has a big influence on British food and design, and if Noma founder René Redzepi's latest interest takes off, foraged insects could soon become a feature of sustainable-focused restaurants.
Redzepi also founded Danish not-for-profit Nordic Food Lab which has just published On Eating Insects, a surprisingly beautiful book of "essays stories and recipes" exploring the economic and nutritional benefits of global insect gastronomy – including building termite traps and digging for witchetty grubs.
Foraging in the city
For now though, rooted in the British landscape, foraging remains largely plant-based. It seems better suited to the country, but there is an abundance of wild foods ripe for the picking in cities, too – if you know where to search and what to look for.
I arrange to meet cook and food writer Rosie Birkett and forager John Cook at Walthamstow Marshes in east London at 7am, before work one morning. John "the Poacher", as he is known, forages all over the city for chefs, chocolate-, cheese-, and gin-makers. He likes to operate a barter system – giant sage leaves in exchange for a few beers on someone else's tab, or wild garlic for cheese. John navigates London unlike anyone I know, and as we walk and talk I realise how connected the city is to nature. "Foraging becomes a compulsion, " he says. "I've been on the top deck of a bus, seen a mushroom ring on an estate and just had to get off. I was late to the pub, but arrived bearing gifts. "
For Rosie, wild ingredients root her cooking to seasonality. She says: "Hedgerow cookery is nothing new. I grew up foraging but we didn't call it that – we just went picking for dead nettles and mushrooms.
"Flavours are much more pronounced when ingredients have just been picked. I don't have a garden so I can't grow food in London – to get that freshness is amazing. "
With great comedic timing, Rosie points this out just as John's lurcher, Woody, cocks his leg on the nettles. But in John's opinion a little sprinkle is nothing compared to the pesticides that are sprayed on some commercially produced fruit and veg, and it can be easily rinsed off. It goes without saying that you need to take gloves if you plan to collect nettles.
Pick them at the point where it naturally snaps off – similar to asparagus – to get the best flavours. Once washed, blanch the nettles to remove the sting, and revive them in iced water to make a peppery addition to a salad; or use them for a nettle and potato soup, or to make nettle beer. John seems to have the ability to turn a lot of ingredients into beer. The marshes, I quickly realise, are a goldmine. John points out dandelion which is great for is a wild salad; hogweed that's lovely fried in butter (don't touch giant hogweed which burns your skin and makes it permanently sun sensitive, though), and bright yellow gorse flower that adds a nice touch of colour to most dishes – its coconut-y flavour works well in ice cream, too.
He plays an admittedly funny trick by giving me a large chunk of strong horseradish root to taste. You can use the leaves in salad and grate the root into crème fraiche, to serve with beef or salmon. In summer you can even compete with squirrels for hazelnuts. And don't miss the opportunity to collect fragrant elderflower to create cordials and infuse oils, from May. Pick the heads on a sunny day when the pollen is high – and don't wash them because the pollen is where the flavour is. The blackberry bushes seem to stretch for miles. "There's a lot of competition for blackberries and lots of people pick them when they are tart so you don't get to have them when they are sweet in late summer, " says John. But, of course, he knows how to find the hidden ones.
Foraging etiquette
There's more than enough for everybody to share as long as you take care to not deplete the stocks – just take what you need and it will be there again next year. When picking wild garlic, a current seasonal favourite, take the stem and leaves from the middle of the patch – and never the root – to allow it to spread. The flavour is beautifully strong when eaten raw but mellows out if you cook it, which brings out its natural sweetness. Basic advice for novice foragers is to stay away from mushrooms and anything that resembles parsley as an untrained eye could pick a poisonous variety; a drink made from hemlock is the reported method of execution of Socrates. But, as John says, "you'll only kill yourself the once. "
My final piece of advice would be to try to go a little further back from the path, out of the reach of dogs, wherever possible.
'The Ethicurean Cookbook' (2013) is available on Amazon priced £21.
Click for River Cottage in Devon and Robin Harford in York.
Click here for Silo in Brighton, The Ethicurean in Brighton and Native in London.

​Lizzie is founder of ethical lifestyle website bicbim.co.uk
Join our new commenting forum
Join thought-provoking conversations, follow other Independent readers and see their replies