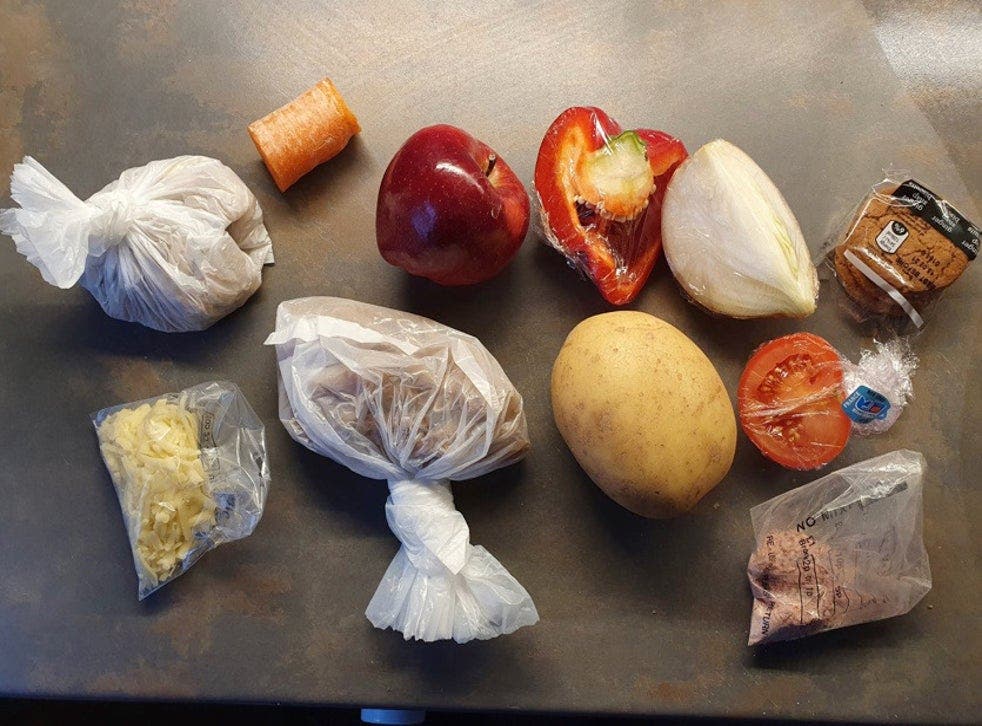 Free school meals: How you can help children in need
Images of inadequate free school meal boxes have gone viral
Hayley Spencer
Wednesday 13 January 2021 11:05 Comments
Free school meal parcels provided by the government have caused uproar this week, after numerous parents shared images of "unacceptable" offerings sent to feed their children.
Footballer Marcus Rashford shared images some parents had tweeted of food parcels distributed to feed children while schools are closed during lockdown.
Boxes of food, labelled as "hampers", were sent to families in some areas instead of £30 vouchers to spend on food, but images of the contents showed supplies that were worth far less.
One parent tweeted an image of the contents of her box, which contained just three apples, two carrots, two bananas, two potatoes, a single tomato, a loaf of bread, three Frubes, cheese slices, a small bag of pasta, a tin of baked beans and two small malt loaf bars.
The government has since said that the boxes are "completely unacceptable" and education minister Vicky Ford told executives at food box supply firm Chartwells, owned by Compass Group, that families should not be offered packages of the standard seen in the viral images.
If you're concerned about children experiencing food poverty during lockdown, there are things you can do to help.
FareShare
Last year, Rashford called for the public to donate to FareShare after starting a partnership with the food redistribution charity in March, when the coronavirus pandemic saw demand for food from people living in poverty surge.
FareShare is a national UK charity who collect surplus "fit for purpose" products from the food and drink industry and deliver it to organisations working with disadvantaged people (including breakfast and after-school clubs).
Ahead of volunteering with the charity in October, the Manchester United striker tweeted: "The food banks are in for a very tough Winter. Most are currently distributing 6 food packages per min and we are only in Oct."
Donate to the charity here.
Feeding Britain
As part of its mission to ensure no one in Britain goes hungry, Feeding Britain has partnerships in 16 areas in the UK. Its Holiday Food and Fun Clubs are currently in operation in 11 areas to provide community for families in need and somewhere for kids to play, learn and get a healthy meal during school holidays.
It states that three million children in the UK are at the risk of going hungry during the holidays and that 19 percent of children under 15 live with someone who is food insecure.
Donate to the charity here.
Help The Hungry
Last year, The Independent's Help the Hungry appeal aided the provision of free meals to children with help from volunteers at pop-up food banks in schools and via holiday clubs.
Our appeal partner, The Felix Project is London's largest food redistribution programme, rescuing surplus food from the food industry and delivering it to over 350 frontline charities and schools.
Find out how to donate food or funds and get ideas for fundraising for The Felix Project here.
Kitchen Social
In the Capital, Kitchen Social is a Mayor's Fund for London programme and the largest provider of food for children during the school holidays.
During the pandemic, it has coordinated community organisations and other food charities to ensure food and supplies get to the children and families who need it most.
The organisations provide packed lunches, hot food for collection and deliver fresh fruit and vegetable boxes to struggling families.
Donate to the charity here.
A Plate For London
Founded by Street Feast organiser Dominic Cools-Lartigue, A Plate For London aims to feed Londoners in need.
During the Easter holidays last year, the organisation partnered with eight food hubs to feed 12,000 people in Tower Hamlets and are now working with more councils across London to ensure families have access to the nutritious meals.
They also deliver meals to families with recipe cards so that they can replicate the meals their chefs create and provide hot meals to charities like Children with Voices.
Donate to the charity here and find out about how you can volunteer to get meals to children in need here.
The Trussell Trust
If you're not sure how to locate your local food bank to make a donation, you can find one via The Trussell Trust who support a nationwide network in order to provide emergency support.
Recommended donations to be added to food parcels include soup, pasta, UHT milk, tinned tomatoes and fruit.
You can also find collection points for food banks at many local supermarkets including Waitrose.
Register for free to continue reading
Registration is a free and easy way to support our truly independent journalism
By registering, you will also enjoy limited access to Premium articles, exclusive newsletters, commenting, and virtual events with our leading journalists
Already have an account? sign in
Join our new commenting forum
Join thought-provoking conversations, follow other Independent readers and see their replies