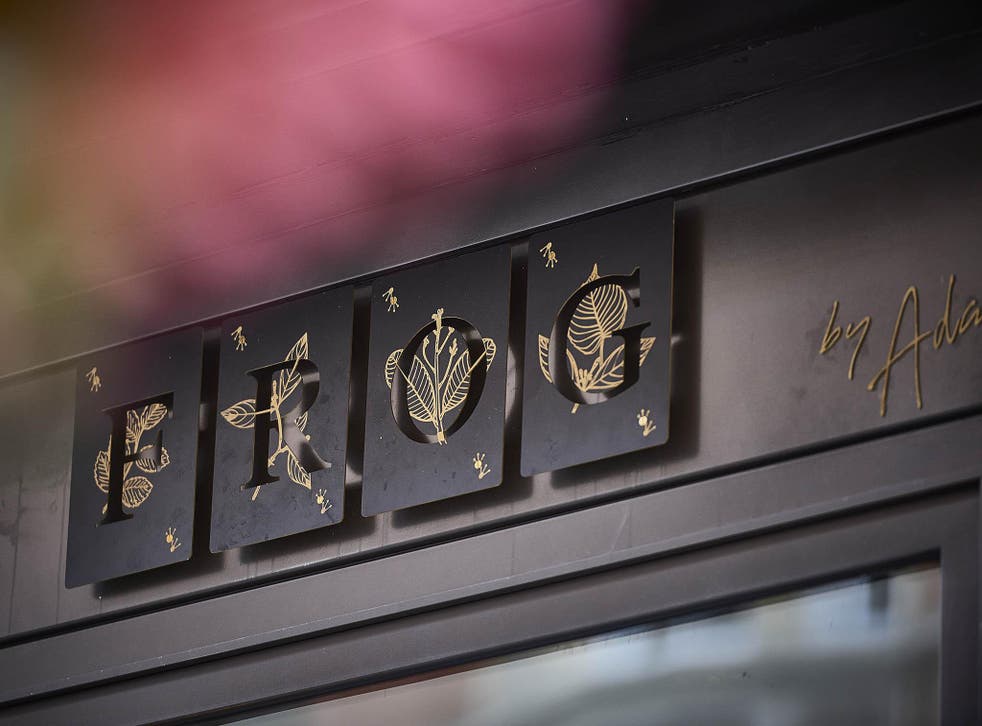 Frog by Adam Handling restaurant review: This joint has legs
Adam Handling of 'MasterChef: The Professionals' fame opens his second outpost with ambitious food and innovative cocktail drink pairings to match
Emma Henderson
Friday 06 October 2017 18:17 Comments
If you won – or became a runner-up – of MasterChef, The Great British Bake Off or anything else food-related on TV then you're more than likely to end up with a cookbook deal, open your own restaurant, design a cookware range, or at the less desirable end of the scale, be the "name" at a food and drink event somewhere around the country.
It's almost a rite of passage; one directly leading to the other. No longer do people just go back to their before-fame lives of cooking the evening meals for their families, or using friends as guinea pigs. It's an American-dream-style format, using these shows as a springboard to really begin a cooking career. And how can we blame them, it's entertainment for us and a new beginning for a former J Bloggs. Some turn into household names in a culinary rag-to-riches story. Undeniably, we love it.
As with TV talent contests, it's often the runner-ups that end up doing best. That was the case for Adam Handling in both MasterChef: The Professionals in 2013 and the British Culinary Federation's Chef of the Year awards in 2014. Coming from a hotel dining background (beginning at just 16 at Gleneagles) it's not a bad going.
This is not his first venture but his second (all managed at the ripe old age of 29) following the original Frog (now known as The Frog E1) in east London's Spitalfields. Now the frog has leaped further west to Covent Garden. Despite its rather outlandish name, you'd easily walk past it as the black lettering of the sign is cloaked by the evening light and it fails to stand out from the rest of the black sign.
The mark two is slightly more polished than its predecessor in east London. The seats are beautifully formed and look more like they're from a design show. An open-plan kitchen has a marble-effect bar running along its entirety and copper ceiling lamps that act as the heated pass. The kitchen looks calm and collected at all times – which it needs to be really if people are going to sit directly on it. Downstairs is a speakeasy-type bar and private dining room.
The interior is pared down and lacks enough soft furnishings for any pleasant acoustics, where instead of muted conversation it's shouty and at first feels a little stiff until more people soften it up.
Known for the touch of Asian woven into his modern British food, Handling has moved away slightly from this, and now there's only a slight hint of Asian flavours in a handful of dishes. But what he has continued is using the finest ingredients from truffles to lobster and caviar.
The menu is a choice of three; a la carte (with a compact four choices of each course) and two tasting menus – either a five or an eight course. But what's really interesting is the cocktail tasting to accompany the courses, as well as a non-alcoholic cocktail too, so drivers and non-drinkers can join in. It's a wonder that this isn't done more often.
Each dish comes on a beautiful handcrafted-looking dish – thankfully all resembling plates, as the trend for serving food on anything but a plate pleasantly dissipates. As well as the five courses, there are intricately designed "snacks" that are essentially canapés, including razor clams with apple and hazelnut that are awkwardly served on the actual razor which are impossible to eat with any ounce of finesse (the sommelier suggests using my other hand to push the food down). Despite that, they are worth the embarrassing movements but the addition of the dry ice seems a little outdated – and unnecessary. Next comes the famous chicken-flavoured butter with sourdough – a revamped version has the addition of crispy chicken skin pieces and topped with a small well of gravy.
Beginning the main event is the kingfish ceviche with jalapeño and avocado: it tastes of more of the pepper than anything else and would put off anyone who is not at home with such heat.
The standout dish is the celeriac, a favourite of Adam's mother, apparently. It's an amalgamation of textures from cream to crunch that's generously topped with truffle shavings. When I say generously, I mean it (the truffle is bigger than my hand). Underneath the thinly sliced celeriac is a runny duck egg, julienned apple, cream and sweet chewy date pieces – a combination that leaves me scraping my (beautifully handcrafted) plate in the hope that someone might take note and offer me seconds.
Next is the halibut, a skin-crisped piece that's light and incredibly fresh and has been lovingly cooked to retain its creaminess and topped with a little caviar. It's delectable and oddly (and disappointedly) left off the a la carte menu. The meat sits atop a lightly crusted square of lobster, while the chefs come over to hand-spoon the lobster sauce around it. It's extremely rich, and something citric to cut through it would be welcome.
Food and drink news

Show all 35
The second main is iberico pork but not as you know it: larger chunks that are merely seared and look more like lamb, bright pink all over and slightly browned edges, served with finely sliced blanched cauliflower and whole chunks of more charred cauliflower. It's accompanied by a lightly battered cylinder of Korean kimchi – salted vegetables.
For the final courses, there's a choice of a rather underwhelming blackberry sponge with cucumber and honey that's covered in white chunks of frozen honey (again by a chef at your table), or a dark chocolate mousse filled with raspberries with a vanilla cream to the side that's much more interesting.
From the plonk flight, none was more surprising than the Japanese dessert wine – a light pink fruity number that's reminiscent of Amaretto. There's an incredible number of staff on the floor and still the chefs serves most of the dishes, adding a sauce at the last minute or explaining a dish, which makes me wonder how they have time and how the kitchen is able to remain so calm and quiet.
It's complicated food – much more so than Adam's MasterChef days – that's incredibly rich, and despite the cost of the combined tasting course and wines, the bang is still worth the buck. It may be ambitious but Adam and his team have successfully made the second leap across the pond.
The 5 course tasting menus and accompanying wine flight for two is £220
Frog by Adam Handling, 34-38 Southampton Street, London WC2E 7HF; frogbyadamhandling.com​
Ambience ****
Service ****
Value ***
Register for free to continue reading
Registration is a free and easy way to support our truly independent journalism
By registering, you will also enjoy limited access to Premium articles, exclusive newsletters, commenting, and virtual events with our leading journalists
Already have an account? sign in
Register for free to continue reading
Registration is a free and easy way to support our truly independent journalism
By registering, you will also enjoy limited access to Premium articles, exclusive newsletters, commenting, and virtual events with our leading journalists
Already have an account? sign in
Join our new commenting forum
Join thought-provoking conversations, follow other Independent readers and see their replies