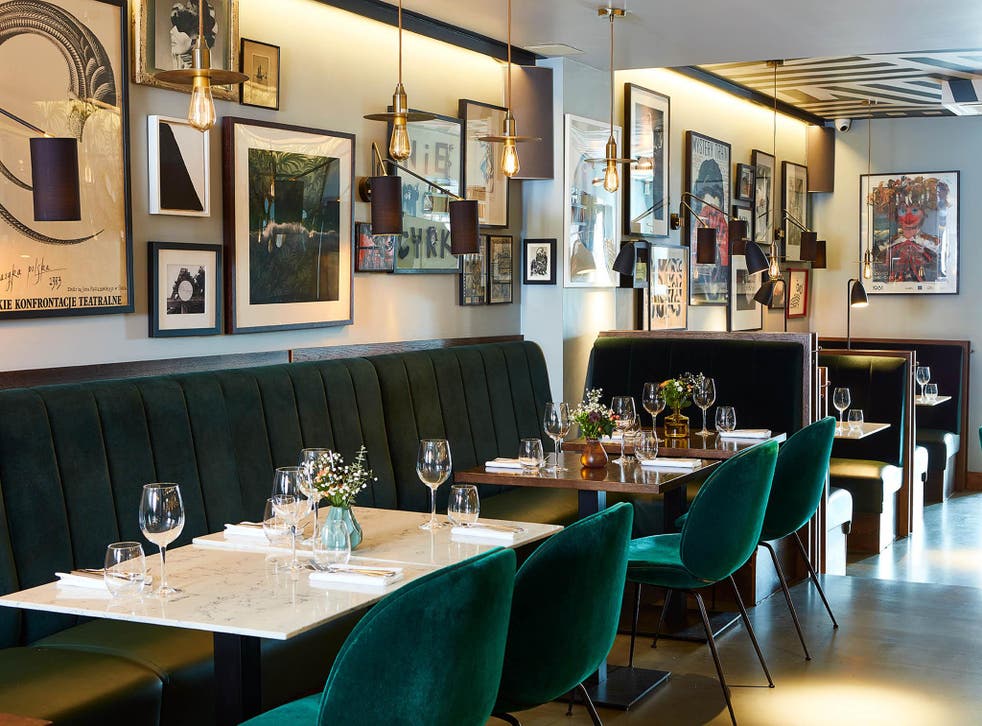 Brunch on Saturday: Galley review and Parma ham baked eggs recipe
This weekend, Ibrahim Salha finds a decadent seafood bottomless option and we mix Parma ham with baked eggs
Brunching out...
Apparently eating seafood for breakfast is as close as you can get to a healthy start to the day. Good for memory, building muscle and maintaining a healthy body, or so the thinking goes. Saying that, I imagine it's a dish of wholemeal toast with poached eggs and smoked mackerel which features on the healthier end of the spectrum, rather than crab and scrambled egg on buttery English muffins, swimming in a beautiful and silky chive hollandaise.
That was the pick of the dishes at Galley, a smart seafood-focused restaurant towards the Highbury end of Upper Street. The decor is evocative of a Manhattan bistro; it's the sort of place you'd take your parents if they were in town and were absolutely set on a bottomless brunch.
At £26 for one main plus unlimited prosecco, mimosas or bloody Mary's, it's pretty decent value, even when you consider the 90-minute time limit. Generous, given most restaurants around London are trying to turn tables at brunch.
Aside from the aforementioned crab and egg muffin, the winter chicken schnitzel was another pick: very well seasoned chicken that was improved – as most things are – by the addition of two fried eggs. You can also go in the direction of a fry-up, waffles two ways (topped with bacon and maple syrup, or a fruitier version that comes with a mixed berry compote), along with the requisite-at-brunch avocado toast. An a la carte menu is also available. Don't miss the tempura oysters, which come with a wonderfully rich tomato sauce that could tempt you to lick the shells, even though you're in a nice place. They even offer truffle and parmesan fries at brunch, which aren't as good as the outstanding version at Goodman, but then again they are half the price. Probably the pick of the sides over the hash brown, which was more like a latke and was slightly over-fried.
If you don't choose to have the bottomless brunch, for whatever reason, then you'll be either mortified or delighted to find that the Galley offers matcha and pumpkin lattes. I'm firmly in the delighted camp and this was a decent version. There's also a respectable range of teas and juices if you're sticking to soft drinks.
A decent neighbourhood option that feels nicer to dine in than most of its rivals in north London. Staff don't rush you, even if you're on the bottomless brunch time limit, and don't breathe down your neck to get you out while you're enjoying your eggs. It may not be entirely healthy, but there's no denying that a brunch at Galley is good for you.
105-106 Upper Street, Islington, London, N1 1QN, UK; 020 7684 2538; galleylondon.co.uk; open daily
Brunching in...
Herb-baked eggs with crispy Parma ham
Prep: 10 minutes
Cook: 20 minutes
Serves 4
83g pack Parma ham
½ tbsp unsalted butter, plus extra to grease
½ tbsp olive oil
50g fresh breadcrumbs
½ x 20g pack fresh dill, chopped 
½ x 25g pack fresh parsley, chopped, plus extra to serve
8 free range eggs
2 tbsp grated Parmigiano Reggiano
Preheat the oven to 200°C, gas mark 6. Arrange the Parma ham on a baking sheet and bake for 10 minutes until crisp. Remove from the oven and leave to cool.
Heat the butter with the oil in a large frying pan and gently fry the breadcrumbs until golden and crisp. Remove from the heat and set aside in a bowl to cool.
Generously butter 4 small shallow oven dishes, scatter with the herbs and torn crispy Parma ham, then crack 2 eggs into each dish. Scatter with the golden breadcrumbs followed by the Parmigiano Reggiano.
Cook in the preheated oven for 10 minutes until the eggs are just set. Serve with a scattering of parsley on top.
Join our new commenting forum
Join thought-provoking conversations, follow other Independent readers and see their replies