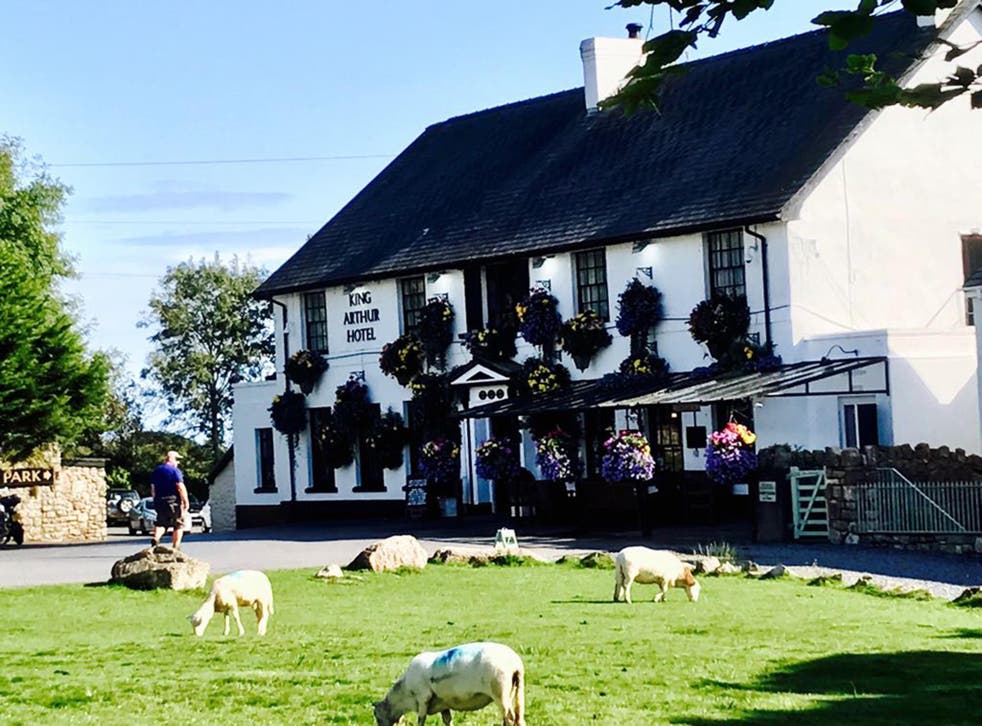 Road trip: Gastronomic delights of the Gower put Wales firmly on the foodie map
Victoria Digby and Linda Taylor head west along the M4 and discover that Wales, apart from all its natural beauty, has become the go-to place for fine cuisine
The swarthy bull pawed the ground and fixed its intimidating gaze on ... crikey ... on us. It's intriguing just how mesmerising the sight is of an aspirated Gower Black winding up for the charge. Mesmerising ... petrifying, even, until the revving of the new Mercedes E Class and a shake of the monster's head thankfully broke the spell.
I'm not ashamed to say we turned tail and ran without even looking to see whether it had bothered to follow.
It's not like Martin hadn't warned us: "Beware of flying sheep and grumpy Gower Blacks."
One of our helpful hosts at the Gower Peninsula's Fairyhill Hotel, he had dispensed this advice along with a wry smile and our gins: a Manchester violet (served on the rocks so as not to dilute its heady fragrance and flavour) and the extraordinarily smooth Robin of Locksley – just two of the 100 varieties available at this hotel.
We'd just driven from London – a 190-mile, four-hour journey – to the blissful, gentleness of bucolic west Wales, our shoulders dropping a little more with each mile. Feeling a bit like Thelma and Louise, we were worn out city girls in desperate need of clean air, adventure and fine food.
We spent a happy first afternoon exploring the small but perfectly formed seaside village of Mumbles in Swansea Bay. Full of local character and charm, Mumbles is home to handmade crafts, luxury boutiques, a Victorian pier and tempting coffee and ice-cream parlours. Ice cream from Joe's is essential.
It's about a 30-minute drive from Mumbles to the picturesque village of Reynoldston on North Gower, where sheep, and Friesland, Jersey and Gower cattle graze alongside Welsh ponies on common land. We stopped to allow unhurried sheep to muddle across the road. At the end of a dusty, winding lane and over a cattle grid, we came at last to the five-star Fairyhill Hotel. This was to be our glamorous home for the next three days.
Fairyhill is luxurious, more than 300 years old, and was bought and lovingly restored by one of the villagers, who still lives nearby. Blissful silence greeted us as we unfurled our rather weary, creased selves from the car. Set amid 24 acres of woodland and in a Grade II-listed building, Fairyhill has an AA 1-rosette restaurant.
The property offers eight en suite bedrooms and an additional two-bedroom cottage, which can accommodate up to six guests. In the grounds are a lake and a sprawling garden with moist, fern-carpeted woods beyond – and you can be forgiven for keeping half an eye out for fairies.
Fairyhill's guests can enjoy breakfast each morning, afternoon tea, and the on-site restaurant boasts bucket-loads of local produce, with an award-winning wine list and that extensive gin range. The restaurant is always booked solid and plans are afoot to extend the restaurant, allowing for 70 covers.
After a wander around the grounds, we were treated to canapés – deep-fried cockles from the Pembrokeshire coast and gem lettuce dipped in a spice mix – and a couple more gins from that list. An impressive supper came next, starting with an imaginative take on crispy duck, followed by chicken and chorizo gnocchi – and a few more gins: this time Death's Door, Steam Punk, and Brecon. Martin advises on the best mixers.
The next morning dawned bright and glorious. After a hearty breakfast of Welsh poached eggs, grilled mushrooms, grilled tomatoes and excellent, strong coffee, we were ready to explore. We headed for Rhossili Bay, which was voted the UK's number one beach, third best in Europe, and ninth best in the world, by TripAdvisor users. This year, the area was also voted top picnic spot in Britain. And it's easy to see why.
After a bracing walk and a trip across the causeway (please check the tides, the crossing can be dangerous), we'd worked up an appetite. We made our way to Oxwich Bay, and the award-wining Beach House for lunch. The restaurant has just been named best restaurant in Wales for 2018. The lapping and suck of the sea and shrieking gulls accompanied us as we savoured the six-course taster menu, prepared by head chef Hywel Griffith (see our five-minute interview with Hywel).
Highlights included the beetroot moose, pea soup, the best homemade lava bread I've ever eaten and a succulent blade of beef that still lingers in my mind and on my palette, followed by strawberry soup and sorbet pannacotta. The Beach House offers a great-value lunch menu (3 courses at £28), two tasting menus (£55 and £75), which include Brill, lobster, roe deer and Gower salt marsh lamb, plus a regular a la carte. The ham hock starter is to die as was the peach melba. Happily, the Beach House is open all year round and is definitely worth the trip.
After this extraordinary three-hour lunch, we began our next walk (eager to burn off those calories) in a setting to inspire Agatha Christie. If any director were hoping to do a remake of Evil Under the Sun, then this would surely be the place to do it.
We wandered on, hoping not to discover any bodies, across the golden beach, along Oxwich Bay – a gentler coastline than the limestone cliffs of Rhossili – towards a path leading into lush forest. Oxwich is a National Nature Reserve and an important habitat for local wildlife.
After all that food, and the cliff-top walk, we needed a nap, so back to Fairyhill. Supper time (yes, more food): that evening, we travelled east to the village of Southgate along the Pennard Cliffs, where we were rewarded with views across the succession of bays which make up the South Gower coast, including the famous Three Cliffs Bay.
We had supper at Y Clogwyn (The Cliff). Jamie Francis and his family have just opened the restaurant next door to their already successful café. Francis is committed to the sustainability of the Welsh environment and to supporting local businesses, and works with a chef who's also passionate about local food, and who regularly forages for wild ingredients for his dishes.
Waitress Amanda explains how they run the business as a collective, liaising with local salad growers at Cae Tan (a community supported agricultural initiative based in Ilston). The arancini starter with herbs and Cae Tan salad salad was superb and was followed by an equally pleasing main of chicken and puy lentils. After supper, we headed back to Fairyhill, eager to beach our bloated bodies, stuffed full of local Welsh produce.
On our third day, we were invited to lunch and a tour of 5 Cwmdonkin Drive, in Uplands, Swansea – the birthplace of poet and writer, Dylan Thomas. We were met by Geoff Haden – the man responsible for taking over the lease, and who restored the home to its original condition.
It was bought by the Thomas family in 1914, just a few months before Dylan was born in the front room. Geoff's friend Angela prepared a feast for lunch. The Victorian table was groaning with hams, chutneys, pickles and cockles, cooked as they would have been back in 1914. And desert was a splendid concoction of cream, local raspberries and local blackberries, without doubt the biggest I have ever seen.
Dylan's home is open every day for visits but because of other events taking place, including Edwardian afternoon tea parties and overnight stays, there may be times when it isn't possible to accommodate visitors, so it is best to ring to check availability on 0179 247 2555.
Supper that night – yes we just about had enough room to squeeze one in – was a restaurant situated in the heart of Swansea Marina. In a Grade II-listed red brick warehouse, The Swigg is Wales' answer to tapas.
A café by day and a bar by night, it has brought a touch of the Mediterranean to the Swansea waterside with a menu bursting with European delights alongside some traditional Welsh favourites. Here, you can enjoy a six–course taster menu. Included are Lady Llanover salmon, Gressingham duck, and apple and blackberry crumble.
On our final day in Fairyhill we packed, rather reluctantly, and after another hearty breakfast took one last walk down to the lake. Standing on the bridge, we vowed we'd return. Then it was time to hit the road back to reality – happy, refreshed, bearing tales of crazy Gower Blacks and carrying several extra pounds.
For more information about the Gower and Swansea Bay, go to visitswanseabay.com
Join our new commenting forum
Join thought-provoking conversations, follow other Independent readers and see their replies