Why the fate of Germany's beer halls has become a political issue
The country's traditional restaurants and beer halls are increasingly under threat – victims of urbanisation and an ageing population. But in one village, residents have come together to fight back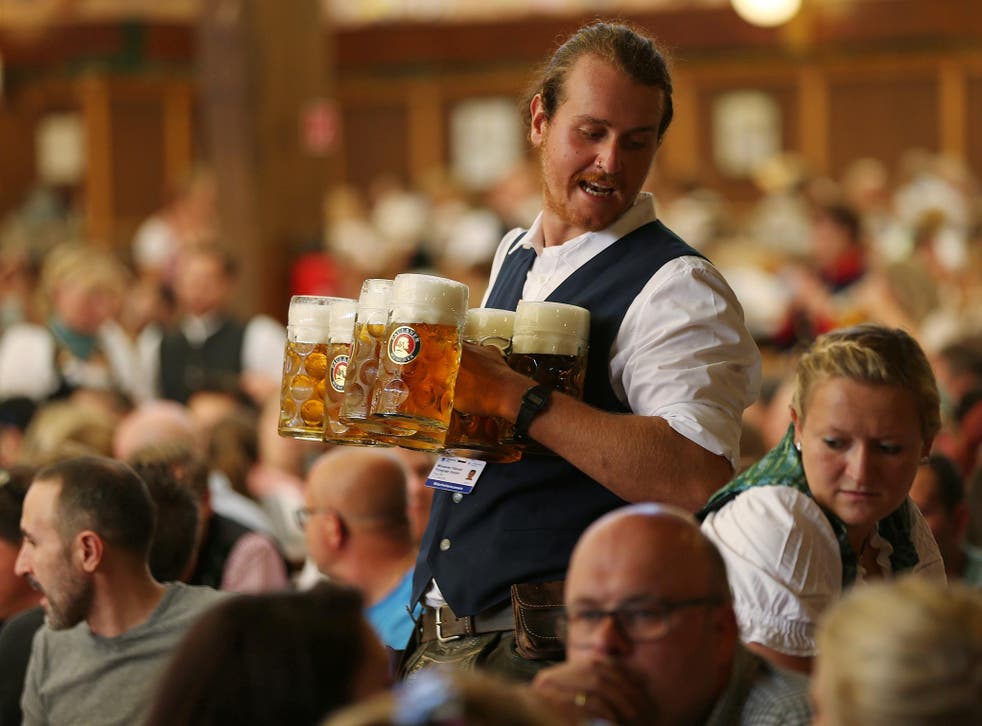 When 87-year-old Hubert Frilling died quietly in his sleep a year ago, the village beer hall he owned and ran for more than 60 years, Zum Schanko, looked set to die with him.
For generations the wood-panelled rooms of Schanko – Frilling's nickname – had served Handorf-Langenberg, a village of 1,500 in northwest Germany, as a community centre and extended living room for countless birthdays, baptisms and other gatherings with family and friends.
"The heart of Handorf-Langenberg has stopped beating," the pastor told mourners who had packed the Church of St Barbara, two blocks from the pub, for Frilling's funeral last November.
But Maik Escherhaus, head of the local sports club, and some friends had an idea to save Schanko by selling shares to residents, as well as those who had grown up in the village but moved away, and anyone else who was interested.
This autumn, after a desperate race to raise the €200,000 needed to buy the place, Schanko's new owners began renovations and are taking reservations for its grand reopening in the spring.
"We risked losing not just our last bar, but a cultural asset," says Escherhaus, 40, who is active in the local gun club and sings in the men's choir.
While Schanko survived, that's not the case for a growing number of traditional German restaurants and beer halls – be they the "gasthof" and "wirtshaus", the "dorfkrug" or the "kneipe".
The German beer hall is increasingly endangered, a victim of an ageing population that has depleted villages, urbanisation that has drawn young people away, more people turning to social media to swap stories and share news, and the expansion of diversity in German culture.
Between 2010 and 2016, Germany saw a 20 per cent drop in the number of traditional pubs, according to the German Hotel and Catering Association. Many, like Schanko, were in villages and hamlets where they served the public good, as well as its thirst, but where the populations are shrinking.
"We had a lot of offers for pizza joints or Asian fast food," Escherhaus says, referring to the businesses interested in Schanko's space. But that wasn't what the village needed to maintain its social cohesion, he says.
At a time when Germans have revived a debate about their identity after taking in more than a million asylum seekers since 2015, most from predominantly Muslim countries in the Middle East and Africa, the fate of traditional beer halls has even become a political issue.
To try to save them, the government in Bavaria passed a £27m package of financial support aimed at helping owners of beer halls and restaurants in rural areas survive.
Such funds won't help owners in Lower Saxony, where Schanko sits. It's a region where the sandy soil means neither wheat nor trees grow very high, but residents' roots – and their pride – run deep.
Seeking to capitalise on that solidarity, Escherhaus and his friends turned to another German tradition, the cooperative.
By September they had sold more than 1,000 shares to more than half the residents and others who felt a connection to the beer hall. The oldest shareholder was in his eighties; the youngest, Anna, received a stake on the day she was born.
Andreas Wieg, head of the German association of cooperatives, says that the number of cooperatives founded in recent years to save cultural institutions has increased, though his organisation does not keep statistics.
"This development reflects the need of people in rural areas to ensure their future in a healthy social environment," he says.
At Schanko, on a Friday night in late summer, dozens of people turned out to help clean up the place for a last hurrah in its current incarnation, before it would close for renovations.
Three men showed up early to pull weeds that had sprung up between the car park and the road. Others unloaded a delivery of beer tables and benches that could hold the overflow in the car park outside.
"Schanko belongs to Langenberg like the cathedral to Cologne," says Hubert Beckmann, 61, raising a beer to his friends. "It is the centre of village life."
Among the volunteers was Cacillie Trumme, armed with a brush and a bucket to fix the leaky sink in the women's toilet, and Christa Middendorf, 60, the oldest daughter of the former owner.
Middendorf recalls where the jukebox stood in the 1960s, the dancing lessons in the 1970s and her mother's sense for when to stop serving the young men.
"It is great, everyone looks back and can remember different things," Middendorf says. "That way it keeps going, it never dies."
Escherhaus and some friends began toying with the idea of a cooperative about two years before Schanko's ageing owner died, knowing they had to prepare for the inevitable.
When he approached Middendorf with the idea of the collective, she helped convince her father it would be a way to keep the place he and his wife founded in 1955 going for generations to come.
But Frilling's death came sooner than anyone had expected. Suddenly, Escherhaus and two friends who had founded the cooperative faced a six-month deadline to raise the €200,000 needed to buy the place.
In the first two weeks people were excited. Then they hit a wall. They started knocking on doors, asking everyone who could to help.
"Of course there were sceptics, those who said, 'You'll never get that much money,'" says Norbert Klauss, deacon at the Church of St Barbara. "But people also knew immediately what was at stake."
Escherhaus even reached out to Germany's president, Frank-Walter Steinmeier, hoping to capitalise on how the head of state had highlighted the country's urban-rural split in his annual Christmas address last year.
A letter signed by the president himself came back, praising the effort to save Schanko as "a striking example of what can be achieved in rural regions through taking the initiative and self-help projects".
By April, the funding was secured, but they still needed someone to run the place, who understood the community and the meaning Schanko had for them.
Enter Andreas Mählmann, 61, from a town 30 miles up the road, who knows the local dialect still spoken by many patrons.
Together with his partner, Gabi Von Husen, they proposed a menu of schnitzel and sauerbraten, with special menus for Christmas and the all-important asparagus harvest in the spring and kale in the winter.
"It's important to understand people, to know how to approach them," Mählmann says, with a nod to Escherhaus. "We'll get it done."
Katrin Robben, 49, and her daughter Katharina each bought shares. While the mother sought to preserve the place where she sang in the children's choir and later met the man she would marry, her daughter wanted to secure a place for such memories to be made.
"It's important for our future that we keep the place," says the 24-year-old, as the laughter of stories rings out from the packed table behind her. "I want to be able to celebrate here, too."
© The New York Times
Register for free to continue reading
Registration is a free and easy way to support our truly independent journalism
By registering, you will also enjoy limited access to Premium articles, exclusive newsletters, commenting, and virtual events with our leading journalists
Already have an account? sign in
Register for free to continue reading
Registration is a free and easy way to support our truly independent journalism
By registering, you will also enjoy limited access to Premium articles, exclusive newsletters, commenting, and virtual events with our leading journalists
Already have an account? sign in
Join our new commenting forum
Join thought-provoking conversations, follow other Independent readers and see their replies