Gloria restaurant review: Inglorious pastas come with the Instagram crowd
It's amazing how differently you see a restaurant when you're the one paying, says Ed Cumming. After attending the glorious opening it was all rose tinted, but the third time he goes he's plonked next to the cutlery drawers and waits 40 minutes between courses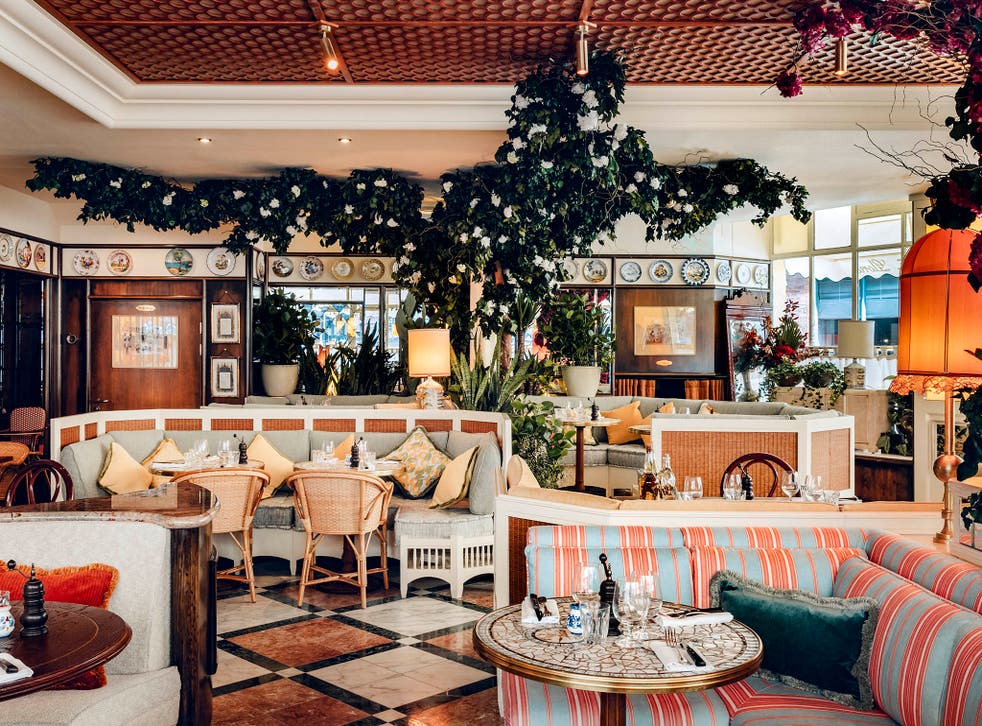 I have now been to Gloria, an unspeakably trendy new trattoria in Shoreditch, three times. I went to the launch party, which was jolly and full of fit Euros, because the restaurant is owned by Big Mamma, a glitzy Parisian group.
Then I went for dinner as a media guest on a #massive #freebie. We walked past the queue to one of the best tables, received excellent service and didn't pay.
It really is hard to overstate the effect of not paying. I emerged with thick rose-tinted glasses, especially regarding the Neapolitan pizzas and the enormous slab of lemon meringue pie, like the Rock of Gibraltar. I'm not the only one.
The critics have been almost unanimous that Gloria can be forgiven its kitsch brashness because it is "fun", and the food isn't as bad as you think it's going to be.
The exterior, girded by pot plants of various shapes and sizes, has attracted praise, but not as much as the interior, whose maximalist excess, designed to evoke 1950s Capri, has been hailed as a last pre-Brexit hurrah. "Gloriously OTT," they say.
I went for a third time earlier this week. As an anonymous paying customer, granted no special attention, the experience was rather different.
What previously seemed eccentric – the references to Instagram and porn on the menu, the one-way mirrors on the loo cubicle doors, all the naked pandering to fashion crowd – now seemed obnoxious.
The queue was an hour and 15 minutes long. The only other time I've waited more than an hour for pizza was at Roberta's, and that was a Saturday in Brooklyn rather than a rainy Monday night on east London's Great Eastern Street. We went round the corner to Merchants Tavern, a reliable restaurant in its own right which – for the time being – seems destined to become Gloria's overflow car park, which is unfair. Friendly staff served good cocktails and fat, buttery nocellara olives.
At last we were summonsed by text to our table at Gloria, crammed in against the wall next to a cutlery drawer. Arses featured prominently throughout the meal.
The bums of the waiters kept brushing past me as they retrieved knives and forks and little leather bags of bread. The bum of a nearby diner nearly swept the entire setting off the adjacent table as she tried to get out to go to the loo.
The staff all wear long red and white-striped shirts, like a supercilious Italian ten-pin bowling team. Drinks came at once, as did the starters: a generous bowl of San Daniele ham and a sad half-burrata, as devoid of creaminess as if it had been left in the airing cupboard all day. As the starters were cleared the waiter pointedly took our dirty cutlery and put them back on the table, like someone who has invited too many people for dinner by mistake.
Then the waiting began, again. It was 40 minutes before the mains arrived, during which time nobody refilled our water, nobody asked if we wanted more drinks, nobody removed the empty leather bread basket.
At another table someone used an old-fashioned disposable camera, with constant blinding flashes, 10 times. I wondered if I was having a stroke in slow motion.
This is the price of baiting the Instagram crowd. At last we successfully requested, at the fourth time of asking, a beer and a glass of red. Staff can be charmless or incompetent, but not both, like men can be bald or fat.
It must be said the the mains, when they arrived, were pretty good: a pasta al tartufo served in its pan, and a spicy salami pizza, its soft dough adorned with the requisite leopard spots.
They'd run out of the lemon meringue pie. I'm sure if you time it right and go with the right crowd it's still possible to have a good meal at Gloria, but why would you bother? There's hipness here, of a kind, but no hospitality.
Should you go? No.
Would I go again? No.
Gloria, 54-56 Great Eastern St, Hackney, London EC2A 3QR; open daily; bigmammagroup.com/en/trattorias/gloria
Join our new commenting forum
Join thought-provoking conversations, follow other Independent readers and see their replies