The Independent's journalism is supported by our readers. When you purchase through links on our site, we may earn commission.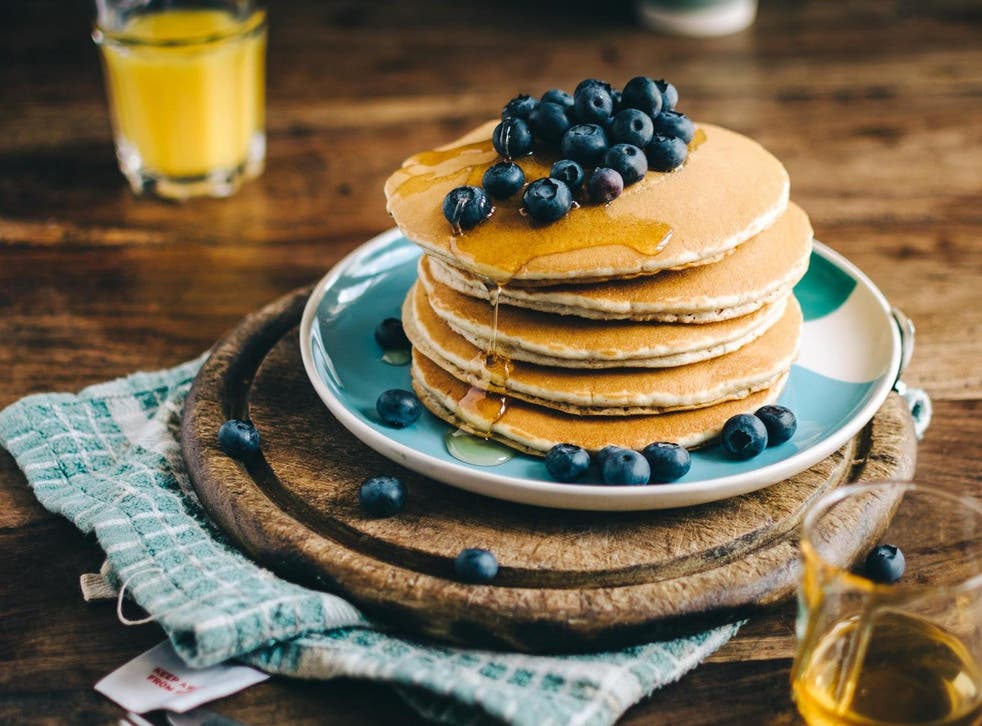 Gluten free pancake recipes - the best Pancake Day alternatives
No one should miss out on Pancake Day, no matter their dietary requirements
Pancake Day is a typically indulgent occasion with stacks upon stacks of tasty crêpes, American-style fluffy pancakes and endless toppings.
However, for those who follow a gluten-free diet, including those with Coeliac disease, it can be difficult to find pancake recipes that meet their needs.
But no one should have to miss out on the delight of Pancake Day, no matter their dietary requirements.
With that in mind, here are a selection of some of the best gluten-free recipes for Shrove Tuesday:
Serves 2
Ingredients
1 small banana 
140ml milk of choice 1 tsp honey (optional) 20g chocolate 
protein powder 20g buckwheat flour 
1 tbsp 100% unsweetened cocoa powder or raw cacao powder 
1 tsp baking powder 
coconut or olive oil, for frying 
Yoghurt, berries, nut butter, maple syrup, honey, chopped nuts or chocolate sauce to serve
Method
Put the banana into a bowl and mash with a fork. Whisk in the milk and honey, if using. Then add all the dry ingredients and whisk again. (Alternatively you can just whizz everything together in a blender.) 
Warm a large frying pan over a medium heat, add 1 tablespoon of oil and swirl it around the pan. Dollop in around 1 heaped tablespoon of the batter mixture to make an American-style thicker pancake, then continue to add 2 or 3 to the pan (don't overcrowd the pan as it makes them difficult to flip). Cook for 2–3 minutes each side, only flipping when the underside is browned and has formed a light crust. Remove from the pan when done on both sides and continue with the rest of the batter. 
Plate the pancakes up in a stack and serve with your favourite toppings. 
Serves 2
Ingredients
2 ripe bananas (total 200g), peeled
100g quinoa flakes
180ml any milk
1 egg
1 teaspoon vanilla extract
2 teaspoons ground cinnamon
1½ teaspoons baking powder
A tiny pinch of sea salt
2 teaspoons maple syrup
1½–2 tablespoons coconut oil, for frying
Method
Place all the ingredients for the pancakes (except the oil) in a blender or food processor and whizz for about 30 seconds. Alternatively, mash the bananas with a fork and mix in a jug with all the remaining ingredients.
Melt a little of the coconut oil in a large frying pan on a high heat.
Spoon about 3 tablespoons of the batter into the pan and use the back of the spoon to swirl into a rough circle about 1cm thick and 8cm wide. Repeat to make another two to three pancakes, depending on the size of your pan. Reduce the heat to medium and leave the pancakes to set for 1½ minutes. When they start to bubble, flip each one over and cook for 1 minute on the other side.
Remove from the pan and repeat with the rest of the batter, using a little more of the coconut oil each time, until you have made eight pancakes. Place the pancakes on a plate in a low oven to keep warm while you make the rest.
Serve as is or add your favourite toppings.
Serves 1
Ingredients
140g almond butter
½ tsp vanilla powder
130g oat flour
350ml almond milk
40g cacao powder
8 tbsp maple syrup
40g ground almonds
105g raw chocolate
Coconut oil for frying
Method
Add the almond butter, vanilla, oat flour, almond milk, maple syrup and ground almonds to a food processor and blitz until you have a smooth pancake batter.
Split the mixture into two, leaving half in the food processor. Add the cacao powder to this Heat a frying pan over a medium to high heat and then add the coconut oil.
Add enough mix to make your desired size pancake to the middle of the pan. Place a few pieces of chocolate on top of the mixture. When you can see bubbles on the surface of the pancake, use a spatula to flip it over and cook for another minute or two on the other side until golden.
Move the pancake to a plate and repeat until you have finished with both, the plain mixture and the chocolate mix. 
We love these topped with a warm chocolate sauce and lots of berries.
Serves 4
Dry ingredients
1 3/4 cups sorghum flour
1/4 cup buckwheat flour
1/4 cup almond flour
1/4 cup potato starch (not flour) or tapioca starch
1 1/2 teaspoons baking powder
3/4 teaspoon fine sea salt
3/4 teaspoon xanthan gum
Wet ingredients
1 cup soy milk (or milk of choice)
1 cup water
2 organic free-range eggs, beaten
4 tablespoons organic coconut oil
1 tablespoon honey or raw agave nectar
1 teaspoon bourbon vanilla extract
1 teaspoon almond extract
Method
Heat a griddle on medium-high heat. If your griddle requires greasing, do that now.
In a large mixing bowl, whisk together the dry ingredients. Make a well in the center and add in the wet ingredients. Beat well to incorporate. Your batter should be silky and smooth. Not too thick.
Test the griddle by shaking a drop of water on it. If it pops and sizzles, your griddle is hot enough.
Using a ladle, pour a scoop of pancake batter on to the heated griddle. Repeat for as many pancakes as you can fit at one go.
When tiny bubbles have formed in the batter, carefully flip the pancakes with a thin flexible spatula. Cook a minute or two until firm- but don't over cook. Overcooking pancakes makes them tough.
To keep warm- or eat immediately? The truth is- gluten-free pancakes are best eaten straight off the griddle- while hot and tender. If you keep these warm in the oven they may toughen a bit.
If the batter thickens as it stands, add a little more liquid to thin it.
Serve with vegan butter and warm maple syrup.
Makes six pancakes
Ingredients
1/2 cup raw buckwheat groats (not kasha), ground into a flour
1/4 cup brown rice flour
1 tbsp cornstarch
1 tsp baking powder
3/4 cup + 2 tbsp almond milk
2 tbsp pure maple syrup (or other liquid sweetener)
1 tsp pure vanilla extract
1 medium ripe banana, diced
1 vanilla bean, scraped (optional)
1/2 cup blueberries (optional)
Method
Preheat a large non-stick skillet over medium heat.
In a blender, blend the buckwheat groats on high speed until a fine flour forms. Place into a large bowl. Now whisk in the rest of the dry ingredients (rice flour, cornstarch, baking powder).
Pour in the almond milk, maple syrup, and vanilla extract. Whisk the batter until no clumps remain.
Fold in the diced banana and scraped vanilla bean. If using fresh blueberries, mix them in now.
Lightly grease skillet. Scoop 1/4 cup of batter onto the preheated skillet. If using frozen blueberries, sprinkle on a heaping tablespoon of blueberries. Cook until many bubbles appear and then flip and cook for another couple minutes. Repeat for the other pancakes.
To learn more about the history of Pancake Day, click here.
Register for free to continue reading
Registration is a free and easy way to support our truly independent journalism
By registering, you will also enjoy limited access to Premium articles, exclusive newsletters, commenting, and virtual events with our leading journalists
Already have an account? sign in
Register for free to continue reading
Registration is a free and easy way to support our truly independent journalism
By registering, you will also enjoy limited access to Premium articles, exclusive newsletters, commenting, and virtual events with our leading journalists
Already have an account? sign in
Join our new commenting forum
Join thought-provoking conversations, follow other Independent readers and see their replies