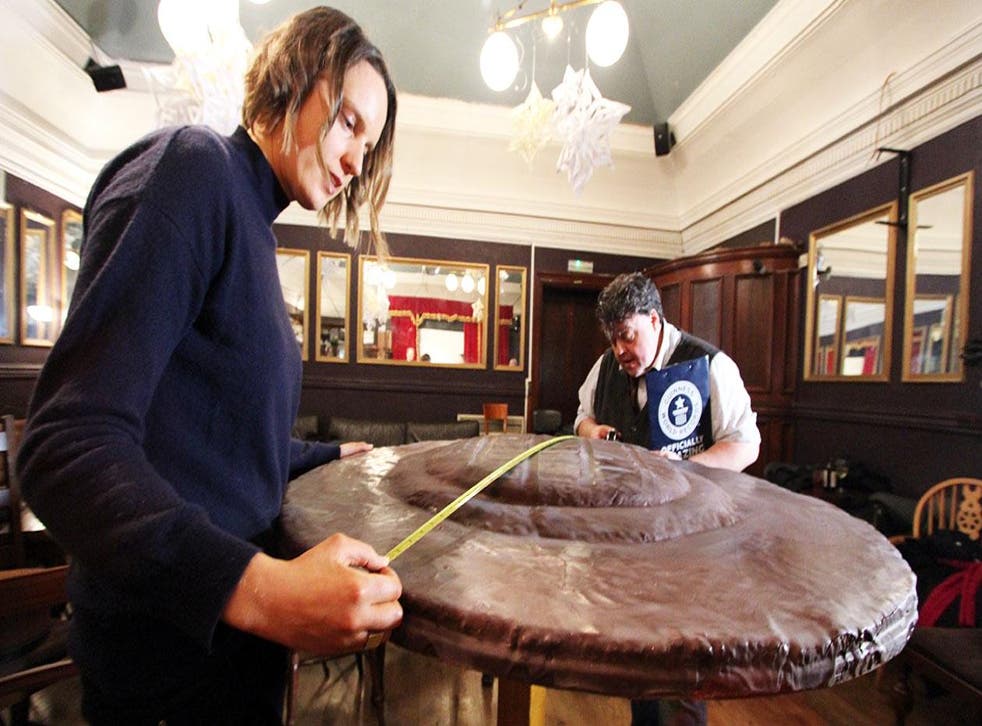 Great British Bake Off winner creates world's largest Jaffa Cake
"Willy Wonka had nothing on us"
Polishing off a box of Jaffa Cakes can take little-to-no effort but you might want to think twice before attempting to devour this one.
Measuring a massive four feet in diameter, this chocolatey treat is officially the largest Jaffa Cake in the world, beating the previous record-holder (which was over a foot smaller).
Created by 2013 Great British Bake Off winner Frances Quinn and Hambleton Bakery in Exton, they were tasked by BBC Radio 4 to create an enormous version of the treat to settle the debate: "Are Jaffa Cakes a cake or a biscuit?"
But, it was no mean feat.
Nearly 23 times as large as a normal Jaffa Cake, this one required six kilograms each of butter, sugar and flour, three litres of marmalade, nine litres of orange jelly, 120 eggs and an enormous 20 kilograms of melted dark chocolate.
"Willy Wonka had nothing on us," Quinn said.
This isn't the first time people have tackled mammoth-sized munchies though.
In 2012, the Guinness World Record for the largest pizza measured at a huge 1,262 square metres while the US hold the title for creating the biggest cookie with a diameter of 101 feet.
Register for free to continue reading
Registration is a free and easy way to support our truly independent journalism
By registering, you will also enjoy limited access to Premium articles, exclusive newsletters, commenting, and virtual events with our leading journalists
Already have an account? sign in
Register for free to continue reading
Registration is a free and easy way to support our truly independent journalism
By registering, you will also enjoy limited access to Premium articles, exclusive newsletters, commenting, and virtual events with our leading journalists
Already have an account? sign in
Join our new commenting forum
Join thought-provoking conversations, follow other Independent readers and see their replies