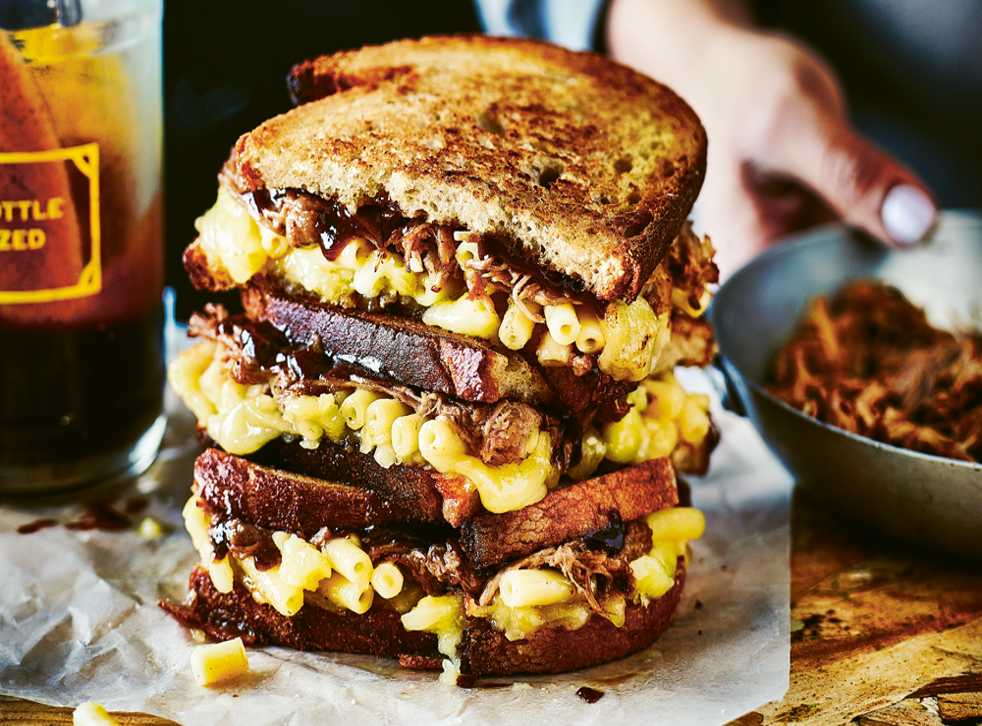 Grilled Cheese Day: How to make mac 'n' cheese toastie
Two American classic treats combined in one sandwich
Who knew mac 'n' cheese inside a sandwich would be such a hit!
And so for Grilled Cheese Day, why not jazz up the classic American favourite by combining it with another US all-time treat - mac 'n' cheese?
Toastie experts over at Grill My Cheese, who have a pop up shop at Selfridges Food Hall, are sharing the recipe of one of its most popular sandwich called Baby Got Mac.
They said: "The sandwich that has been with us from the beginning, and continues to be the bestseller no matter where we go.
"Without the pork and with added béchamel, this is also the basis of mac 'n' cheese toastie on our stall, the Mac Attack."
How to make Baby Got Mac
Ingredients
For each sandwich
2 slices of sourdough bread, buttered on one side
150g (5 ¼ oz) mixed grated cheese
2 tbsp BBQ sauce
For the pulled pork (makes enough for 20 sandwiches)
2 kg (4 ½ lb) pork shoulder, skin removed, deboned, fat scored and rolled (ask your butcher to do this)
2 tbsp paprika
2 tbsp brown sugar
2 tbsp salt
2 tbsp garlic powder
1 tbsp onion powder
1 tbsp ground black pepper
1 tsp mustard powder
½ tsp cayenne pepper
½ tsp ground coriander
½ tsp ground cumin
For the mac 'n' cheese (makes enough for 8 sandwiches)
500g (4 cups) macaroni
1 tsp salt
2 tbsp salted butter
100g (1 cup minus 2 tbsp) grated mozzarella
100g (1 packed cup plus 2 tbsp) grated Cheddar
100g (1/2 cup minus 1 tbsp) cream cheese
Method
Put the pork shoulder in a baking tray. Mix all the dry ingredients together in a bowl then rub all over the pork, really massaging it in. Cover and refrigerate overnight.
Take the pork out of the refrigerator an hour before you want to cook it, and preheat the oven to 180°C/350°F/Gas 4.
Cover with foil and put in the oven before reducing the oven temperature to 170°C/330°F/Gas 2. Cook for 5 hours, until the meat is falling apart (a temperature probe should read over 90°C/194°F).
Leave to rest, covered, for 30 minutes, then remove any gristle and excess fat. Shred the meat, using either boar claws or 2 forks.
For the mac 'n' cheese, set the oven temperature to 190°c/375°F/Gas 5. Cook the macaroni in boiling salty water, for about 6-8 minutes, until al dente. Drain, reserving the cooking water.
Place the macaroni in a baking dish, add the butter and all the cheeses.
Slowly add enough of the reserved cooking water (about 90ml/6 tablespoons) to bring everything together until fully combined (the cheese should melt with the hot cooking water). Bake for about 15 minutes, until oozy but not golden. Leave to cool, then using your hands, separate it to break it up.
To assemble each sandwich, place the bread slices buttered down and sprinkle 100g (3 ½ oz) of the grated cheese evenly over one slice. Add a big handful of the mac 'n' cheese, followed by the pulled pork. Spoon over the BBQ sauce and top with the remaining 50g (1 ¾ oz) cheese. Close the sandwich and cook using your preferred method.
Recipe taken from Nisha Patel and Nishma Chauhan's Grill My Cheese The Cookbook, From Slumdog Grillionaire to Justin Brieber: The Greatest Toasted Cheese Sandwiches Ever! (Quadrille, £12.99).
Register for free to continue reading
Registration is a free and easy way to support our truly independent journalism
By registering, you will also enjoy limited access to Premium articles, exclusive newsletters, commenting, and virtual events with our leading journalists
Already have an account? sign in