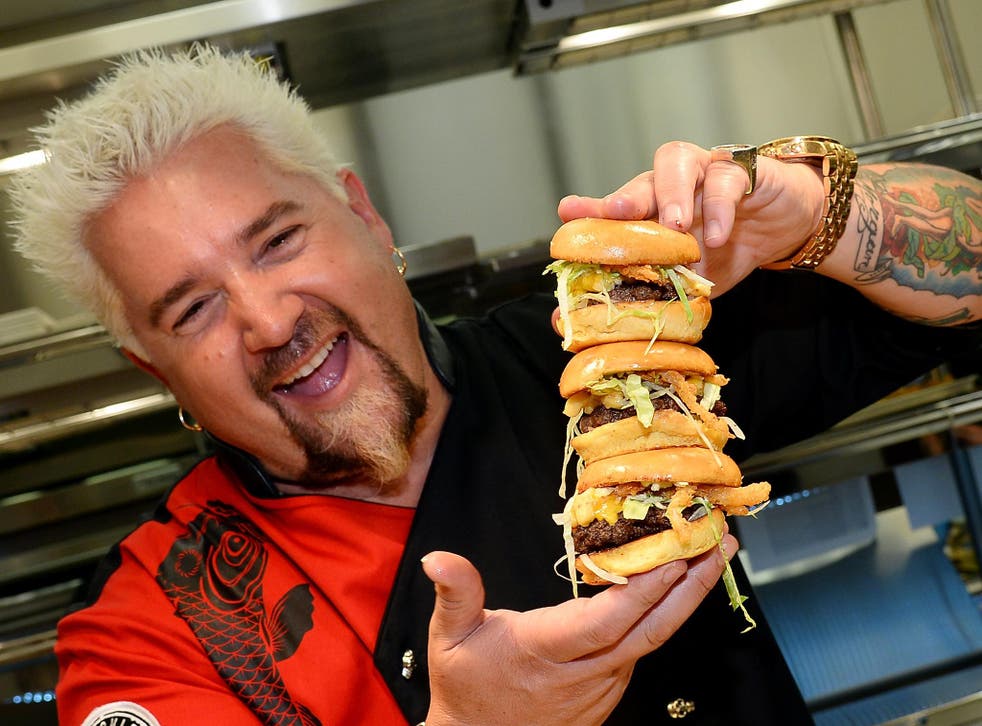 What it's like to have Guy Fieri from Diners, Drive-in and Dives visit your restaurant
'He asked me was about whether or not we BBQ horses in Louisville'
Few foodies split opinion like Guy Fieri of Diners, Drive-Ins and Dives. To some, he's a champion of mom and pop businesses in a country where corporations have a stranglehold on everything. To others, he's the Nickleback of food.
Nonetheless, his show Diners, Drive-Ins and Dives has been airing on the Food Network channel since 2007. And, as the name suggests, it sees Fieri travelling across the US - in a bright red convertible - testing the finest comfort food the country has to offer. Fieri is never far from something gut-busting, meat-filled and cooked on fire, grilled, smothered in cheese, hot sauce - or some towering combination of all of the above.
So, what's it really like to have the spiky-haired restaurateur himself select your eaterie to appear on his Food Network show?
Unfortunately for anyone rubbing their hands with glee at the thought of a Fieri hate piece, he turned out to be a decent guy - albeit a little tone deaf when it comes to jokes - according to the people behind Momma's Mustard Pickles & BBQ in Louisville, Kentucky, and The Improper Pig in Charlotte, North Carolina, .
In both instances, the Food Network team emailed the owners to ask if they would like to be featured on the show. And considering that the show is predicted to pull in around 675,000 for every 20 minute episode (which is not bad considering it airs on a relatively niche network) both joints eagerly accepted. Around a month later, they were told they had been accepted for the program.
"We were closed for a total of around 18 hours of filming time," recalls Gavin Toth, general managers of The Improper Pig tells The Independent. "Guy was here for around an hour on one of the days. The crew was amazing with the preparation. A six page email helped us be completely ready."
Most of the crew's time was spent trying to film the finest food porn, and getting perfect shots of hot meat glistening with sauce and soft bread buns dripping with cheese. And that can be tough when cheese goes from melted and delicious to congealed goo surprisingly quickly.
The world's biggest food fights

Show all 11
"When they had what they needed for their exterior shots and shots inside the restaurant, they had us invite our regulars and friends in for some free food and took some shots of us serving the food to our friends," says Cooley.
"A while later, Guy came to town to film the interviews and to do his part for the show," adds Cooley. "I think he filmed either three or four episodes that day and it all went like clockwork. They took his car off the trailer and polished it up in front of the building. Then Guy made his grand entrance.
"He seemed like a nice guy and everybody got a kick out of him being there. I was pretty nervous for my interview. The first question he asked me was about whether or not we BBQed horses and in Louisville, Kentucky. You don't joke about eating horses! I didn't think it was funny at all, and he thought it was really funny to mess with me like that."
"Guy was great!" chimes Toth. "He had our chef, the crew, and guests cracking up. The most memorable moment from filming was probably when our chef said 'cilantra' instead of 'cilantro'. Guy gave him a lot of stuff about that."
And despite the disruption, a visit from Fieri is like the Midas touch for restaurant owners.
"It opened our doors to literally thousands of new people," says Cooley. "We were unaware of just how many people use the Diners, Drive-in and Dives apps and visit these restaurants whenever they travel". His restaurant saw a 20 per cent bump in sales in the two to three weeks following the show's airing and another 10 per cent whenever there is a re-run.
"Even now, when the show airs only occasionally, we have to keep track of when it's going to be on so we can smoke some extra Beef Ribs."
The staff at The Improper Pig predicted the climb in popularity, and hired more staff after the filming.
"We were already planning on opening a second location in South Carolina, and this has helped spring that into action," he adds.
"For a small business like ours, the exposure is really almost priceless," says Cooley. "There are some mixed opinions on Guy Fieri but you'll never hear a bad word from me. All he does is go town to town, promoting small, locally owned businesses and leaving a wake of success behind him as he goes.
He adds: "From the extra jobs he helped us to create to the extra tips for the servers and bartenders I only wish I could help people and businesses the way he does."
Join our new commenting forum
Join thought-provoking conversations, follow other Independent readers and see their replies